Part Three --------------- MYLES'S CHILDHOOD
PILGRIM FATHER CAPTAIN MYLES STANDISH OF
DUXBURY LANCASHIRE AND MASSACHUSETTS
(Part three)
by Helen Moorwood
MYLES'S CHILDHOOD
The last article (in Part 2) presented the newly discovered Lancashire pedigree of Myles Standish, with his rather splendid military ancestry and his descent from the Standishes of Duxbury and the Standishes of Standish.
His first very brief biography was written in Plymouth, Massachusetts in the 1660s, shortly after his death in 1656, by Nathaniel Morton, clerk of Plymouth colony and nephew of Governor William Bradford. With his uncle's manuscript chronicle of the colony and letter book in front of him, an intimate knowledge of the colony records and presumably also of the leaders of the colony, with whom he had lived for so long, he was the ideal person to write a detailed history. This was published in Boston in 1669 as New Englands Memoriall and his entry for 1656 begins (modernised spelling):
"Mr. William Bradford was chosen governor of the jurisdiction of Plimouth, Mr. Thomas Prince, Mr. William Collier, Mr. Timothy Hatherley, Capt. Myles Standish, Mr. John Alden, Capt. Thomas Willet, and Capt. James Cudworth, were chosen his assistants in government.

This year Capt. Myles Standish expired his mortal life. He was a gentleman, born in Lancashire, and was heir apparent unto a great estate of lands and livings, surreptitiously detained from him, his great grandfather being a second or younger brother from the house of Standish. In his younger time he went over into the low countries, and was a soldier there, and came acquainted with the church at Leyden, and came over into New England, with such of them as at the first set out for the planting of the plantation of New Plimouth, and bare a deep share of their first difficulties, and was always very faithful to their interest. He growing ancient became sick of the stone, or stranguary, whereof after his suffering of much dolorous pain, he fell asleep in the Lord and was honorably buried at Duxbury."
Recent research has confirmed that these meagre facts about Myles' status, early life, inheritance and the "surreptitious detention" of his estates were indeed correct, as might have been expected from such a reliable source. The following biography is therefore not at all new, but 330 years old, and just fills in some of the rather large gaps left by Morton.
Some of these gaps had already been filled as early as 1637, when Thomas Morton (no known relationship to Nathaniel) published New English Canaan in Amsterdam, which provided three vital pieces of information about Myles' youth:
1. He was "the son of a soldier";
2. He had been "bred a soldier in the low countries";
3. He was a "quondam drummer", i.e. had started his military career as such.
He also called him "Captain Shrimpe" and described him as "a little chimney quickly fired", which suggests that Myles had red hair and a quick temper (his short stature was noted by others). Thomas Morton was a colourful character, and rather naughty in the eyes of Plymouth Colony.
His biography is readily available in the Encyclopaedia Britannica and The Dictionary of National Biography, and his indignant description of his arrest by Myles can be read on Caleb Johnson's Mayflower website.
Myles was born in 1587/8 (88/9?), this date being derived from his portrait, which included the inscription of M. STANDISH in the top right hand corner and AETATIS SUAE 38 Ao 1625 in the top left. 1625 was the date of his only return to England (departing in July and returning in April, 1626), and I translate his age as "aged 38" rather than "in his 38th year", although this could be debated, hence the two options.
His departure for the Low Countries in c. 1601 means that with the earliest date he would have been 14 and with the latest date only 12, both possible. However, within a very short time he was promoted to Lieutenant by Queen Elizabeth, who died in March, 1603. We know this because the commissioning document was in the hands of his descendants in the mid-19th century, and therefore must be believed, although it has unfortunately since disappeared. A boy-soldier of 12 is credible, but a Lieutenant at 14 less so; 1587 therefore seems the most plausible date.
Before we proceed with his life, however, we must take a time journey, whizzing backwards and forwards over four centuries. This is necessary as this is the first time that this date has ever been claimed beyond all reasonable doubt as the true date of his birth, and contradicts the date of c.1584 given in most previous biographies, and still believed in Plymouth today. We can dismiss other dates proposed -- 1565, 1585/86, 1591 - as pure speculation.
The detective story that established the history of the portrait could fill a whole book in itself!. In brief, the oil-portrait on wood was bought in 1877 from an art shop in Boston by Capt. Harrison of Plymouth. It had an impeccable pedigree in the Gilbert family of Philadelphia back to pre-1812, and before that had been in the possession of the Chew family of Germantown for an undetermined length of time.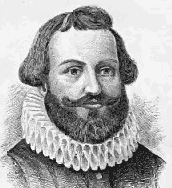 Myles Standish
This already takes us back to a period when Myles and the Pilgrim Fathers were virtually unknown outside the Plymouth area. The only purpose of a fraud would have been to sell it at a high price to a descendant of Myles, yet this idea does not seem to have occurred to either the Chews or the Gilberts. Incidentally, the Chew family was descended from John son of Joseph Chew from Billington, near Whalley, Lancashire, who married in Jamestown, Virginia in c. 1628. I presume that this will be of interest to any Chew or Whalley readers of this journal, and it may even provide a hint as to how the portrait travelled from Old to New England, although when, and why it never reached Myles' descendants, will probably always remain a mystery.
In 1877, however, the belief in Massachusetts that Myles' was born in 1584/5 was so fervent that the authenticity of the portrait was not only doubted but rejected on these grounds alone by a large number of learned gentlemen, some of whom got awfully shirty about this preposterous fraud, which unfortunately led to the disappearance of the portrait - again. It was last reported in 1919. What a pity, as it immediately doubled the number of portraits of Mayflower Passengers, the only authenticated one being of Edward Winslow. Maybe it will turn up again in an attic in Plymouth? How interesting it would be to see if it confirmed the red hair of "Captain Shrimpe".
Their rejection reigned despite the facts that the portrait was obviously in the style of the period; the wood was ascertained as of the right age; it contained his name and age (a suspicion was raised that the date was added by Capt. Harrison, which I doubt, but even if he did, the date could only have been 1625 or 1626, as there were no portraitists in the young colony); and that the face was spontaneously recognised as being almost identical to descendant Winslow Brewster Standish (a real Pilgrim name!), living in Pymouth in c. 1877, aged c.37. The main reason for the rejection harks back yet again to the notorious visit by Mr. Bromley in 1846 (related briefly in Part One), when he imputed that Myles' baptismal entry in 1584 in the Parish Register of St. Laurence's, Chorley had been pumiced out, to deny the family their inheritance of Duxbury Hall. This claim of erasure was subsequently proved to be totally fallacious - again and again - but, unfortunately, too late to save the portrait.
Luckily, someone at the time believed enough in its potential authenticity to produce an engraving, which was published in 1880. A black and white photographic negative of this engraving, which includes the inscription as above, was acquired by the Library of Congress, Washington in c. 1904, and this is the one used by the Encyclopaedia Britannica, presented as authentic, but in which the inscription is not visible. A second, inferior engraving, probably a copy of the first rather than from the original portrait, presenting a slight distortion of features and a reduction of background, but with the addition of buttons, was included in Henry Johnson's The Exploits of Myles Standish (London, 1892). This is the one presented by Encarta, as authentic. Both have been reproduced in many places, with a variety of captions.
Finally, we can continue with Myles biography, although we shall still need to make a few more time journeys backwards and forwards. He was born in c. 1587, in West Lancashire, probably in one of the six townships named in his Will (most likely in Ormskirk, Wrightington or Croston, probably not in Newburgh, Burscough or Mawdesley,) or possibly in Duxbury near Chorley. These assumptions are based on previous connections of Standishes with the various townships.
He was most probably baptised in the private chapel of the Standishes of Duxbury, following a family tradition of returning there for several generations for marriages and the baptism of sons and the eldest daughter. Various hints indicate that they converted from Catholicism to the Anglican Church in the early 1580s (cowards or realists?), later definitely adopting a Puritan tinge.
They were presumably in disagreement with the confession of the Rector of St Laurence's, Chorley, as more than twenty known Standish babies born in Duxbury between 1584 and 1616 were not baptised at St. Laurence's, their traditional Church for baptisms and burials, in a period when the Parish Registers appear to be fairly complete (apart from the total gap 1599-1611, which implies further dissent). This conversion is significant for two reasons:
1.The Standishes of Duxbury were amongst the earliest local converts, while still surrounded by solidly Catholic gentry families, particularly their Standish cousins in Standish, and
2. Their new religion might well have influenced Myles in his future beliefs, which were obviously Protestant and Puritan, but which did not result in him becoming a member of the Separatist Pilgrim Church in Leyden or Plymouth. The records of the private chapel in Duxbury have not survived, alas.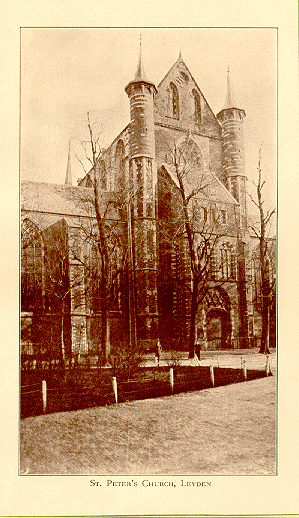 The missing baptisms were most probably conducted by Rev. William Leigh (1550-1639) of Westhoughton, a graduate of Oxford, appointed Rector of St. Wilfred's, Standish in late 1586, a position which he held until his death. He was a charismatic Puritan preacher and author with a wide following, chaplain to Henry, 4th Earl of Derby, preacher at court and tutor to Prince Henry, the elder son of James I. He was also a Justice of the Peace, which involved him in the Salmesbury Witch Trial of 1612. He was a close friend of the Standishes of Duxbury, but constantly at odds with the Catholic Standishes of Standish.
Myles' father was a soldier, probably named Alexander after his grandfather Alexander, named in turn after his grandfather Sir Alexander, named in turn after his grandfather Alexander. Myles was later to name his second son Alexander. The most likely scenes of war for Myles' father to have fought in were Ireland or the Low Countries, to which Elizabeth despatched the first English contingent in 1585 to aid the Protestant Dutch in their struggle for independence from the Catholic Spanish Hapsburgs. This was, of course, where Myles was later to win his spurs. In the light of Myles' birth in c. 1587, potentially as a younger son, however, it is unlikely that his father participated in the early campaign.
Myles was possibly the eldest or only surviving son, but many details indicate that he was more likely a younger son, named after a relative from the female side of the family. As a younger son of a minor branch of the family, he would have to make his own way in the world, not expecting any inheritance. The lands named in his Will, and the "great estate" mentioned by Nathaniel Morton, lay far in the future, the inheritance and loss of which would be a result of the turmoil of the English Civil War (1642-51).
Several books in the Inventory of Myles' possessions, appended to the Probate of his Will in 1657, indicate that he attended Rivington Grammar School, founded in 1566 by James Pilkington, Bishop of Durham, a graduate and former President and Master of St. John's College, Cambridge. This College became the automatic place of study for many RGS pupils, followed by Gray's Inn. Several Standish cousins in Duxbury attended this school, and although records are lacking, it is easy to believe that some of them continued their education at Cambridge.
Unfortunately the only two extant lists of pupils around this time are for 1575 and 1613, so we will never know whether Myles attended or not. However, his library implies that he had a solid education, and the earliest he would have entered would have been aged 4 or 5 (his quarter-cousin Alexander was there in 1575, aged 4/5, and another cousin James aged 16).
He perhaps lodged with his relatives at Duxbury Hall, about two miles from the school. Or maybe he lodged closer, but he very likely visited Duxbury Hall on many occasions. An old Duxbury, Massachusetts tradition gives the origin of the naming of Myles' settlement as after Duxbury Hall, rather than just Duxbury.
In c. 1601, presumably under the influence of his soldier father and inspired by his military ancestry, Myles became a drummer at the tender age of c. 14. He might have been inspired, as all England was, by the recent victory at Nieuwpoort, and been attracted by the recent call for recruits for the Siege of Ostend in 1601.
One must wonder, however, how likely it is that a very small 14-year-old would have been allowed to depart on his own, with his little drum, to fight in a foreign war? His mother would surely not have said "Myles, here's your drum. Holland's that way." He must surely have been in the company of a relative or family friend, the most likely candidates being his father or an uncle. This would account for the statement by Thomas Morton that Myles "had been bred a soldier" in the Netherlands. And it is even more likely that they were part of a much larger Lancashire contingent.
References and Notes
Justin Winsor (a native of Duxbury), History of Duxbury (Boston, 1849), relates the full story of Mr. Bromley's visit, and that the family had deduced a birth date of c. 1584 mainly from the Commission as Lieutenant; Stephen M. Allen (Secretary of the Myles Standish Monument Association), Myles Standish; Exercises of Consecration; Monument on Captain's Hill (Boston, 1871), confirms the continuing fervent belief in Bromley's story;

*Publications of the Massachusetts Historical Society, Vol. XV, p. 325 (October, 1877) gives Capt. Harrison's letter and arguments for authenticity; Memorial History of Boston, Vol. I, p. 65 (Boston, 1880) first published the first engraving;

Justin Winsor (Historian, son of the one above, and known as the Founder of American Libraries, biography in the Enc. Brit.),

Address, part of the Celebrations of the 350th Anniversary of the Founding of Duxbury (Boston, 1887) makes it clear that he had rejected the claim of a new birth date and still believed in 1584;

Henry Johnson Exploits of Myles Standish (London, 1892, London & New York, 1897) is the first publication located so far of the second, inferior engraving; A.S. Burbank (Historian, Bookseller and Publisher of Plymouth),Views of Duxbury & other titles, (Plymouth, c. 1900) -his various writings and publishings indicate that he totally rejected the portrait as authentic; Photographic Negative, Library of Congress Cat. No. U5Z62-120401, acquired c. 1904, © AS. Burbank; *CK Bolton, Portraits of the Founders, Vol II, p. 591 ff. (Boston, 1919) gives details of the suspicion of the date being added later and recognition of Winslow Standish, plus other interesting details;

*Robert L. Chew, Genealogy of the Chew Family (1982) gives, obviously, details of the family; IGI/Ancestral File on the Internet repeats many Chew details. Several other titles add to the story.

*Grateful thanks to Caleb Johnson (of the Mayflower web pages) and Jim Snow of North Virginia, both descendants of Myles, for the full details of references preceded by an asterisk. Most of the other titles are in the Pilgrim Fathers Collection in Chorley Library 2. William Leigh is in the Dictionary of National Biography, his close connection with the Standishes of Duxbury is in T.C. Porteus, History of Standish (1927); and he appears in several Standish of Duxbury documents and Wills (Lancashire Record Office); an excellent account of the Salmesbury Witch Trial is in David Brazendale, Lancashire's Historic Halls (1994).

Margaret M. Kay. The History of Rivington and Blackrod Grammar School, Manchester University Press, 1931, 2nd Ed. 1966.