Return to - the Ancient Parish of Standish Return to mylesstandish.info. Coppull Village Lancashire.

2. BLAINSCOUGH - Worthington Family.
3.Bogburn Hall - Haydock Family.
The Manors of Coppull and Chisnall within the -
Ancient Parish of Standish Lancashire England.
COPPULL
Cophull, Cophulle, 1277; Copphull, 1351; Copthull, 1374; Coppull, 1444.
This township has the River Yarrow for part of its northern boundary, the southern being formed by the Buckow Brook, which divides Coppull from Langtree and Worthington.
Chisnall lies in the extreme western corner and Birkacre in the northern, while Blainscough lies between them.
The hearth tax return of 1666 gives a total of 121 hearths charged. The largest houses were those of Thomas Worthington, with fourteen hearths, Edward Dicconson ten, and Edward Chisnall eight. Next to this came William Crook's with five.
Roger Haydock, a zealous Quaker who was twice imprisoned at Lancaster, was born at Coppull in 1644 and died at Penketh, near Warrington, in 1696. The other celebrities of the township are two of the Worthingtons of Blainscough, one a Jesuit, the other a Dominican, and Edward Chisnall.
The Manors.
COPPULL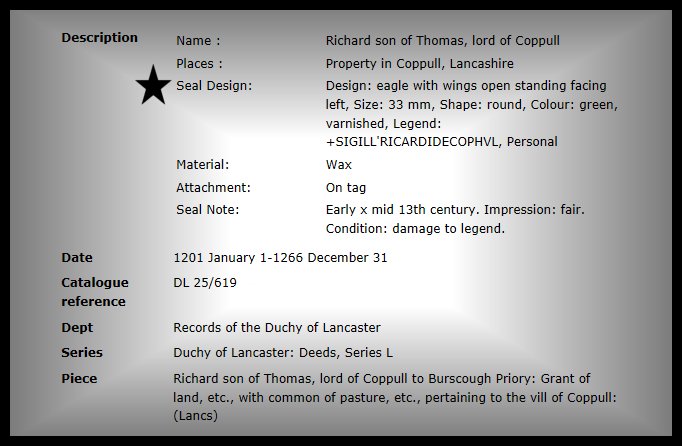 This township was originally a part of Worthington, and continued to be held of the Lords of the latter, but a Manor of COPPULL was granted to a family which assumed the local name.
Richard Lord of Coppull was one of the early benefactors of Burscough Priory, granting land called Perburn. But little is known of the family, which retained possession until the time of Edward IV, when the Manor was purchased by Sir Thomas Stanley, and descended with Lathom for more than a century.
A younger branch of the Coppull family ended in co-heiresses Isabel, who married William Nightingale, and Cecily, who married John de Charnock of the Bank in Charnock.

The Recusants Roll for the year 1628.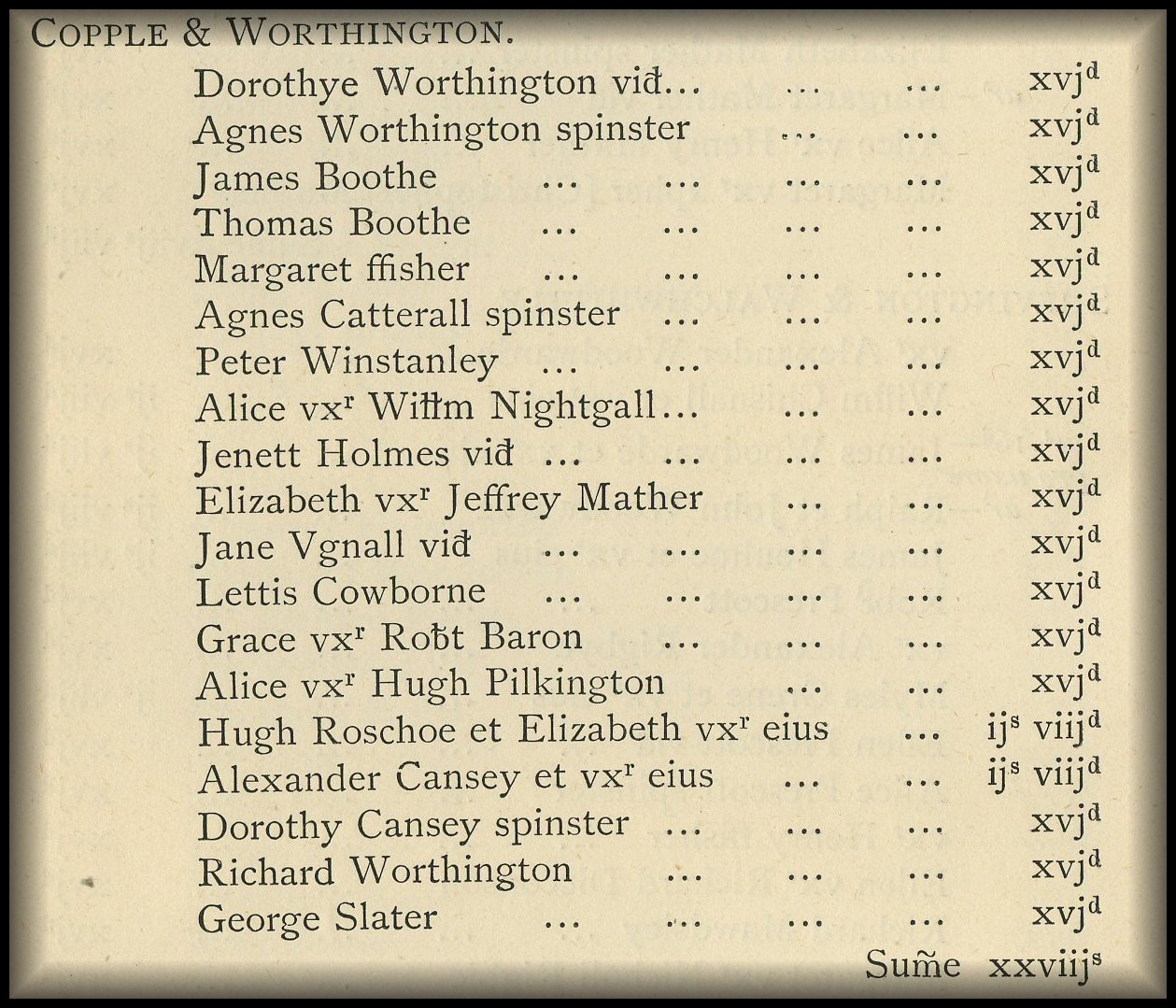 The Subsidy Roll for the year 1628.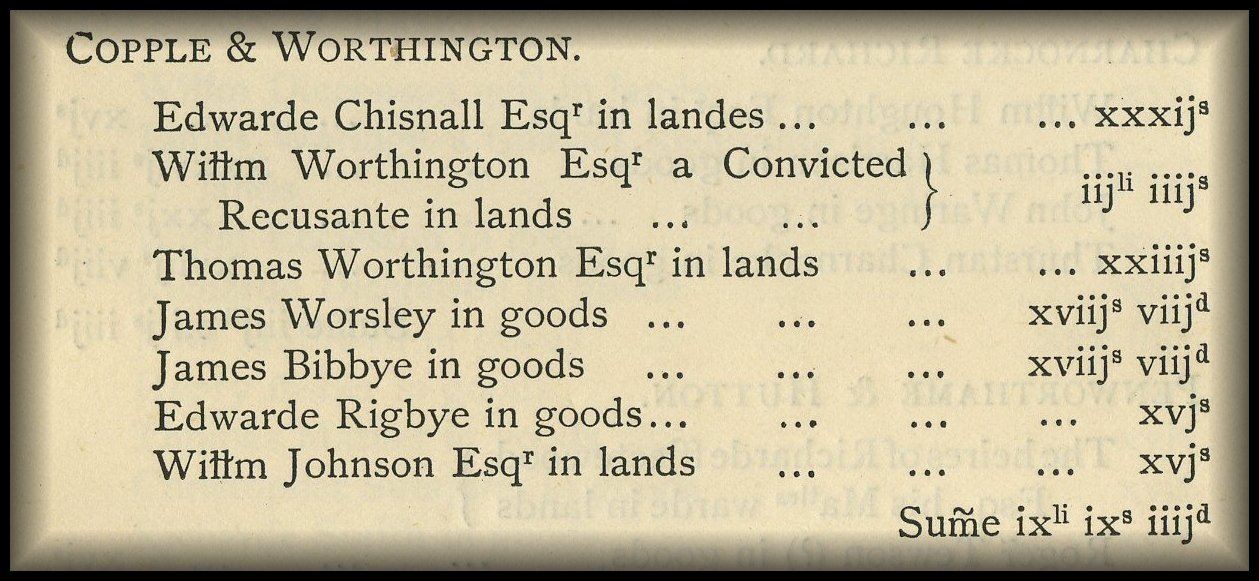 In 1600 William Earl of Derby sold it to Edward Rigby of Burgh in Duxbury, in whose family it remained for some time.
In 1755 it was in the possession of a family named Livesey, and was in 1820 sold to John Hodson of Ellerbeck in Duxbury, and the estate descended from John Hodson to the trustees of the Lord Cardwell, who were the Lords of the Manor of Coppull.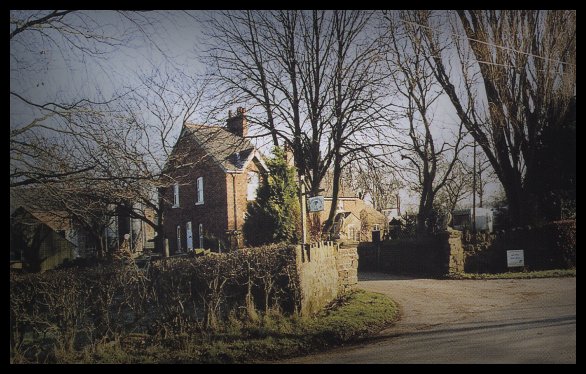 Coppull Old Hall.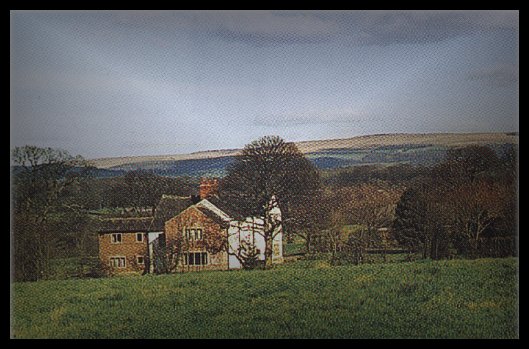 Coppull New Hall.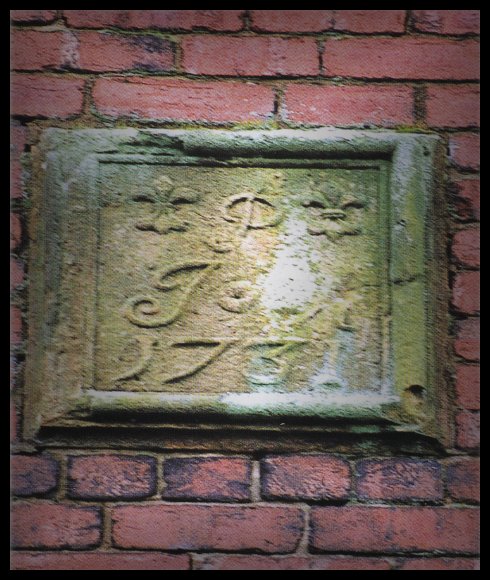 date stone 1731 - Coppull New Hall.
Coppull New Hall - 2011.
The Original Roll -Tenants in Coppull for the year 1588.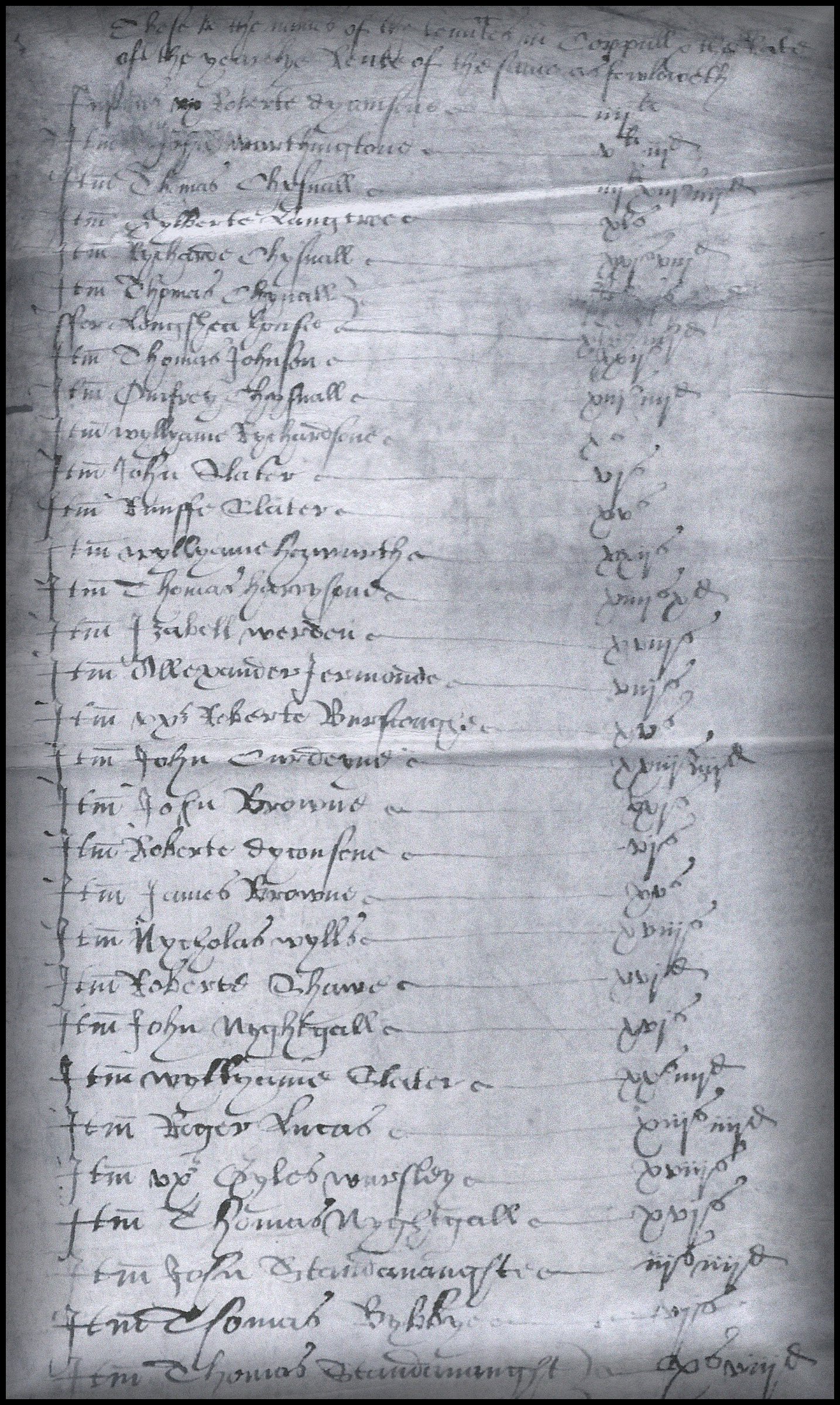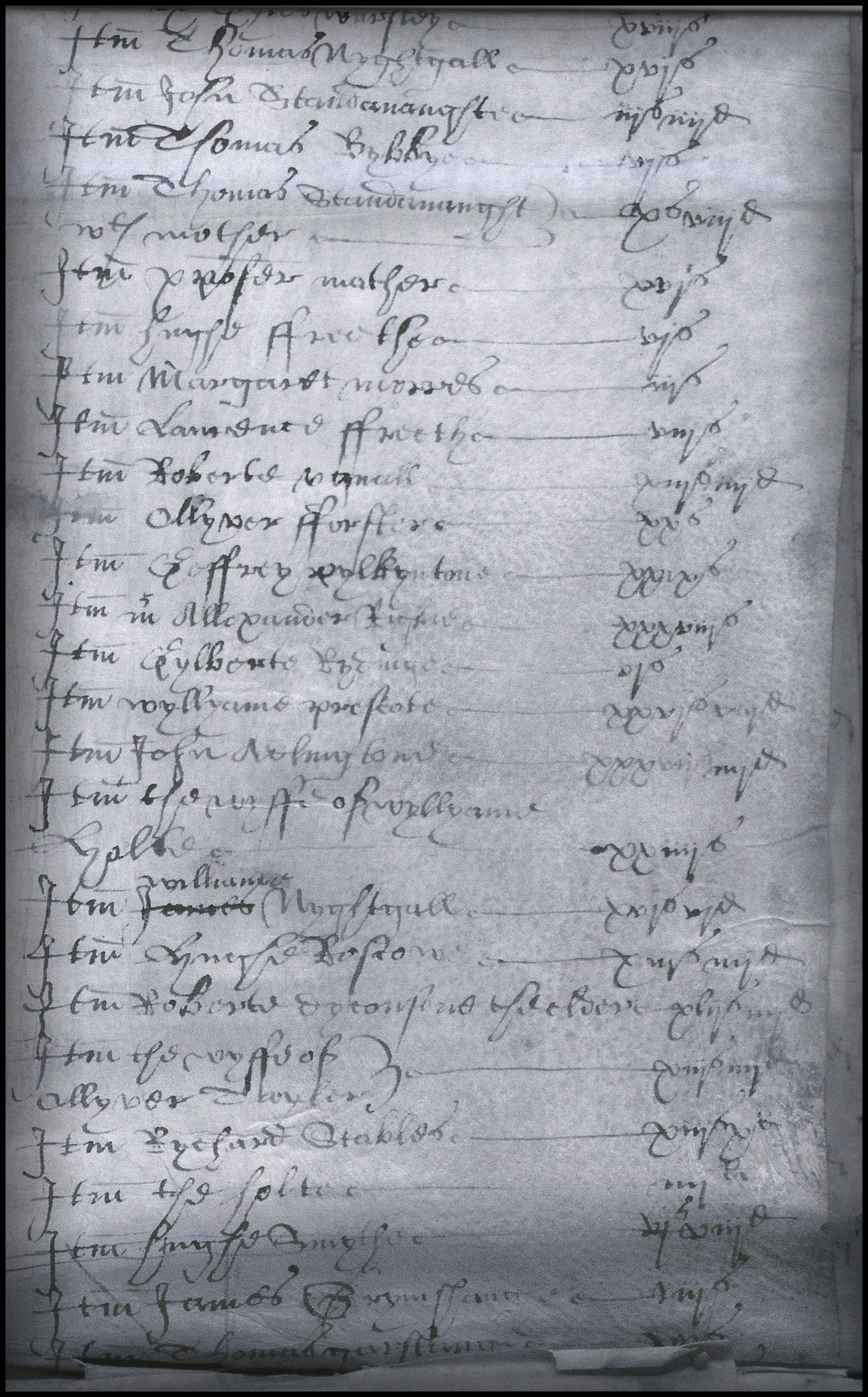 Translation of the Original Roll -Tenants in Coppull for the year 1588.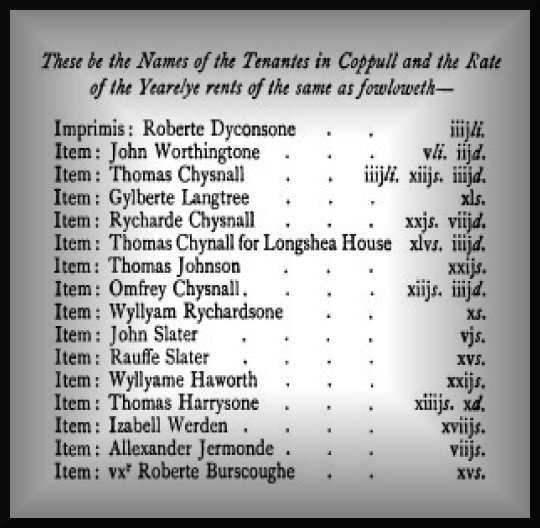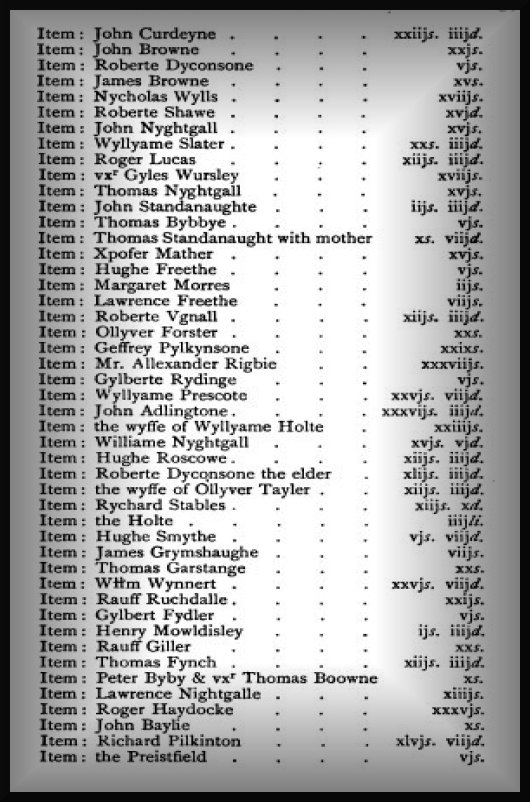 Myles Standish.
The River Yarrow as it flows through Birkacre in Coppull and past Lower Burgh Hall - 2010.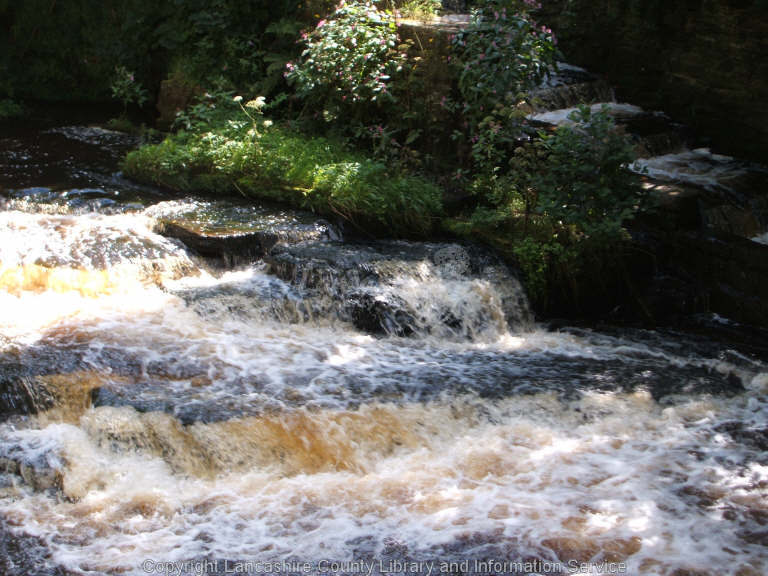 At the meeting point of the boundaries of the four great Manors of the Lords of Chorley – Coppull – Charnock Richard and Duxbury stands Lower Burgh Hall the home of Thurstan Standish the second son of Sir Alexander Standish Lord of the Manor of Standish 1468 – 1507.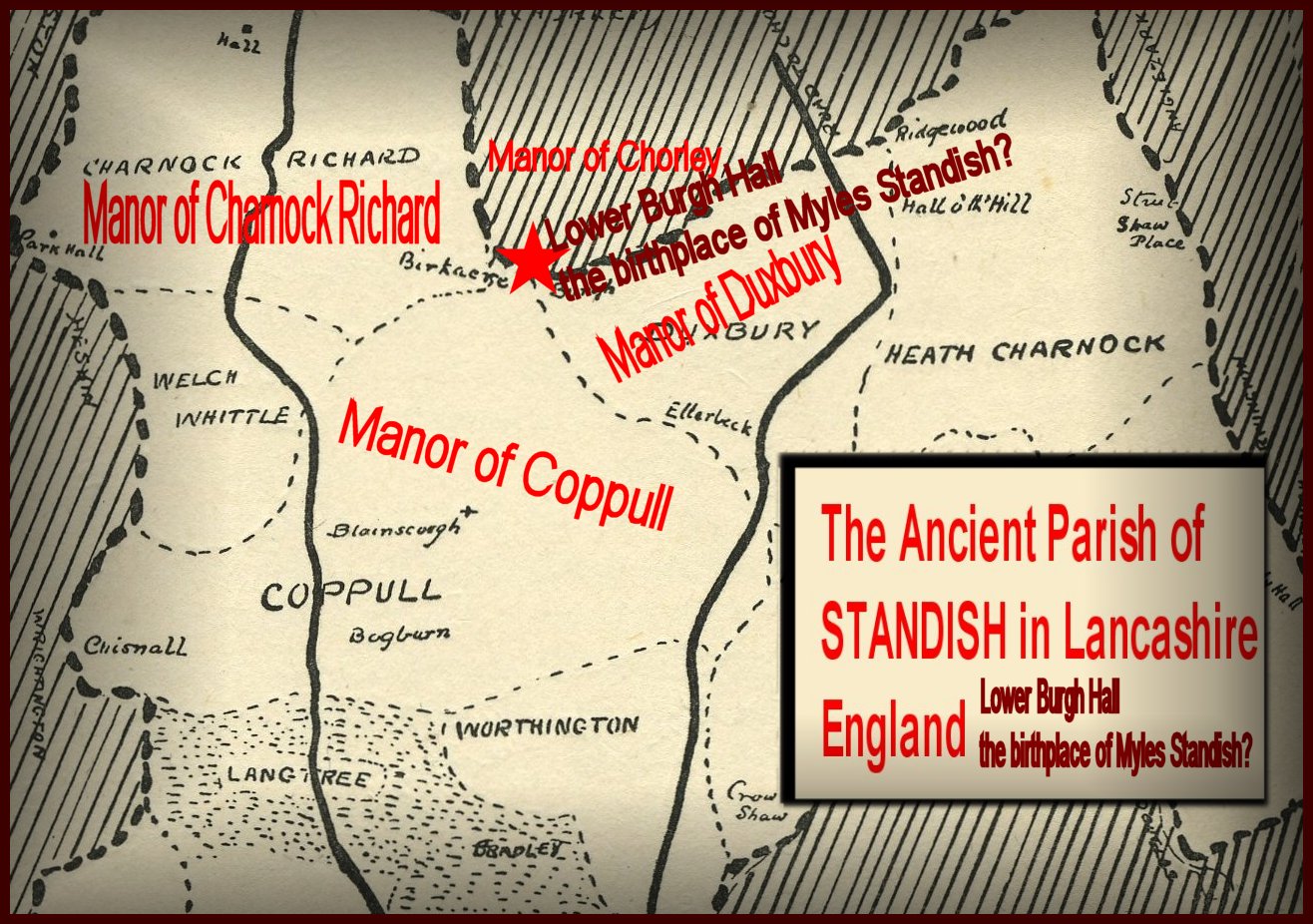 In his Last Will & Testament dated March the 7th 1655 Myles Standish states that "my great G(ran)dfather being a 2cond or younger brother from the house of Standish of Standish" was Thurstan Standish (the second son of Sir Alexander Standish) the great grandfather referred to in the Will of Myles and was Lower Burgh Hall the birthplace of Myles Standish?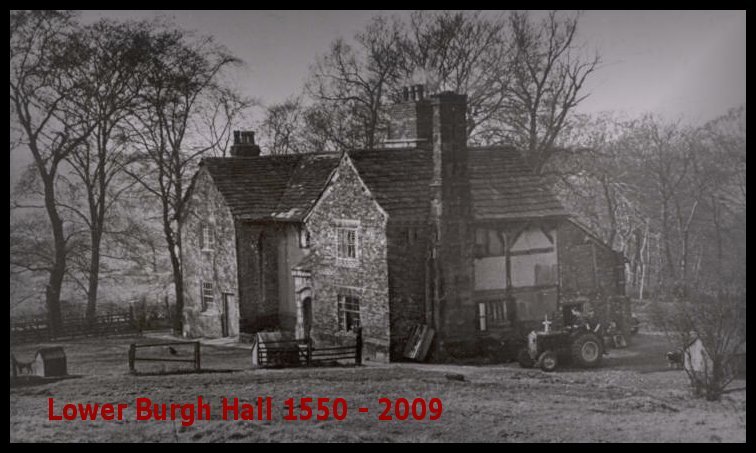 People and events in Coppull 1438 to 1905 (a small selection of many).
Year 1438 - Theft.

Year 1618 - Property Sold.

Year 1658 - Will.

Year 1675 - Bastardy.

Year 1675 - Mr Heskin Fell to Jail.

Year 1678 - Coppull's new Smithy.

Year 1699 - Coppull's Blacksmith Mr Thomas Fisher.

Year 1750 - Bastardy.
Year 1790 The Lady of the Manor of Coppull - Jane Pearson.

Year 1804 Soldiers of Coppull.

Year 1803 - Will.

Year 1805 - Will.

Year 1825 - Bastardy.

Year 1827 - 1829- 1843. "the Order of the Boot" kicked out of Coppull!



Year 1905 Coppull Village.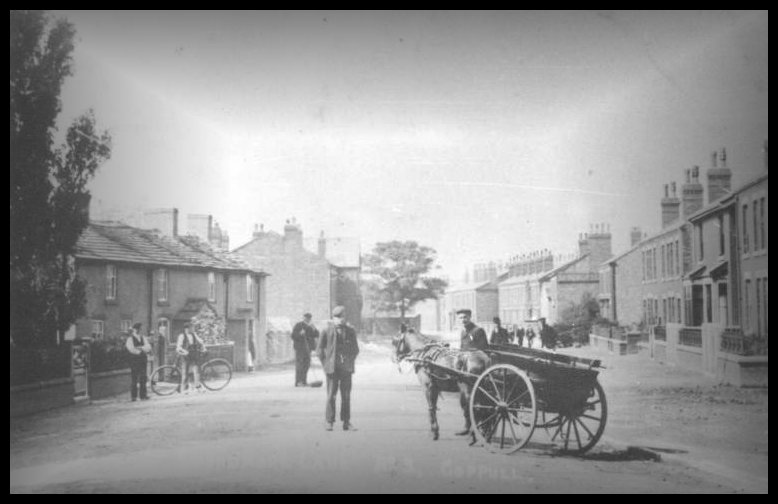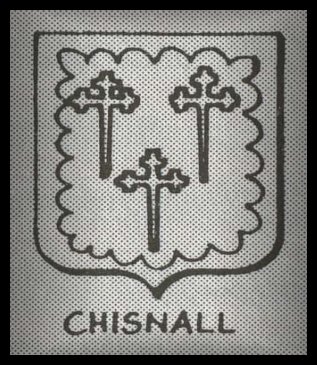 Chisnall. Argent three crosslets fitchy within a bordure gules.
Chisnall was held by the Chisnall family from an early time. Roger and John de Chisnall are mentioned in 1277, and in 1292 the latter recovered land in Worthington. Roger de Chisnall and Margaret his wife in 1347 settled a messuage andland on Roger son of Roger and Alice his wife, with remainders to Robert, John and Thomas, brothers of the younger Roger. For a century and a half there is little record of the family, but John Chisnall, who died in 1525, was found to hold messuages and lands in Coppull and Worthington partly of the Earl of Derby by a rent of 2s. 2d. and partly of Richard Worthington by a rent of 2s.; his son and heir Thomas was only fifteen years old. A settlement was made in 1554 and a pedigree recorded in 1567, Thomas Chisnall being still alive.


His son Edward succeeded before 1600, and by his marriage with Margaret Worthington secured an estate in Shevington. Their son Edward took a distinguished part in the first defence of Lathom House in 1644, and afterwards fought at Marston Moor. His estates were of course sequestered by the Parliamentary authorities, and he compounded for them. Afterwards he turned to controversy, producing in 1653 his Catholike History in defence of 'the Reformed Church of England. He died 5 March 1653–4, and was succeeded by his son Sir Edward Chisnall, who represented Wigan in 1688–9 as a Whig and Preston in 1690 as a Tory. His daughter and eventual heir married Stephen Hammerton of Hellifield Peel in Yorkshire, and the estate descended for some time in the family.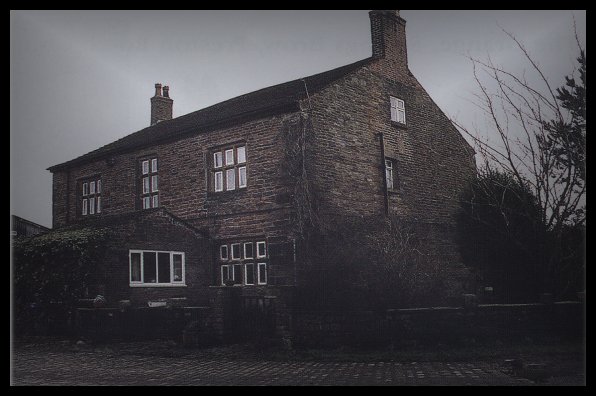 Chisnall Hall.
Chisnall of Chisnall in the year 1567.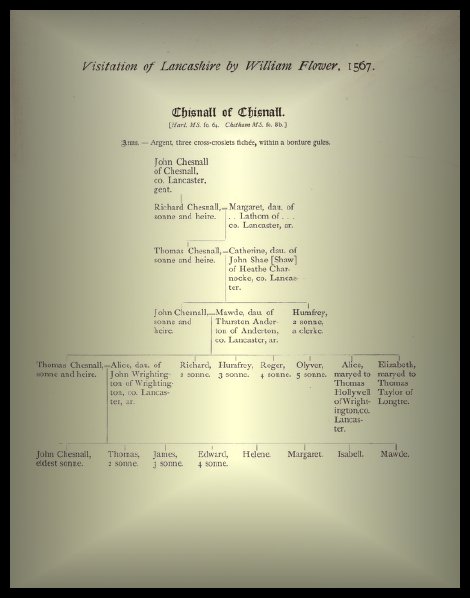 Chisnall of Chisnall in the year 1613.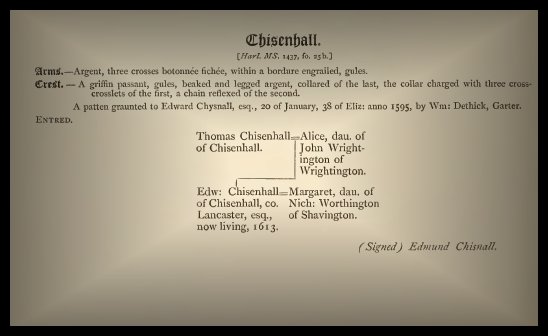 Chisenhale [Chisnall], Edward (bap. 1619, d. 1654),

soldier and religious controversialist

, was baptized on 20 January 1619 in the parish of

Standish

, Lancashire, the eldest son of Edward Chisnall (d. 1635) of Chisnall in the same county, and his wife, Margaret (d. in or after 1647), daughter of Nicholas Worthington of Shavington. On 4 May 1633 he married at Bispham, Lancashire, Elizabeth, daughter of Alexander Rigby of Burgh; it seems unlikely that the couple cohabited until the later 1630s. Chisenhale was admitted to Gray's Inn on 1 November 1635, and by the Easter term of 1642 had completed his studies for the bar, but before he took the oath as a barrister, and perhaps as early as September 1641, he left the inn, possibly to return to the north. Four sons and four daughters were baptized at

Standish

between 1639 and 1650.

With the outbreak of the civil war Chisenhale joined the royalist army, holding a commission under Prince Rupert. In 1644 he played a significant role in the first defence of Lathom House, not far from his home at Chisnall, and he fought at Marston Moor. 'Colonel Chisnall' was said to have been taken a prisoner at Wigan, and in 1648 was captured at Appleby. He was subsequently sequestered as a delinquent, and that year was among seventy-four Lancashire royalist gentry who compounded for their estates. His fine—originally set at £600, but then reduced to £480—seems to have necessitated some land sales, but the long-term effects on family finances appear to have been limited. However, the commissioners noted in April 1649 that his circumstances had been complicated by the fact that the occupants of his property of 'Chisenhall Buildings' within Gray's Inn had refused to quit. The commissioners also accused Chisenhale's mother, Margaret, by May 1647 the widow of William Hoghton of Park Hall, of being a recusant.

Chisenhale himself took an uncompromising stand against the Church of Rome in his

Catholike History

(1653). Although the dedicatory epistle 'to the Right Reverend, the Legal Clergy of the Reformed Protestant Church', dated 11 February 1651, implied that 'the desolations and miseries that have late befallen our English church' and 'the injury done to our English Vineyard' which prompted him to write lay in the immediate past, the controversy he entered was of longer standing; he made no direct allusion to the current problems of English episcopalians challenged by their protestant countrymen. His particular target was

The Lost Sheep Returned Home

, published in Paris in 1643 by former royal chaplain Thomas Vane (b. 1599/1600), who had sought to justify his recent conversion to Catholicism. Chisenhale's arguments were drawn from the mainstream English protestant tradition: the Christian church in England had been planted by Joseph of Arimathea in

AD

63 and was independent of Rome; the Church of Rome was not a true church, as was evident from its government, its doctrines, and its worship; the pope had no power to depose a prince and bishops were not equal to kings; the Reformation in England was justified. He exhibited a knowledge of the extant history of the early councils of the church, and of the relations between secular and ecclesiastical rulers in medieval England and Europe; in answer to the anticipated charge that he was not qualified as a defender of the church, he reminded his readers that, as seen in the book of

Ezra

, all the Israelites were involved in the rebuilding of the temple in Jerusalem.

Chisenhale died on 5 March 1654, and was buried at

Standish

. His estates went to his third but eldest surviving son, Edward (b. 1646), who was knighted in 1671. He sat as MP for Wigan in 1689 and for Preston in 1690, and was a deputy lieutenant for Lancashire from 1689 to 1715. He died in 1727.


Vivienne Larminie
.
Sources
VCH

Lancashire, 6.226 · R. St George, Visitation of the county palatine of Lancaster, made in the year 1613, ed. F. R. Raines, Chetham Society, 82 (1871), 24 · Dugdale's visitation of Lancashire, 1664–5, Chetham Society, 84 (1872), 79 · J. Foster, The register of admissions to Gray's Inn, 1521–1889, together with the register of marriages in Gray's Inn chapel, 1695–1754 (privately printed, London, 1889), 209 · J. H. Stanning and J. Brownbill, eds., The royalist composition papers, 2, ed. J. H. Stanning, Lancashire and Cheshire RS, 26 (1892), 35–8 ·

IGI

· B. G. Blackwood, The Lancashire gentry and the great rebellion, 1640–60, Chetham Society, 3rd ser., 25 (1978), 116 ·

PRO

, PROB 11/248, sig. 310, fols. 375v–376 · I. Cassidy, 'Chisenhall, Sir Edward', HoP, Commons, 1660–90 · A. Milton, Catholic and Reformed: the Roman and protestant churches in English protestant thought, 1600–1640 (1995), 278–9
Wealth at death - annual rental of estates, c.1648 was £120 (est.): VCH Lancashire; Stanning and Brownbill, eds., Royalist composition papers.
St Wilfrids Parish Church - Standish.


1630. Legal dispute - Rigby v Chisnall.

1898. Chisnall Hall Colliery.
In 1898 Chisnall Hall Colliery was opened and initially Men, Women, and Children laboured beneth the green meadows of the Manor of Chisnall.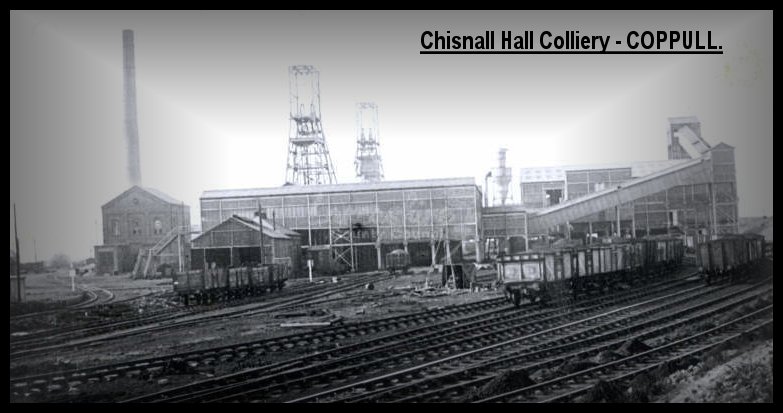 Chisnall Hall Colliery 1960.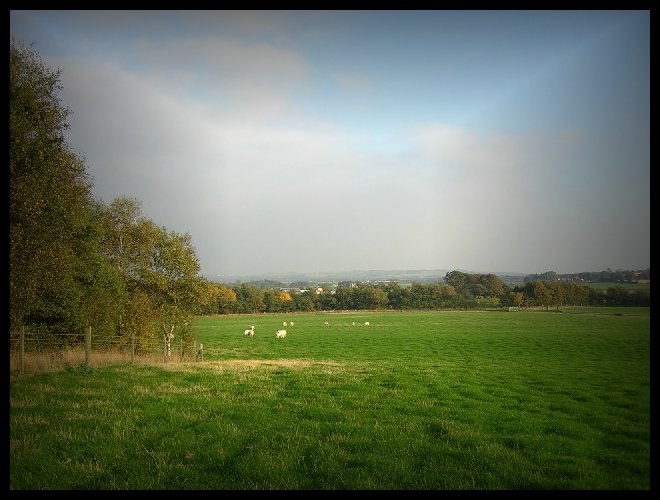 The site of Chisnall Hall Colliery 2010.

The Worthington Family of BLAINSCOUGH Hall, Coppull.
BLAINSCOUGH gave a surname to one of the local families, but the principal estate was that of the Worthingtons, probably a branch of the manorial family settling there early in the 14th century.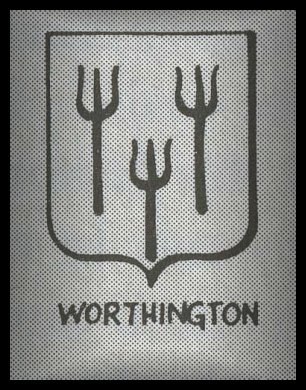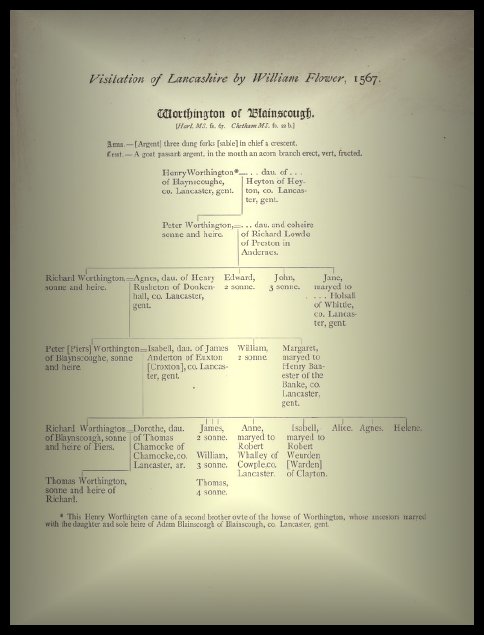 Richard Worthington of Blainscough died in December 1526 holding messuages and lands in Coppull of Edward Earl of Derby in socage by the rent of a pair of white gloves yearly, or 1d., and others in the same place of Richard Worthington of Worthington by a rent of 2s. He also held lands in Brindle and Turton. Peter, his son and heir, was twelve years old. Peter died in 1578 owning a somewhat increased estate; the lands in Coppull were held of the Earl of Derby by a rent of 2s. 9d. and a pair of gloves, and of Edward Worthington by a rent of 2s. Richard, the son and heir, was forty years of age; he died in 1590, leaving a son Thomas, twenty-three years old.
After a temporary conformity on the accession of Elizabeth the family became distinguished by a resolute adherence to Roman Catholicism. Thomas Worthington, son of Peter, educated at Oxford and then at Douay, came on the English mission in 1578, thus arousing his father's opposition. He was betrayed and sent to the Tower in 1584, and banished the following year. In 1599 he became president of Douay and caused a disturbance by his subservience to the Jesuits. He went to Rome, but returned to England in 1616 and died at Biddulph in 1626, having just previously entered the Society of Jesus.The adventures of his four nephews, who fell into the hands of Bishop Chadderton, but afterwards made their way abroad, provide an interesting story.
One of them was the heir of Blainscough, Thomas Worthington, who married a niece of Cardinal Allen. He found it advisable to take refuge abroad, and died an exile at Louvain in 1619. His son and heir William, also a convicted recusant, adhered to the king's cause in the Civil War, and lost his estate for the time, it being sequestered. A pedigree was recorded in 1664, but the family fell into an obscurity easily accounted for by this outline of their story.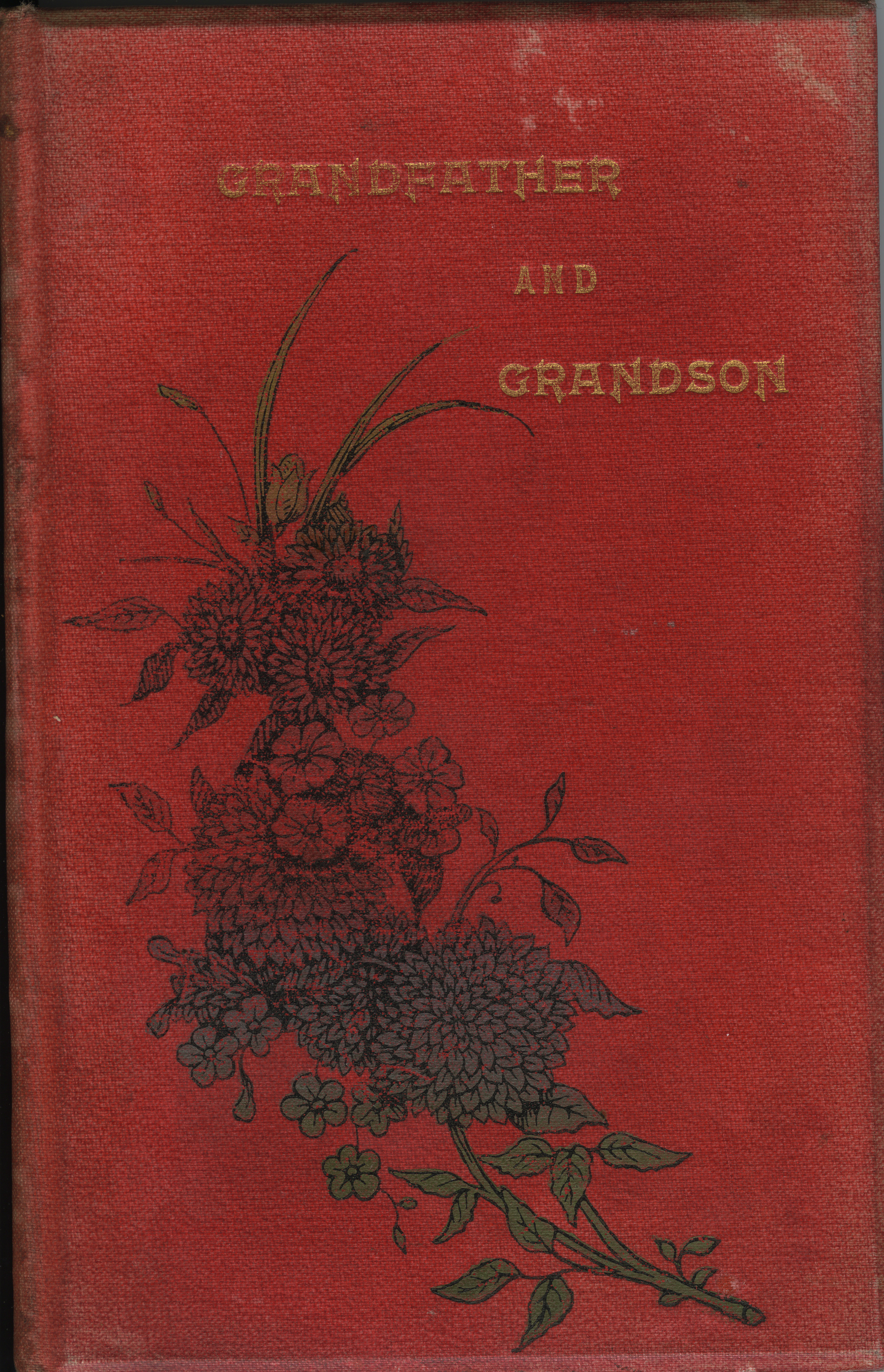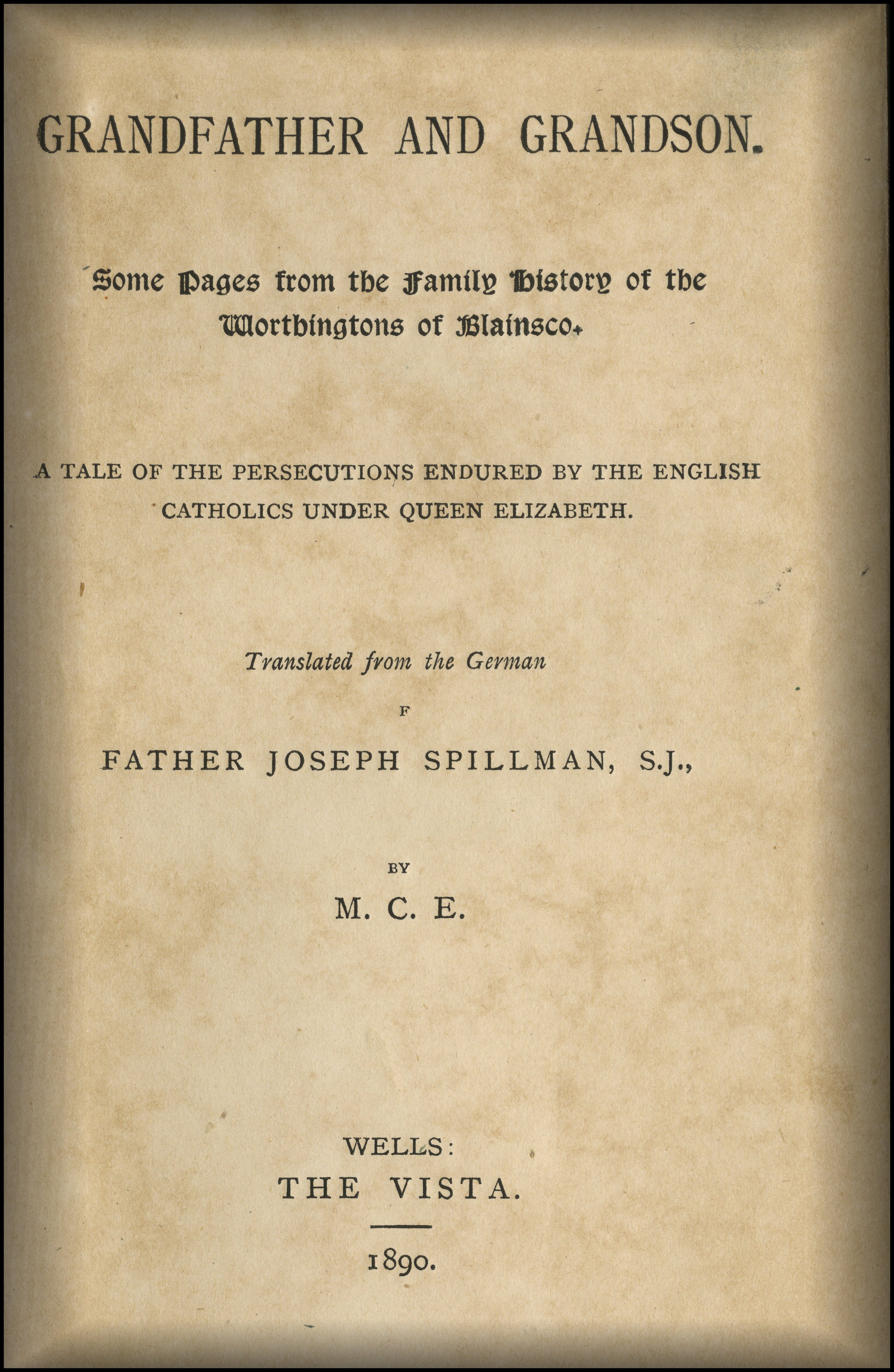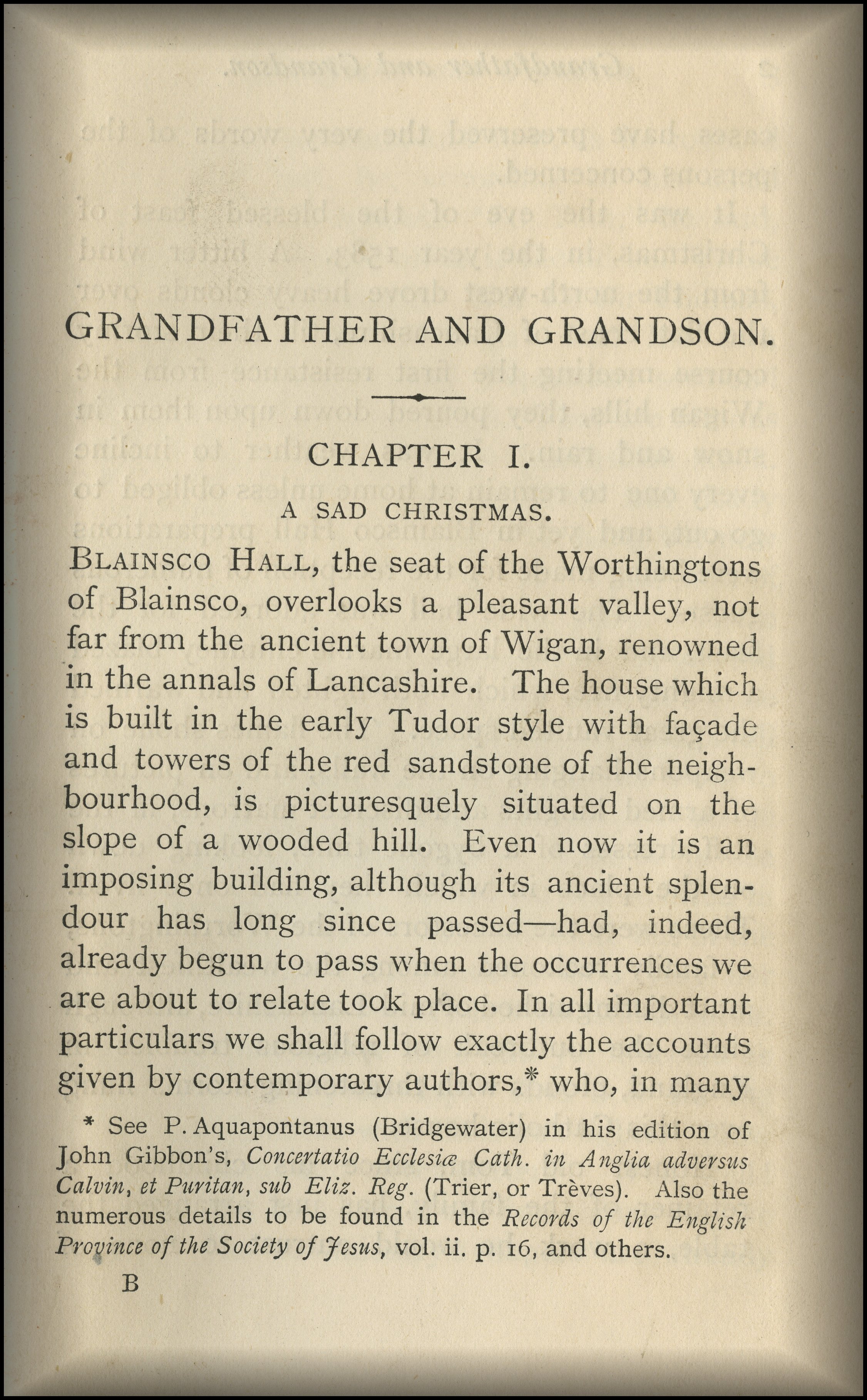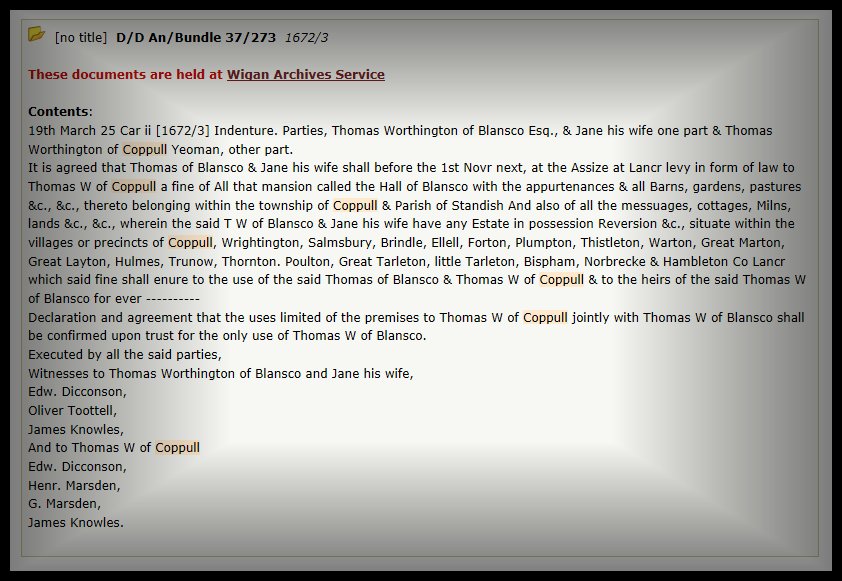 Blainscough was sold to Richard Holt of Wigan in 1732, and in 1836 was the property of George Case of Liverpool. The Torbocks at one time claimed a lordship in Coppull, and among others connected with the township were the families of Nevill, Prescot, Ugnall, Wetshaw, Perburn and Haydock. Birkacre was in the 13th century granted to William de Worthington. In more recent times it belonged to the Chadwicks. Lands in Coppull were also held by neighbouring landowners, as appears from the inquisitions.
The subsidy roll of 1542–3 shows the following landowners in Coppull and Worthington: Richard and Peter Worthington, Thomas Chisnall and the wife of John Chisnall; the roll of 1564 has Thomas and Peter Worthington, Thomas Chisnall and Andrew Ugnall. Several 'Papists' registered small estates in 1717. In 1783 the principal landowners were James Hammerton, Jane Person, Edward Chadwick (double assessed), Samuel Crook and Edward Holt.

The Haydock Family of Bogburn Hall, Coppull,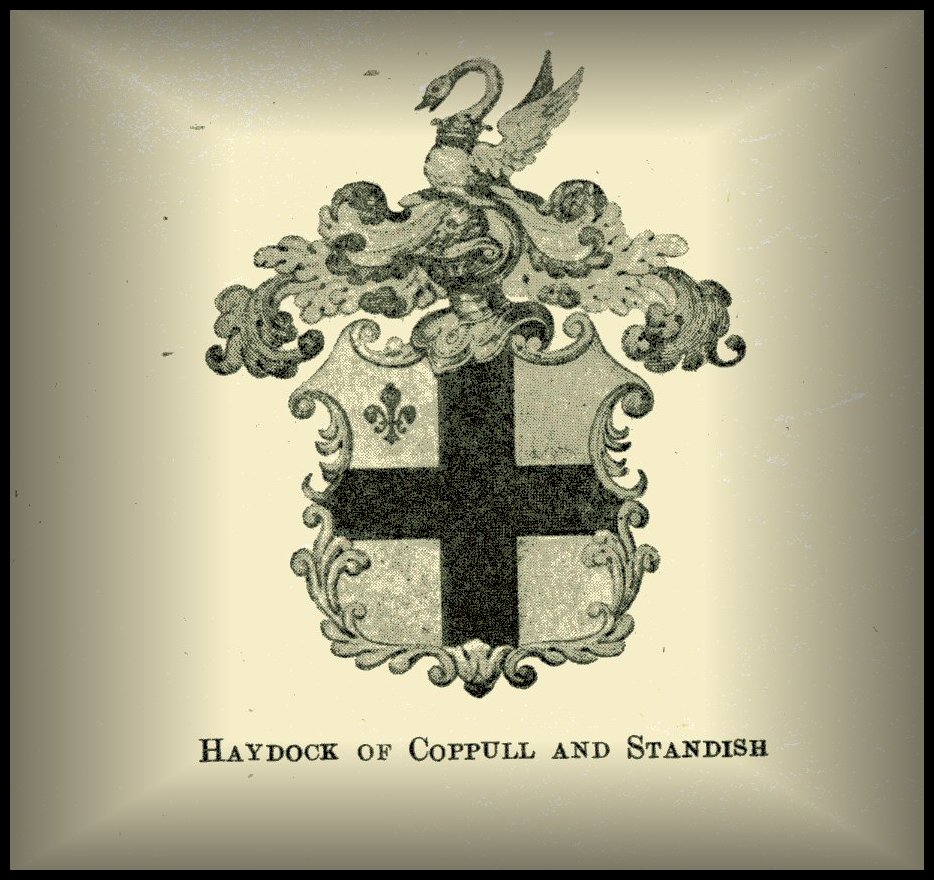 Haydock Family Memorial - St Wilfrids Parish Church - Standish - Lancashire.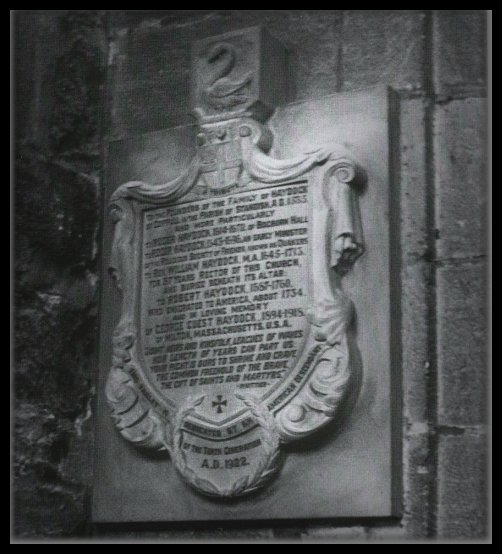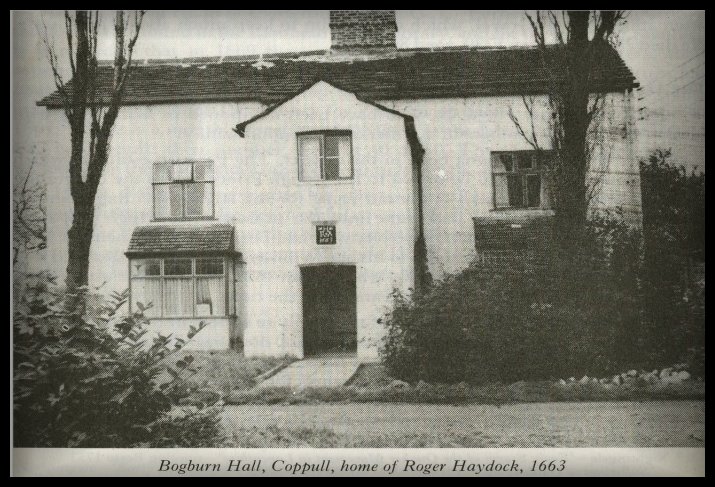 Bogburn Hall, Coppull,
Haydock, Roger (1643–1696), Quaker preacher, was born at Coppull, in the parish of Standish, Lancashire, on 1 May 1643, the second son of Roger Haydock (d. 1670), and his wife, Alice Nightingale. He was baptized in the parish the following day. He was educated but where is not known. In 1667 Roger's brother, John, became a Friend. This conversion upset their mother, who is recorded as being inclined to presbyterianism, and she apparently enlisted Roger's help in dissuading his brother. The result, however, was that Roger likewise converted in November 1667. The brothers began to travel to Quaker meetings throughout Lancashire. In April 1668 they were both arrested at a meeting in Bury and were imprisoned at Lancaster Castle for some months. Roger was again apprehended in January 1669 for attending three meetings at Bury and was fined £15 by the Manchester quarter sessions. On the death of his father in 1670, John inherited the estate at Bogburn Hall, Coppull, where Roger acted as steward in his brother's absences.

In 1674, on the information of Ralph Brideoake, bishop of Chichester and rector of Standish, Roger Haydock was prosecuted in the ecclesiastical court at Chester for non-payment of tithes and in May was committed to Lancaster gaol for non-appearance; he was released on 12 January 1675. In July and August 1675 he travelled throughout the midland and northern counties, and on return to Lancashire in August he was fined £20 for attending a meeting at Bury. During the next few years he spent a considerable amount of time in prison for refusal to pay tithes and for preaching. He does, however, appear to have been allowed some measure of liberty, at which times he continued to preach and attend meetings. On 4 June 1676 he engaged in a dispute at Crowton in Weaverham parish, Cheshire, with John Barber, vicar of Weaverham, John Davis, vicar of Frodsham, and John Cheyney, said to be curate at Burtonwood in Warrington parish. In January 1677 Haydock engaged in further dispute with John Cheyney at Arley Hall, Cheshire. These disputes prompted the publication of two works, The Skirmisher Confounded (1676) and A Hypocrite Unveiled (1677), in which Haydock challenged Cheyney and his anti-Quaker publications.

Between 1677 and 1681 Haydock made several preaching tours throughout England. In 1681 he made his first overseas tour to the Netherlands and Germany, where at Alzey in Hesse-Darmstadt he was arrested and imprisoned for eleven days. On his return he married Eleanor Low (d. 1723) of Crewood Hall, Crowton, near Northwich, Cheshire, on 6 March 1682 at Newton, near Middlewich. They had four sons, three of whom died in childhood: their surviving son, Robert, was born at Penketh, Lancashire, in 1687. Haydock was imprisoned yet again at Lancaster between August 1683 and May 1684. By July 1684 he was once more indicted, with his wife, for holding conventicles. A further spell of imprisonment followed from December 1684 until March 1686, when he was finally released following a king's pardon. He gained the protection of the earl of Derby, who sympathized with Friends in the Isle of Man. Later in 1686 Haydock embarked on another tour of the Netherlands and Germany, and on his return he visited Friends throughout Scotland and the north of England.

About 1687 Haydock moved to Brick Hall, Penketh, Lancashire, where his ever frail health broke down. However, by 1693 he was sufficiently recovered to enter a public dispute with another Cheshire clergyman, John Hyde, and to resume his travels in England and the Netherlands. Through the years Haydock maintained a regular correspondence with Friends in Europe and America, in which he described his travels and meetings with other Quakers. In May 1696 he succumbed to a fever and, after a short illness, died at Penketh on 11 May 1696. He was buried that same month in the Quaker burial-ground at Greystone, near Penketh.

In 1700 John Haydock published A Collection of the Christian Writings, an anthology of his brother's works, which includes an account of Haydock's life and death together with testimonials from Eleanor Haydock and other Friends. It also included the claim that he had travelled nearly 33,000 miles during his career, and ministered to more than 2600 meetings. Haydock's will, proved at Chester in 1701 some five years after his death, bequeathed half his estate to his wife with bequests to his son, nephews, and nieces. Eleanor Haydock outlived her husband by many years. She was also a zealous Quaker, travelling throughout the country to meetings. She died in 1723. In 1743 their son Robert emigrated with his family to America, where they eventually settled in Flushing, Long Island. In 1922 a memorial was raised in Standish parish church to the Haydock family, which commemorates not only Roger Haydock but also his father, his son, and Roger's brother William, rector of Standish from 1678 until 1713.

Catherine Nunn.
Sources
A collection of the Christian writings, labours, travels, and sufferings of … Roger Haydock, ed. J. Haydock (1700) · T. C. Porteus, 'Roger Haydock of Coppull, a brief biography', Transactions of the Lancashire and Cheshire Antiquarian Society, 52 (1937), 1–66 · R. Muschamp, The story of the Quakers: early happenings in Warrington and district (1931) · J. Besse, A collection of the sufferings of the people called Quakers, 2 vols. (1753) · J. Gough, History of the people called Quakers (1789) · N. Morgan, Lancashire Quakers and the establishment (1993) · W. C. Braithwaite, The second period of Quakerism, ed. H. J. Cadbury, 2nd edn (1961) · DNB · Friends' marriage registers, Ches. & Chester ALSS, EFC 1/14/2 [transcript]
Archives
Hist. Soc. Penn., Pemberton papers, corresp., collection no. 484
<![if !supportEmptyParas]> <![endif]>
Wealth at death
see will, Lancs. RO
© Oxford University Press 2004–5
All rights reserved: see legal notice

<![if !vml]><![endif]>

Catherine Nunn, 'Haydock, Roger (1643–1696)', Oxford Dictionary of National Biography, Oxford University Press, 2004 [http://www.oxforddnb.com/view/article/12747, accessed 8 Oct 2006]

Roger Haydock (1643–1696): doi:10.1093/ref:odnb/12747

Notes by: Rev. Thomas Cruddas Porteus.
15th March 1728 - John Haydock of Coppull.
[no title] D/D An/Bundle 42/369
These documents are held at Wigan Archives Service

Contents:
15th March 1728 Indenture Parties John Haydock of Coppull gent and Abigail his wife Robert Haydock of Penkall Yeoman and Rebecca his wife William Baldwin of Wigan pewterer & Elwin his wife and Edward Woods of the same Seddan and Mary his wife one part and John Baldwin of Wigan Clerk and James Laithwait of the same Inholder other part Reciting seisin of John Haydock of and in...
Two closes of land in Coppull called the fuller Fields containing 7 acres with a Lane or small [...] of land lying in the west corner of the Higher and the said fuller Fields And of a messuage in Coppull called Finch House and several closes of land belonging called the field next the House the Middle Field The Acre the Long Field and the Barn Croft containing 7 acres (tenants names given)
And reciting such John Haydock in his own and in respect of his wife Abigail is seized of 7/12th parts in 12 to the divided and such Robert Haydock in right of his wife Rebecca is seized of 5/12th parts in 12 to be divided of the messuages lands etc. called Woodside House in Watertree and the lands belonging thereto, called the Barn Hey and Meadow Corbetts Hey. Harrison Acre the Cow Hey the Gorsey Hey the Tewitts Hey and Harrisons Hey in Watertree containing 22 acres all that other messuage with the lands thereto belonging in Watertree and farston containing 8 acres And of all such other messuage called Hillside House in Watertree with the lands belonging called the Meadow on the part of the House Turners Meadow. Turners Croft the Song Croft the Broad Hey The Wheat Hey The Song Meadow The new Lays and new Lay Croft The new Lay Meadow The Broad Horse Close The Long Horse Close The Saddlars Heys and 2 crofts and the Hill Close in Wavertree containing 20 acres all which premises in Wavertree and Jarston where heretofore the inheritance of Damish Griffith deceased father of the said Abigail and Rebecca and are now in the tenure of Abigail widow and Relich of the said Damiah or of others as her farmers And reciting that William Baldwin and Ellan his wife or one of them is seized in fee of 2/18th parts of the said Edward Woods in 1/18th part of the several messuages etc. in Ince hereinafter mentioned (that is to say)
That messuage heretofore in the tenure of Matthew Seddon and now of Miles Seddon containing 2 acres.
All that cottage late in the tenure of Henry Greenhelgh
All that other cottage late in the tenure of Ralph Taylor
All that other cottage late in the tenure of Ellan Birchall and Richard Astley
All that other cottage late in the tenure of Thomas Bradshaw and now of John Briadshaw
All that other cottage late in the tenure of Thomas Harrison
All those 2 crofts to the last mentioned cottage belonging containing ½ an acre All those 4 closes called the Mill Field The Long Hey The Rough Hey and The Rileycroft court 10 acres now or late in the Tenure of the said Wm Baldwin Edward Woods and John Haydock And all that other close called The Carr court 2 acres in the tenure of John Bradshaw
It is witnessed and agreed that a fine shall be levied unto John Baldwin and James Laithwaite of the messuages etc. in Coppull Wavertree Garston and also of the 2/18th and 1/18th parts of this messuages etc. in Ince with all the estate etc. to the uses thereafter mentioned that is to say The lands etc. in Coppull and 7/12th parts of the messuages etc. in Wavertree and Jarston
To the use of such person as the said John Haydock by Deed or will shall appoint and for want of such appointment to his use of John Haydock for ever
And concerning the other 5/12th parts of the messuages in Wavertree and Jarston as the said Robert Haydock shall be deed or Will appoint and for want of such appointment to said Robert Haydock for ever
And concerning 2/18th parts of the messuages etc. in Ince as the said Wm. Baldwin shall apoint and foe want of such appointment to said Wm. Baldwin. for ever
And concerning 1/18th part of the messuages etc. as the said Edward Woods shall appoint and for want of such appointment to said Edward Woods for ever
Witnesses to execution by John and Abigail Haydock
Robert & Rebecca Haydock William and Ellan Baldwin Edward & Mary Woods
Richard Leigh
Wm. Farington
And to John Baldwin & James Laithwaite
Hugh Bullock
Cha: Hindley
Corfified as a fine copy by
Robert Leigh
Wm. Riley
Clerks to Wm. Alex.² Leigh

Coppull Parish Church
.
A chapel certainly existed at Coppull before the Reformation, but it was afterwards allowed to fall into ruin. In 1654 a new one was built by William Crook, the inhabitants repaying him most of the cost. On the restoration of episcopacy and the Prayer-book in 1660 the chapel appears to have been served from the parish church, but after a time the trustees or the survivor made an effort to secure it for the Presbyterian worship. The chapel was on account of these feuds closed in 1715, but soon afterwards secured for the Church of England. A grant from Queen Anne's Bounty was obtained in 1716 and a perpetual curate appointed. The chapel was rebuilt in 1758 and replaced by the present church in 1861. There is no dedication. The rector of Standish was the patron. A district was assigned in 1842.
Coppull Parish Church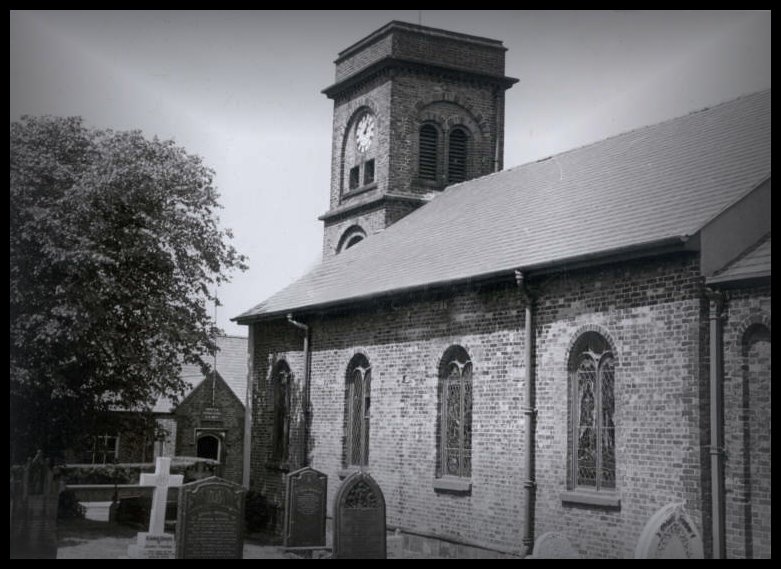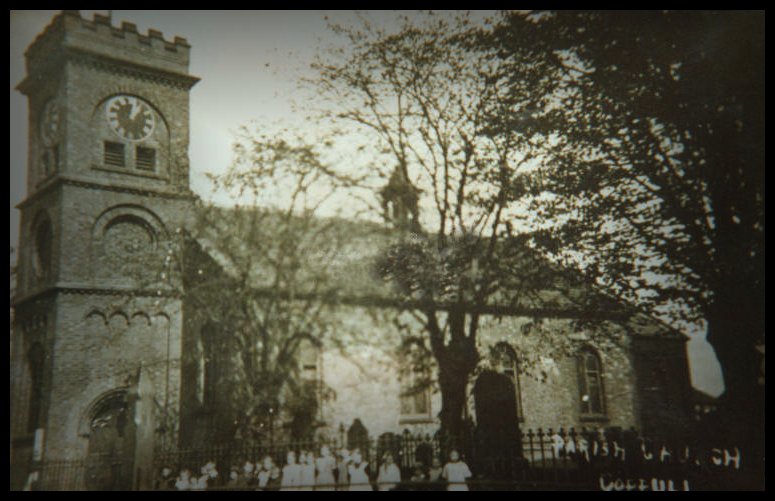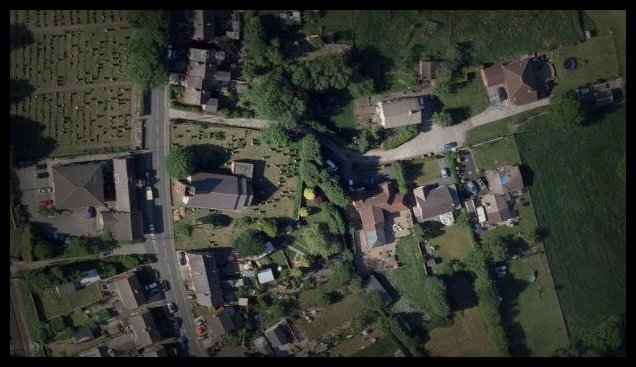 Coppull St John's Church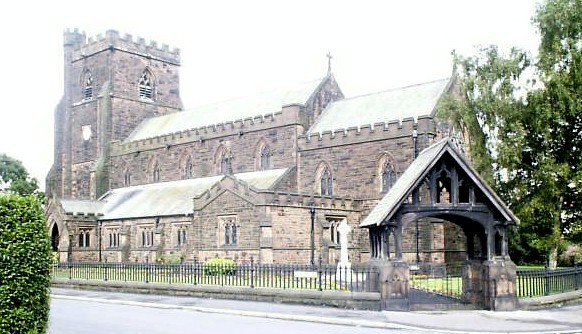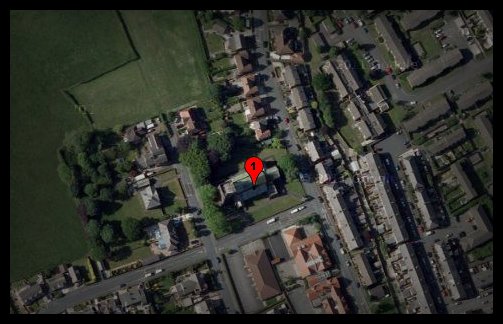 Holt Farm, Coppull
Description: Holt Farm
Grade:
II
Date Listed:
3 August 2010

English Heritage Building ID:
507519
OS Grid Reference: SD5809112732
OS Grid Coordinates: 358091, 412732
Latitude/Longitude: 53.6092, -2.6335
Location: Wigan Lane, Coppull, Lancashire PR7 4BN
Holt Farm - year 2011.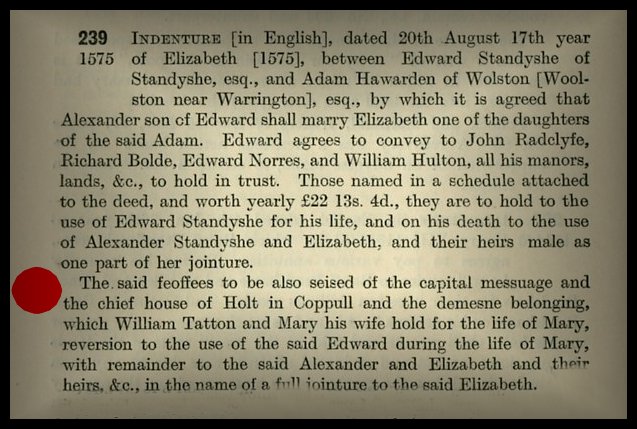 Holt Farm - Standish Family Deed 239 - year 1575.
COPPULL

96/0/10010 WIGAN LANE
03-AUG-10 HOLT FARM

II
A modernised former farmhouse of late C16/early C17 date, architect unknown.

MATERIALS: Timber-framing on a stone plinth with partly-rendered brick beneath a slate roofs.


PLAN: The building is rectangular in plan.


EXTERIOR: The front elevation is of three bays with a modern garage attached to the left side. The right bay cross wing projects forward slightly and is a gabled early C17 timber framed wing fronted with imported second-hand bricks on a stone plinth. The central bay has a rebuilt porch beneath a pitched roof. The earlier planked front door has been reused. The main elevation has a hand-made brick face with some modern patching on a stone plinth. The left bay is a modern domestic rebuild of the former barn. All windows and sills throughout the building are modern. There is a ridge stack at the junction of the central and left bay and a roof stack to the right bay. The east elevation has a stone plinth along the full length of the cross wing, beyond which is the C19 outshot extension. Some modern brick patching is visible to the wall of the cross wing and there is a blocked doorway evident in the outshot extension. The rear elevation is largely rendered. There is a reused timber door in the outshot gable. A modern single-storey brick and glass conservatory has been added to the rear of the central bay. The newly built west bay has a catslide roof with the modern garage forming the remainder of this elevation.

INTERIOR: Entrance via the front porch leads to a baffle-entry with access to the left leading through an inserted doorway into the rebuilt two-storey west wing where many former ceiling beams and joists have been reused. To the right of the baffle-entry is the central bay where two ceiling beams remain in situ, together with two older horizontal timber wall beams partly exposed as lintels above the front window and the rear door to the conservatory. A former front door into the central bay has been blocked. The ground floor of the cross wing has been opened out into a single room and a staircase removed, two doors have been blocked that formerly gave access from the central bay to the cross wing. An early timber plank door gives access into the rear outshot from where there is access to the rear door, the staircase, a bathroom in the outshot extension and the cross wing. The cross wing contains substantial timber framing with chamfered beams and joists and a stone fireplace with uprights and lintel suggesting a C17 date, and a partially blocked oven in the east wall. A door from the rear of the cross wing leads into the outshot extension. The upper floor contains four bedrooms, one in the central bay, two in the cross wing, and one and a bathroom in the outshot. Timber framing with wattle and daub infill is exposed in abundance and there is a tie beam in the central bay. The attic contains a mix of early and replaced timbers. There is some surviving wattle and daub infill between the central bay and the cross wing and some earth floors survive in the cross wing attic.

Modern additions are not of special interest.

HISTORY: Holt is the ancient home of the Chisnall family and is mentioned in C14 documents. From 1518 to 1912 The Holt was owned by the Standish family. Holt Farm has a brick exterior of c1700 concealing remains of a timber-framed house of late C16/early C17 date. The present central bay was the original open hall with the right (east) bay being a timber-framed cross wing thought to have been added in the early C17. The current owners believe that the building was extensively modified internally about 1840. A rear outshot was added during the C19 and this was extended at its north-east corner later in the C19. A former rear door in the outshot extension has been bricked up. The building had at one time been converted into two houses. During the 1950s the south gable of the east cross wing collapsed and was rebuilt using Accrington bricks. In the 1970s the house became empty and by 1980 it was derelict and remained so until bought by the present owners in 1996. Since then major renovation work has been carried out. This has involved demolition of the former barn which formed the left (west) bay of the house and its rebuilding as domestic accommodation, erection of a double garage attached to the newly constructed left bay, rebuilding of the front porch, erection of a rear outshot connecting the 1990s-built left bay and the garage, and construction of a glass and brick conservatory between the two rear outshots. This also involved extensive replacement of windows, and brick repairs and internal reordering.

SOURCES
The Victoria History of the Counties of England Vol.6, Lancashire (1911), 177
Rev. T C Porteus, History of Standish (1927)
Rev. T C Porteus, Calendar of the Standish Deeds 1230-1575 (1933)
Walsh, Hubert, The History of Coppull (1975)
Miller, Garry, Historic Houses in Lancashire - The Douglas Valley 1300-1770 (2002)
Smith, M D, About Coppull

REASONS FOR DESIGNATION:
Holt Farm is designated at Grade II for the following principal reasons:
* DATE: despite modernisation it still retains the core of a late-medieval timber-framed building
* GROUP VALUE: it is one of a significant group of farmhouses of similar date that are listed at Grade II, located in the rural hinterland of Coppull.

Source: English Heritage
Listed building text is © Crown Copyright. Reproduced under licence: PSI Click-use licence number C2008002006.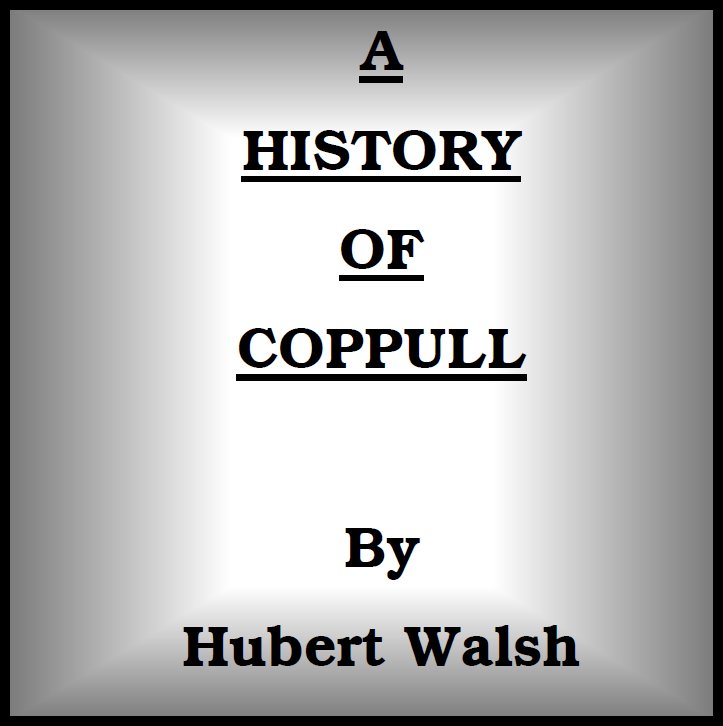 A History of Coppull by Hubert Walsh.

Medieval Coppull. watmough.me.uk/coppull_project.htm
The earliest family mentioned in relation to Coppull is the "de Coppull" family. John de Coppull was lord of the manor in the early 13th C, and was acknowledged as such by Adam son of William Bleyneschohe (LRO D/D Ma/A/5). John had a brother Thomas, and Richard of Coppull is also mentioned as owning lands in Perburn, which may be the area of Coppull now known as Hic Bibi. By the 1230s, Thomas of Coppull was granting land, perhaps having inherited the estates of his brother (or perhaps being the son of John)
At about the same time, Richard of Coppull owned land in the wood of Chorley. By the time of Edward I (1272-1307), Henry, the son of John of Coppull was granting land in Chorley.
The de Bleinschoc (Blainscough) family is also mentioned, Adam son of William appeared in circa 1200 and Richard son of Orm in 1215. They acknowledged the de Coppulls as their lords. Blainscough was a moated site, perhaps dating from the 12th or 13th centuries, as did many other Lancashire moated sites (Newman, C., p5). Evidence of Blainscough's moat survives today, together with what would have been the grandest avenue of trees leading to a residence in Coppull. Moated sites were often a feature of high status dwellings (Newman, R., p116), and Blainscough Hall would have been, if not the grandest, then along with Chisnall Hall and Coppull's manor house, one of the three most important residences in the village in the medieval period. In a much later period, 1666, Blainscough was recorded as having 14 hearths, more than any other in the village, and therefore suggesting that it was a sizeable and grand residence.
Remains of Blainscough's moat.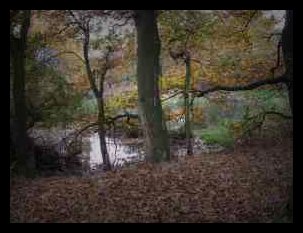 The grand avenue of trees on the drive to Blainscough Hall.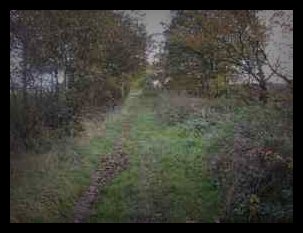 By the late 13th century there were references to a mill in Coppull and in 1306, Henry del Burgh granted the rights to the moiety (i.e. half) of the "mill and all the mill places between Ogenalebroke and the boundary of William Quytehaud [Whitehead] with the pool and attachment of a moiety of the Yarrow upon that part of Coppul in the ville of Chorley, and Coppul in Worthington". It is possible that this area was in the north of Coppull, slightly to the south of the Clancutt estate.
The Chisnalls appear for the first time in the early 14th century, and John of Chisnall owned lands in Wrightington. He was also a tax assessor in 1316, suggesting that the family had achieved some status in the local community by that time. However he was accused of allowing his clerks, William Spynk and Thomas de Chisnall, to extort money from people in the West Derby hundred when they were collecting taxes on his behalf. In 1315 there were two Robert de Chisnalls, one of them a clerk. Along with Blainscough, Chisnall Hall is recorded as having been a moated site. The Chisnall estate included lands in Coppull and other neighbouring townships, and may at some time have had a claim to being a manor in its own right, although there is no evidence of this from the medieval period. It was, doubtless, a high status and important house.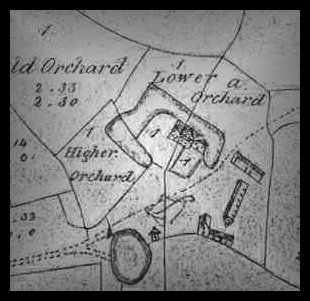 Plan of Chisnall showing the moat together with later buildings, 1772.
The opening of the 14th Century also saw the first appearance of a number of other names of the inhabitants of Coppull. In 1306 there are references to Robert del Holt and John de Nightegale, whilst neither of these is explicitly described as "of Coppull", the Holt (or the Hole on the first Ordnance Survey map) is an old established house in Coppull, and the name Nightingale (or Nightgall) appeared frequently in Coppull in the sixteenth and early seventeenth centuries. In 1311, John Nightgall appears again together with Henry de Ogenale, once again almost certainly an estate in Coppull.
In 1315 there was an attack of banditry in South Lancashire and one of the bandits was Adam le Taillour of Coppull who "took goods and chattels belonging to John le Cruce… to the value of sixty pounds … and that they extorted ten pounds from the town of [West] Derby so that they should not destroy the aforesaid town, and they took ten pounds by extortion from divers men of the same town." Adam was fined two marks and amongst his sureties were John de Coppull and John de Derbishire.
The first tax assessment (or subsidy roll) for Coppull (which also included the vill of Worthington) survives for 1327, and lists nine people assessed for the tax, the two highest assessments being for John Chisnall and John Derbishire, who were subject to higher tax even than John Coppull who was, presumably, Lord of the Manor. The second subsidy roll survives for 1332 and lists ten taxpayers, the highest assessments being levied on the two Johns who were joined by William son of Robert, each of them paying 4s tax. The bandit Adam le Taillour is also assessed for tax in this roll, paying 16d, along with Thomas de Uggenhalle.
The archives are almost silent for the last half of the 14th Century, perhaps as a result of the Black Death which blighted Europe around 1348.
The de Coppulls were present in the village in the early 15th Century. John was mentioned in 1406, William and Robert both appear in the 1420s and 1430s. William's wife Isabel is mentioned in 1446, this perhaps being the first mention of a woman in the written records of the village. James appeared in the 1450s as a witness in deeds.
There seems to have been a period of lawlessness in the village in the period as in 1430 Hugh Haydock of Coppull was accused of breaking into a close of James Shagh and cutting down trees. Then in 1438 Thomas Jonesson of Coppull, Henry his son, yeoman and John of Haukesheved of Coppull, walker, by force of arms broke into the house of William of Coppull at Coppull and stole property to the value of £40, a considerable sum in the period.
In 1497, Robert Ugnall of Coppull granted land to Sir Richard Shereburn [?] and Piers Worthington, the latter being the head of the Worthington family of Blainscough. Blainscough was evidently a significant estate in its own right, as many early deeds refer to "the vill of Coppull, Worthington and Blainscough".
<![if !supportEmptyParas]> <![endif]>
Bibliography
Newman, Caron "The Medieval Period Resource Assessment", 2004.
Newman, Richard, "Medieval Rural Settlement", Leslie, Richard, ed., "The Archaeology of Lancashire", Lancaster, 1996

Footnotes
1

2,282, including 7 of inland water;Census Rep. 1901.

2

Including Springfield.

3

Subs. R. Lancs. bdle. 250, no. 9.

4

See Dict. Nat. Biog. His writings were published by John Field in 1700; appended is a biography by his brother John Haydock, dated at Coppull.

5

Lancs. and Ches. Antiq. Soc. xvii, 19.

6

It seems clear from many of the charters and suits that 'Worthington,' as commonly used, included Coppull. In 1300 one Jordan son of John son of Robert claimed 19 acres in Coppull against John de Coppull, and the defence was that there was no vill named Coppull, this being merely a place in Worthington; De Banco R. 131, m. 270. Nevertheless, in 1332 the name of the township is given as Coppull-with-Worthington;Exch. Lay Subs. (Rec. Soc. Lancs. and Ches.), 49.

7

He is called 'son of Thomas.' Thomas de Coppull is named in the Pipe Roll of 1213–15; Farrer, Lancs. Pipe R. 251. He released to Alexander son of John lands held of his son Richard; Kuerden MSS. iii, C 33.

8

Burscough Reg. fol. 47; Duchy of Lanc. Anct. D. 619–21; Dep. Keeper's Rep. xxxvi, App. 201. The bounds in one grant (620) are thus described: Beginning where Blacklache descends into the Perburn, up Blacklache northwards to a cross in the old ditch of Coldcotes, along the ditch to a cross in the high road of Watling Street, along this high road to a cross on the Perburn over against the course of the great spring of Langtree, and so down the thread of Perburn water to another cross and the said Blacklache. To this were added all the grantor's part of the water of Perburn appertaining to 4 oxgangs, pannage in the woods of Coppull and other easements. The seal of no. 619 shows a bird with the legend + SIG. . . . ICARDI DE COPHVL. The deeds may be dated between 1230 and 1264.
At the Dissolution the lands appear to have been held by Hugh Haydock by a rent of 3s.—'late the inheritance of —Perbronte' is added—and James Giller, who paid 6d.; Duchy of Lanc. Rentals and Surv. bdle. 4, no. 6, a & b.

9

A number of brief abstracts of the deeds are in Kuerden MSS. iii, C 33.
Thomas de Cophull has already been mentioned as living in 1213, and Richard his son as a benefactor of Burscough. John de Coppull occurs from 1242 to 1254; Lancs. Inq. and Extents (Rec. Soc. Lancs. and Ches.), i, 149, 193.
In 1275 Agnes widow of John de Coppull claimed dower against John son of John de Coppull, holding a messuage and 12 acres, and against others; De Banco R. 20, m. 18. In 1276 John son of John de Coppull claimed a tenement in Coppull against William de Worthington; Assize R. 405, m. 1. Later, in 1282, John son of Richard de Coppull claimed land in Coppull against John son of John de Coppull; De Banco R. 47, m. 126 d.
At the same time John son of Richard de Coppull was called to warrant in disputes concerning land in Coppull; ibid. 45, m. 19 d.; 47, m. 25. Henry de Coppull was called to warrant in another case; ibid. John son of Richard de Coppull granted half the marsh in Coppull and Worthington to Adam son of Ralph and Amery his wife; Kuerden MSS. iii, C 33. Roger de Bolton and Joan his wife daughter of John de Coppull in the time of Edward I granted land in Coppull to Henry de Burgh at the rent of a barbed arrow and 6d.; B.M. Add. Chart. 8491,& c.
John de Coppull occurs in 1293; Inq. and Extents, i, 281. In 1322 he made a settlement of the manor of Coppull, with remainders to his grandson John (son of Richard), who had married Alice, and to his own sons John and Thomas and to Robert son of Emma Risserasse; Final Conc. (Rec. Soc. Lancs. and Ches.), ii, 47.
John the grandson died before July 1354, and one daughter, Clemency, having died without issue, and the other, Margery wife of Adam de Tyldesley, being adjudged illegitimate, the manor was claimed by John son of John de Coppull against Adam son of Henry de Tyldesley and Hugh de Worthington; Duchy of Lanc. Assize R. 3, m. v d.; 4, m. 10. The plaintiff in this case was called 'the elder.' He was defendant in later suits, e.g. in 1358 one by his brother Thomas (Assize R. 438, m. 14) and in 1360 by Nicholas le Norreys, at the same time as Hugh le Norreys (as son and heir of Maud daughter of John de Coppull) brought one against Henry son of John de Coppull; Duchy of Lanc. Assize R. 7, m. 5, 6.
In 1362 Hugh son of William de Worthington claimed the custody of a moiety of the manor of Coppull by reason of the minority of John son of John son of John de Coppull; De Banco R. 411, m. 76. Four years later John son of John de Coppull was contracted to marry Emma daughter of John son of Robert de Heskin; Kuerden MSS. iii, C 33. John and Emma his wife are mentioned as late as 1398; ibid.
The other moiety of the manor probably remained with Worthington.
John de Coppull made a feoffment of the manor in 1382–3, and this was regranted to him or his successor of the same name in 1398; Kuerden, loc. cit. About the same time (20 Hen. IV, probably for 2°) William son of John de Coppull was engaged to marry Alice daughter of William de Bredkirk (?); ibid. A feoffment of the manor was made in 1412–13 by William de Coppull with lands in Coppull, Worthington, Eccleston, Heskin, Wrightington, Chorley and Pleasington; and in 1429–30 the estate was regranted to him and his issue with remainders to Richard, Edmund, Robert, John, Henry, James and Thomas Coppull, all bastards, and to Maud Coppull; ibid. A new feoffment was made in 1432–3; ibid.
Again in 1441–2 a feoffment was made by William Coppull and Isabel his wife; ibid. William was perhaps the son and heir of the preceding William, for he is called 'William Coppullson,' and in 1453–4 brothers Richard and Gilbert are named; ibid. A further settlement was made in 1458–9 by the agency of William Harrington of Westleigh; the remainders were to William son of William and Isabel, to Richard son of William the elder, for the life of Gilbert son of William the younger, to John son of William the elder, and lastly to the right heirs of William son of William; ibid.

10

William son of William Coppull sold all his father's lands in Coppull, Duxbury and Chorley to Sir Thomas Stanley in 1461, and releases were made by Isabel widow of William Coppull and by William Harrington; ibid. As late as 1553, however, a release was made by one William Coppull to Edward Earl of Derby; ibid.

11

Thomas second Earl of Derby in 1508 granted the manor of Coppull to Sir Edward Stanley, afterwards Lord Mounteagle, for life. The manor was in 1521 stated (erroneously) to be held of the king as of his duchy by the service of a knight's fee; it was worth £30 a year; Duchy of Lanc. Inq. p.m. v, no. 68. A similar statement as to the tenure was recorded in the inquisition after the death of Ferdinando fifth earl in 1595; Add. MS. 32104, fol. 425b.
James Browne, lessee of the earl, occurs in 1590; Ducatus Lanc. (Rec. Com.), iii, 213, 412, &c.

12

Notes of the deeds are in Kuerden, ut sup.
Edward Rigby purchased messuages and lands in Coppull in 1594 from John Crosse, Alice his wife and Richard his son; Pal. of Lanc. Feet of F. bdle. 56, m. 163.
Edward Rigby of Burgh and Layton in 1627 held the manor of Coppull, but the tenure was unknown; Duchy of Lanc. Inq. p.m. xxvi, no. 5.

13

The manor is named in Rigby settlements in 1655 and 1681; Pal. of Lanc. Feet of F. bdle. 157, m. 93; 206, m. 32.

14

In a fine respecting the manor of Coppull and twenty messuages, two dovehouses, land, meadow, &c., in Coppull, Shevington and Orrell the plaintiffs were Richard and Thomas Livesey and the deforciants Robert Livesey, Anne his wife, Jane and Margaret Pearson; Pal. of Lanc. Feet of F. bdle. 355, m. 101.
John Pearson Livesey was vouchee in a recovery of 'the manor or reputed manor' of Coppull in 1803; Pal. of Lanc. Aug. Assizes, 43 Geo. III, roll 8. Thomas William Bridge and his wife were deforciants in a fine of 1808; ibid. Lent Assizes, 48 Geo. III.

15

Baines, Lancs. (ed. 1836), iii, 516; Raines in Notitia Cestr. ii, 395.

16

See the account of Duxbury.

17

Thomas son of John de Coppull is named in the fine of 1322 already cited. He left a son John and the two daughters named in the text. John made a grant of lands in 1360; Kuerden MSS. iii, C 33. In 1365 Ellen widow of John de Bolton recovered lands and rent in Coppull against John son of Thomas de Coppull, Amice the widow of Thomas, Henry son of William Bibby and John de Ugnall; De Banco R. 419, m. 155; 423, m. 319 d.
John had died without issue before 1374, when his sisters Isabel and Cecily were in possession; De Banco R. 454, m. 130.

18

The name was formerly spelt Nightegale, and the family occurs frequently in the district. Roger de Kendal and Mabel his wife in 1319 claimed dower in a toft in Worthington against John Nightingale; ibid. 231, m. 6. Henry son of John Nightingale was one of the defendants in a claim by Adam son of Adam del Head in 1313–14; Assize R. 424, m. 6 d. In 1326 John son of Adam del Head, a minor, was plaintiff respecting lands in Worthington against John Nightingale; De Banco R. 264, m. 265.
In the Worthington of Blainscough abstract are several deeds referring to a branch of the Nightingale family. Thus Adam son of Adam de Blainscough gave land to Richard de Linacre, who transferred it to Henry de Nightingale, and Henry made a settlement of his lands with final remainder to Henry Nightingale the elder. Henry son of John Nightingale had a grant of lands in 1316 and John Nightingale in 1347.

19

The Charnocks had previously held land in Coppull, for in 1351 Thomas de Coppull purchased two messuages and 20 acres in Worthington and Coppull from John son of Adam Hulcockson de Charnock and Alice his wife; Final Conc. ii, 131.
In 1374 Henry son of William de Burgh claimed a tenement in Coppull against John son of John de Charnock and Cecily his wife; De Banco R. 453, m. 151 d.; 456, m. 326. John and Cecily made a settlement of their estate in 1391;Final Conc. iii, 38. Christopher Charnock of Coppull occurs in 1442; Pal. of Lanc. Plea R. 4, m. 3. He is mentioned again in 1451 as son of William; Pal. of Lanc. Writs of Assize, bdle. 4.

20

Chysinhale, 1277; Chisenhale, usually.

21

In pleas for dower by Agnes widow of John de Coppull; De Banco R. 21, m. 68, 85 d. The case was proceeding in 1282; ibid. 44, m. 26 d.

22

Assize R. 408, m. 74 d.
John de Chisnall the younger and Roger de Chisnall were appointed to the assize of ale in Lancashire in 1324; Fine R. 124, m. 16. William de Chisnall occurs in 1331; De Banco R. 287, m. 127; and John and Roger in 1332; Exch. Lay Subs. (Rec. Soc. Lancs. and Ches.), 49. Roger de Chisnall made a feoffment of lands in Worthington in 1336; the remainder was to John son of Alice de Standish; Standish D. (Mrs. Tempest's abstract), no. 51. John de Chisnall of Longshaw, Juliana his wife and Nicholas his son were defendants in 1338; Assize R. 1425, m. 6. Roger de Chisnall was a plaintiff in 1347; Assize R. 1435, m. 37. The wardship of the heir of John de Chisnall was disputed in 1352; Duchy of Lanc. Assize R. 1, m. v.
Roger de Chisnall, a plaintiff in 1324, was son of Robert son of a Roger de Chisnall who in the time of Henry III had held the lands claimed; De Banco R. 253, m. 35. The abstracts of the Standish of Standish deeds also show that Roger de Chisnall was son of Robert; he had a son John who died without issue between 1380 and 1399, the estate going to John's sister Joan wife of Henry de Farnworth, who seems to have had daughters and heirs—Avice and Joan; Kuerden MSS. ii, fol. 217, &c. For the above John de Chisnall see Final Conc. iii, 31.

23

Final Conc. ii, 123.

24

Richard Chisnall of Coppull is mentioned in 1444; Pal. of Lanc. Plea R. 6, m. 3.
Richard Chisnall in 1487–8 made a feoffment of part of his demesne called the Longfields and the Ridding near the hall; Kuerden fol. MS. 88, C.

25

Duchy of Lane. Inq. p.m. vi, no. 66; John Chisnall also had land in Wrightington and a burgage in Wigan. It is recited that Thomas the father of John had made a settlement of the capital messuage of Chisnall and lands in favour of Maud daughter of Thurstan Anderton on her marriage with John Chisnall, and that John had made a feoffment of his estate.

26

Pal. of Lanc. Feet of F. bdle. 15, m. 95. Richard Chisnall was plaintiff and Thomas Chisnall was deforciant. The property included a water-mill, dovecote,& c. For Richard, a brother of Thomas, see the account of Little Lever.

27

Visit. 1567 (Chet. Soc.), 71. It appears that Thomas died before 1588, when his son John, thirty-six years of age, was heir of his uncle Richard; Duchy of Lanc. Inq. p.m. xiv, no. 39.

28

Edward came of age by 1597, when he was summoned to do service for lands in Darcy Lever; Manch. Ct. Leet Rec. ii, 121. He was a freeholder in 1600;Misc. (Rec. Soc. Lancs. and Ches.), i, 244. He recorded a pedigree in 1613, in which it is stated that arms had been granted in 1595; Visit. of 1613 (Chet. Soc.), 24. He was the most considerable landowner in the township, and in 1631 paid £25 as composition on declining knighthood; Misc. (Rec. Soc.), i, 214.
He died 23 Apr. 1635 holding the capital messuage called Chisnall Hall, a dovecote, messuages and lands in Coppull and neighbouring townships; also a messuage in High Holborn called Chisnall's Buildings, adjoining Gray's Inn. The lands in Coppull were held of Alexander Rigby and William Worthington in socage by a rent of 4s. 2d. Edward his son and heir was sixteen years of age; Duchy of Lanc. Inq. p.m. xxviii, no. 8; Funeral Cert. (Rec. Soc. Lancs. and Ches.), 202.

29

See the account of Shevington.

30

Royalist Comp. Papers (Rec. Soc. Lancs. and Ches.), ii, 35–38. His 'delinquency' was that, 'being newly called to the bar at Gray's Inn, he adhered to and assisted the forces raised against the Parliament.' He compounded in 1648.
There was afterwards some trouble because his mother had been a recusant, but nothing is said as to his having assisted Prince Charles at Worcester. The annual rental of the estates was about£120.

31

The Epistle Dedicatory, dated at Chisnall 11 Feb. 1651–2, is addressed 'to the Right Reverend the Legal Clergy of the Reformed Protestant Church of England'; the author ignores as far as possible the changes which had made 'the Establishment Presbyterian,' 'our English Sion being now laid waste.' At the end the printer apologises for the numeroUS misprints, 'occasioned by the difficult and uncouth character of the author's hand, whose remote abode admitted of no intercourse to instruct me therein.' The book has an interesting engraved title.
There are notices of Edward Chisnall inDict. Nat. Biog., Civil War Tracts (Chet. Soc.), 341, and War in Lancs. (Chet. Soc.), 125. In the last-named work he is called Colonel Chisnall, and is said to have been taken prisoner at Wigan. He was again captured at Appleby in 1648; Civil War Tracts, 275. In the same collection will be found particulars of his conduct at Lathom, 170, &c.
In a fine respecting the 'manor' of Chisnall in 1652 the deforciants were Edward Chisnall and Elizabeth his wite; Pal. of Lanc. Feet of F. bdle. 150, m. 17.

32

Memorial tablet in Standish Church. Another inscription records two commissions, one by Prince Rupert, the other by Charles II, dated in Aug. 1651.

33

Pink and Beaven, Parl. Repre. of Lancs. 229, 158. He was made a knight in 1671, and died about 1728. A settlement of the manor of Chisnall and various lands was made in 1671 by Sir Edward Chisnall, Elizabeth his wife, Sir William Coney and Edward Moore; Pal. of Lanc. Feet of F. bdle. 187, m. 28. A pedigree was recorded in 1665, when Edward, eighteen years of age, was the husband of Anne Atkinson; Dugdale, Visit. (Chet. Soc.), 78.
There are a number of references to Sir Edward in Hist. MSS. Com. Rep. xiv, App. iv (Kenyon MSS.), and a letter of his (p. 248). A bill for the settlement of his estates is named in 1678; Hist. MSS. Com. Rep. ix, App. ii, 101b. See also Le Neve, Ped. of Knights (Harl. Soc.), 247–8. He married as his second wife Elizabeth Playters in 1671; Chesters,Lond. Mge. Lic. With her he had the manor of Pirleston alias Prilleston aliasBillingford, Norf., with the advowson of the church, and in 1693, after her death, a settlement was made by Sir Edward Chisnall, William his son and heirapparent (by Elizabeth); Agecroft deeds, 370. In the following year an assignment of the manor of Chisnall and the other lands in Lancashire was made by the son and heir William; ibid. 364.
In 1726 a settlement of the manor of Chisnall was made by Sir Edward Chisnall, with remainders to William and Edward his sons, and to John Hammerton his grandson (son of Anne, Sir Edward's daughter by his first marriage). All three succeeded in turn by 1738. Sir Edward also had a daughter by his second marriage, and she was twice married, having children by both husbands; ibid. 365.

34

Pink and Beaven, loc. cit.
There was a recovery of the manor of Chisnall and lands in the parishes of Standish, Eccleston, Wigan and Bolton in 1772, James Hammerton being a vouchee; Pal. of Lanc. Plea R. 615, m. 11.
James Hammerton of Hellifield Peel was the owner about 1836; Baines,Lancs. (ed. 1), iii, 516. Chisenhall Hamerton owned it in 1849; Raines inNotitia Cestr. ii, 395.

35

Richard son of Orm de Blainscough granted Whitecroft and the Wra in Blainscough to John de Ingol; a rent of 12d. was to be paid to Thomas de Coppull and his heirs. He added other land, for which 5d. a year was due to Thomas de Wrightington; Towneley MS. DD, no. 1488.
Aimery widow of Roger son of Isabel de Bleynescowe in 1281 claimed dower in messuages and land in Worthington against Henry son of Henry de la Lee. William de Worthington was called to warrant; De Banco R. 42, m. 22 d.; 45, m. 6 d.; 47, m. 13.
From a 17th-century abstract of the Worthington of Blainscough deeds (in the possession of W. Farrer) it appears that Adam de Blainscough made a grant of land in the place to Thomas his son; Adam son of Adam de Blainscough gave to Adam son of Robert the Tailor of Lathom all the land he had in the vill of Worthington in Blainscough in 1311; Henry son of Adam de Blainscough made a grant in 1326, while three years previously John son of Henry de Blainscough gave land called Newhey in the hamlet of Blainscough to Henry son of William the Woodward and Amery his wife. Henry son of Adam also occurs in grants from 1344 to 1346.

36

3 William de Worthington was in possession of Blainscough about 1340. It does not appear how he was connected with the Worthingtons of Worthington; about the same time there was a William son of William and a William son of Robert. The latter was probably the founder of the Blainscough family. Robert son of William de Worthington is named in the account of Worthington. In 1332 William de Worthington and 'William son of Robert' contributed to the subsidy in the township; Exch. Lay Subs. 49.
Various charges were made against William de Worthington, coroner, in 1343; Assize R. 430, m. 28.
The following notes are from the abstract referred to above: William Gerard and his wife granted land in Brindle to William de Worthington, Isabel his wife and Thomas their son in 1339. To a Blainscough deed of 1344 William de Worthington and Robert de Worthington were witnesses. Thomas de Coppull in 1350 gave all his lands to Thomas son of William de Worthington, and the same Thomas occurs in other deeds down to 1384. He received licence for his oratory at Blainscough in 1388; Lich. Epis. Reg. vi, fol. 124. He had a brother Nicholas, and Nicholas de Worthington and others (probably trustees) in 1384 granted lands in Turton, &c., to Thomas de Worthington the elder and Ralph his son. There was a recovery of the lands of Ralph de Worthington in 1396–7. A Richard de Worthington, who seems to have married Alice daughter and heir of Henry de Bretherton, occurs in 1405 and 1413. In 1434–5 a settlement of land in Wrightington was made by Ralph de Worthington and Joan his wife, the remainders being to Gilbert, Edward, Eleanor and James, perhaps younger children. A more general one was made by Ralph in 1439–40, and the feoffees regranted the lands to Henry de Worthington and Katherine daughter of William de Heaton. (It seems probable that Henry was son of Richard and grandson of Ralph.)
The recorded pedigree (Visit. of 1567, p. 77) begins with this Henry. The abstract shows that in 1447–8 he made a feoffment of his lands, &c., in Coppull, Worthington, Brindle, Turton, Glazebrook and Wrightington. His son Peter, who married Joan daughter of Richard Lawde of Preston, occurs in 1461 and 1475, and was living in 1505–6, when he contracted Richard, his son and heir, in marriage with Alice daughter of John Ashton of Bamfurlong. The marriage may not have taken place. According to the visitation pedigree Richard's wife was Agnes daughter of Henry Rishton. In 1514 Richard and Agnes made a settlement of their estate, and Peter his son was in 1520 contracted to marry Isabel daughter of James Anderton of Euxton.
With Richard the inquisitions p.m. begin.

37

Duchy of Lanc. Inq. p.m. vi, no. 52.

38

Ibid. xii, no. 18. He appears to have conformed outwardly to the established religion. A pedigree was recorded in 1567.

39

Duchy of Lanc. Inq. p.m. xv, no. 27. In 1584 it was reported to the queen's ministers that 'Mr. Worneton, he keeps a Jesuit in his house which is his brother, and mass openly is said in his house'; Gibson, Lydiate Hall, p. 227 (from S.P. Dom. Eliz. clxxv, no. 21). He is said to have died a prisoner for religion.

40

Brasenose College, B.A. 1570; Foster, Alumni.

41

He was taken at the house of a friend, Richard Wood of Islington, grandfather of Anthony a Wood, the Oxford antiquary. The Worthingtons attributed his capture to treachery.

42

See Wood's Athenae Oxon.; Dict. Nat. Biog.; Foley's Records S. J. ii, 104–10; vii, 866; and Gillow's Bibl. Dict. of Engl. Cath. v, 595. In 1613 he joined the Oratory of St. Philip Neri at Rome. He published several volumes.

43

The story is told, probably with some exaggeration, in Bridgewater's Concertatio (1594), translated in Foley'sRecords S. J. ii, 116–32. Their names were Thomas (the heir), Robert, Richard and John. Thomas and John escaped from prison, but the former was captured at Islington with his uncle and imprisoned again. Robert was rescued by a trick, while being conveyed to prison at Chester, and Richard was allowed to go free. In the same work (ii, 75–94) is an account by John Worthington, who became a Jesuit in 1598, of his capture and treatment by the Parliamentary soldiers in the Civil War; he died in 1652, then on parole. A younger brother Lawrence also became a Jesuit in 1599, and worked on the English mission; he was banished, but returned for a time. For these and others of the family see ibid. vii, 864, &c.

44

His children were born in Louvain; see ped. in Foley, op. cit. ii, 132. One of his sons became a priest and two daughters nuns. See Chronicle of St. Monica's, Louvain, i, 154; at the end of the volume is a pedigree of the family, and a portrait of Thomas's wife Mary Allen is also given. There are some further particulars of the family in vol. ii of the Chronicle. In 1597 two-thirds of his lands were taken into the queen's hands for his recusancy and 'contempt in going out of the land into the parts beyond the seas'; Abstract. He received a pardon on the accession of James I.
He died in 1619 holding certain messuages, &c., in Coppull of Edward Rigby by the rent of 2s. 9d. and a pair of white gloves, and others of Thomas Worthington by 2s. rent; also ½ rood of land there of the king by the 200th part of a knight's fee; with other lands. William his son was seventeen years old. Mary his wife, and younger children, Richard, Anne, and Mary, were living. Dorothy, his mother, was living at Coppull; Lancs. Inq. p.m. (Rec. Soc. Lancs. and Ches.), ii, 172–4.

45

William Worthington obtained a general pardon on the accession of Charles I; Abstract. He was a convicted recusant in 1628; Misc. (Rec. Soc. Lancs. and Ches.), i, 167.

46

Cal. Com. for Comp. iii, 2363–5. William Worthington in 1652 asserted that he was 'not liable to sequestration save for recusancy,' but he was required to prove 'that he was not in arms when taken prisoner at Ormskirk, and that he was under power of the enemy when he maintained a man in Wigan garrison for him.' He seems to have died before June 1655.

47

Dugdale, Visit. 341. Thomas the son of William was then aged twentyeight, and had a son William, who died without issue, and was succeeded by his brother Richard.

48

The list of 'popish recusants' drawn up in 1706 by the rector of Standish contains this entry under Coppull: 'Mr. Worthington, his wife, his son, and three children. His son in prison and estate much indebted'; Trans. Hist. Soc. (new ser.), xix-xx, 248. See also Payne, Rec. Engl. Cath. 140.
Thomas Worthington (1671–1754), a son of the Thomas of 1664, Prior of the Dominican house of Bornhem, is noticed in Dict. Nat. Biog.

49

Richard Worthington (son and heir of Thomas) seems to have mortgaged the hall to Robert Holt in 1717–22; Piccope MSS. (Chet. Lib.), iii, 210, from 2nd 5th R. of Geo. I at Preston. The sale was completed in 1732 by Thomas Worthington son and heir of Richard; ibid. iii, 246, from a roll of Geo. II.
According to the pedigree in the Louvain Chronicle (cited above), Richard Worthington was outlawed as a Jacobite, and his son Thomas, having sold the estate in 1732, died at Hooton in 1742.

50

Baines, Lancs. (ed. 1836), iii, 516.

51

Ellen de Torbock in 1302, as representative of Jordan de Sankey of Whittle, who had purchased 3 acres in Worthington, claimed common of pasture against William son of Thomas de Worthington, John de Coppull and Henry de Ugnall; Assize R. 418, m. 4 d. In 1308–9 John de Chisnall, a poor man, claimed a piece of land against Ellen de Torbock, Richard her son and others; Ellen, in defence, stated that she claimed nothing but lordship; Assize R. 423, m. 1.
William Carles and Emma his wife in 1352 claimed the wardship of the heir of John de Chisnall, with lands in Whittle, Worthington and Coppull, against Hugh and Henry sons of Adam de Tyldesley; Duchy of Lanc. Assize R. 1, m. 5. See also Final Conc. ii, 139.

52

Edmund de Nevill claimed a messuage and two plough-lands in Worthington against Mabel de Haigh in 1318, when William de Bradshagh, William de Worthington and Ellen de Rockley put in claims; Final Conc. ii, 28. In 1279 Margaret widow of Richard son of John de 'Worlington' had claimed a tenement against Henry de Rockley and Ellen his wife; De Banco R. 29, m. 23. Joan daughter of Henry de Rockley in 1320 granted to Roger de Chisnall the lower meadow and other lands in Worthington; Standish D. (Mrs. Tempest's abstracts), no. 32.
Robert le Norreys and Maud his wife in 1325 claimed a messuage and land in Worthington; De Banco R. 258, m. 271 d.

53

Roger de Chisnall in 1341 granted 2 acres in Worthington and Coppull to Robert de Prescot, one by Crowlache and the other by the Cloughs; Add. MS. 32107, no. 379.
Robert and Isabel his wife had a son Edmund, whose son James de Prescot in 1445 claimed a messuage and lands in Coppull against Hugh de Worthington and others; Pal. of Lanc. Plea R. 8, m. 29b. A grant by Edmund de Prescot in 1373 of a rent from his lands in Coppull, Worthington and Eccleston in Prescot is in Add. MS. 32107, no. 367.
Richard Prescott, yeoman, died in 1631 holding messuages in Coppull, one being called 'Haultes House,' held partly of William Worthington of Worthington by a rent of 4s. and partly of Alexander Rigby of Burgh by a rent of 3s. 4d. The co-heirs were Margaret wife of Richard Crook, aged thirty; Isabel Prescott, aged twenty-seven; Elizabeth and Dorothy, daughters of Robert Wathew, aged nine and seven respectively; Duchy of Lanc. Inq. p.m. xxvii, no. 73. The above-named Richard Crook, who married Margaret daughter of Richard Prescott in 1630, died in 1637 holding 'Holt House' and lands in Coppull of Alexander Rigby; it had been purchased by Richard Prescott from Edmund Holt of Shevington. William Crook the son and heir was six years old; Towneley MS. C 8, 13 (Chet. Lib.), p. 255.
Some further notes of the family will be found in the accounts of neighbouring townships. Some members were benefactors to the parish church.

54

Thomas de Uggenhale paid to the subsidy in 1332; Exch. Lay Subs. 49.
Robert Ugnall was a plaintiff in 1446; Pal. of Lanc. Plea R. 9, m. 1b.
A settlement of messuages, &c., in Coppull, Chorley and Eccleston was made by Robert Ugnall in 1520, the remainder being to the male issue of Roger Ugnall; Pal. of Lanc. Feet of F. bdle. 11, m. 209. The estate was claimed in 1536 by Roger Ugnall against Robert Lucas, Cecily his wife, Lawrence Pilkington and Alice his wife; Agnes the widow of Robert Ugnall was living; ibid. m. 37. Geoffrey Pilkington and Elizabeth his wife had a messuage and land in Coppull in 1565; ibid. bdle. 27, m. 94. For a suit respecting Old Ugnall in 1558 seeDucatus Lanc. (Rec. Com.), i, 289.

55

Richard Worthington of Wetshaw made complaints about breaking into his houses, waylaying him, &c., about 1443, and several members of the Wetshaw family were concerned in these and other suits; Pal. of Lanc. Plea R. 5, m. 2; 6, m. 2, 19b.

56

From what has been stated above it seems that Perburn was the property of Burscough Priory. The resident family seem to have taken a name from it and occur from time to time.
Hugh de Perburn of Coppull was in 1346 pardoned on going into the king's service; Cal. Pat. 1345–8, p. 122.
In 1371 Margery widow of Robert son of Robert son of Hugh de Perburn claimed dower in Coppull and Standish against Thomas son of Robert de Perburn; De Banco R. 443, m. 182 d.; 450, m. 217 d.

57

The Haydocks became tenants of Perburn. A settlement of lands in Coppull and Langtree was in 1589 made by Roger Haydock, Margaret his wife and William Haydock; Pal. of Lanc. Feet of F. bdle. 51, m. 222. John Haydock was a freeholder in 1600; Misc. (Rec. Soc. Lancs. and Ches.), i, 245. He died in 1622, leaving a son and heir Roger, seven years old; the tenure of his land in Coppull was not known; Lancs. Inq. p.m. (Rec. Soc. Lancs. and Ches.), iii, 314.

58

Standish D. (Mrs. Tempest's abstracts), no. 2. Richard de Charnock was the grantor; his sister Ellen had married William de Worthington. The bounds were the stream of Culmariclough, Wetlache, Burysclough and the stream of Yarrow.

59

See Gillow, Bibl. Dict. of Engl. Cath. i, 445; John Wilson, Verses and Notes, 71. The will of John Chadwick of Birkacre, 1751, shows that he had land in Chorley, Duxbury and Coppull. Two of his daughters—Mary and Anne—were then abroad; Piccope MSS. (Chet. Lib.), iii, 282, from R. 29 of Geo. II at Preston. Matthew Cragg of Burgh in 1746 gave£800 to his daughter Eleanor Maria, who married Thomas Chadwick of Burgh; ibid. (p. 284). In 1758 the executors of John Chadwick's will were Ellen Chadwick of Birkacre, widow, Thomas Chadwick of Burgh and James Chadwick of Croxteth; ibid. iii, 372. It was owned by John Thom, who died in 1891, and was succeeded by his eldest son Colonel Robert Wilson Thom.

60

In 1386 Thomas son of Richard son of Hugh de Duxbury purchased messuages and lands in Coppull, Worthington and Charnock Richard from Robert de Derby, Joan his wife, Richard the Serjeant of Walton-le-Dale and Anabilla his wife;Final Conc. iii, 27.
In the Hoghton of Hoghton inquisitions the tenure of their land in Coppull was unknown, and so in the cases of Sir John Radcliffe of Ordsall and Sir Robert Hesketh of Rufford.
James Crosse of Liverpool in 1557 held lands in Coppull of Thomas Worthington of Worthington by a rent of 4s.; Duchy of Lanc. Inq. p.m. x, no. 20.
George Aspinwall of Scarisbrick in 1559 held in Coppull and Langtree of Edward Earl of Derby and Gilbert Langtree; ibid. xi, no. 36.
Robert Werden of Clayton in 1580 held land of the lord of Coppull by a rent of 12d.; ibid. xiv, no. 71.
Edward Standish of Standish in 1610 held lands in Coppull and Worthington of Edward Rigby by 5s. 0½d. rent; Lancs.Inq. p.m. (Rec. Soc. Lancs. and Ches.), i, 190. Edward Langtree of Langtree in 1619 likewise held of Edward Rigby; ibid. ii, 207. Ellen Chamberlain, widow, daughter of Roger Fairclough, in 1623 held of the same; ibid. iii, 347.
Richard Lancaster of Wrightington in 1632 held of Alexander Rigby by a rent of 3d.; ibid. xxvii, no. 27. Henry Banastre also held of Rigby; ibid. xxix, no. 15.

61

Subs. R. Lancs. bdle. 130, no. 126.

62

Ibid. bdle. 131, no. 210.

63

Engl. Cath. Non-jurors, 93, 132, 130. The names are Richard Johnson of Lea, maltster; Oliver Taylor and William Taylor, yeomen.

64

Land tax returns at Preston. The principal names in 1798 were Mr. Livesey, Mr. Chadwick, Samuel Crook, James Hammerton and Edward Holt.

65

Coppull Chapel is mentioned in the early part of the reign of Henry VIII in a complaint as to illegal distress by a certain Rowland Kirkby. The constables tried to arrest him in the chapel, but were resisted; Duchy of Lanc. Plead. Hen. VIII, xxii, W 4.
In a marriage covenant betweenRichard Worthington of Blainscough and James Anderton in 1520 is a proviso that the former might bequeath lands at Preston to the annual value of 13s. 4d. for the use of a priest for ever to say mass in the chapel of Coppull in the parish of Standish; Worthington Abstract.
The chapel, however, does not appear to have had any endowment and is not named in the church surveys of the Tudor period.

66

The site, at Cow Moss, was known in 1650, when it was intended to build a new chapel and to form a separate parish for Coppull and the neighbourhood;Commonw. Ch. Surv. (Rec. Soc. Lancs. and Ches.), 100.

67

Gastrell, Notitia, ii, 395. It was not consecrated in 1715, but had never been used for a Dissenters' meeting.

68

Ibid.; in the notes is printed a long account of the disputes. The curate at Standish had preached at Coppull once a month, and after the chapel had been repaired with the interest of £200 left 'to maintain an orthodox Protestant preacher,' the people desired a resident curate and subscribed for an addition to the stipend. The curate afterwards 'gave great offence by his immoral life,' and the contributions ceased. Mr. Crook, the trustee, tried to transfer his right to Lord Willoughby of Parham. He was soon afterwards killed in a duel with Captain Buckley of Buckley.
Lord Willoughby in 1733 transferred his right in the land and building to Sir Henry Hoghton, also a Presbyterian, and Sir Henry in 1764 transferred it to Samuel Crook of Whittle; Chester Dioc. Reg.

69

Gastrell, Notitia, ii, 396. The £400 from Queen Anne's Bounty, together with the £200 named in the last note, purchased the tithes of Elston in Preston parish.

70

Lond. Gaz. 16 Aug. 1842.

71

a Note by Rev. T.C Porteus.

72

The curate named in a preceding note; he was there until 1715. There is a notice of him in Preston Guardian Sketches, no. 650.
The disputes as to the patronage led to several independent nominations for the curacy. Ingham died in or before 1729, for in December of that year the king nominated Thomas Orrett 'by lapse,' and in the following January Lord Willoughby nominated John Norcross.

73

This and subsequent names are from the church papers in the Chester Diocesan Registry. Hargreaves was nominated by Sir Henry Hoghton.

74

He was also curate of Heapey. He and his successor were nominated by Samuel Crook of Whittle-le-Woods.

75

Joseph Taylor was head master of Eccleston School; he was nominated to Coppull by the rector of Standish. A Joseph Taylor was vicar of Snitterfield (Warw.) in 1802.
In reply to the Bishop of Chester in 1821 it was stated that divine service was performed twice on Sundays, with a sermon each time, also on the great festivals. The sacrament was administered quarterly. The children were catechized during the summer.

76

A monthly meeting of Quakers was held at Coppull in 1669; Visit. Papers at Chester Dioc. Reg.
It is again named about 1750 in theLife of John Griffith and is probably the 'Standish meeting' existing in 1849.