Return to - the Ancient Parish of Standish
The Manor of Anderton
within the -
Ancient Parish of Standish Lancashire England.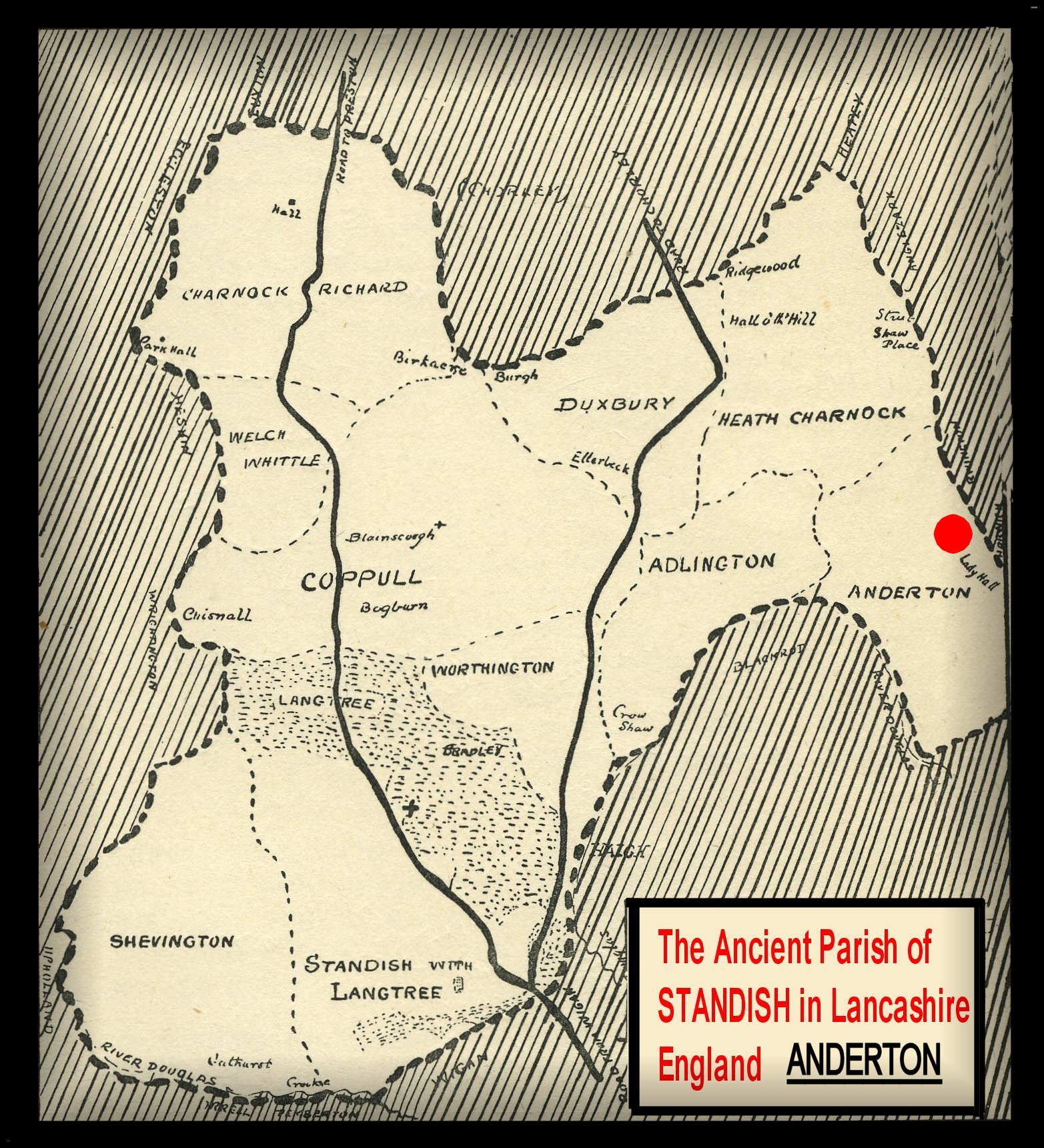 ANDERTON
Anderton, Andertone, 1292; Andreton, 1324.
The Anderton Stone
The Anderton Stone - 2011
Anderton Manor
The Penwortham fee included ANDERTON, which was together with Brindle granted to the Grelleys, lords of Manchester, and in 1212 both were held by Robert Grelley, who performed no service for them. Of the Grelleys they were held by the Burnhull and Gerard families, whose lordship continued to be recognized in the inquisitions down to the 17th century. Of them the manor of Anderton appears to have been held in moieties from an early time by families named Anderton and Cunliffe, a rent of 9s. 6d. being payable to Manchester, with puture of the serjeants and suit of court.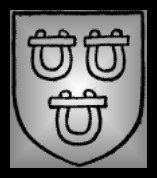 Anderton of Anderton. Sable, three shackbolts argent.
In 1281 Avice widow of Adam son of William de Anderton claimed dower in a moiety of Anderton and a fourth part of Rivington from William de Anderton. Adam left a son and heir Thomas, who in 1292 claimed certain lands which had been given to William and Thomas sons of William de Anderton by their father. Thomas died before 1310, leaving a son William, under age, though Thomas de Anderton is in 1320 named as the recent tenant. William de Anderton was engaged in various disputes with the Atherton family. He died in or before 1370, when his widow Joan is mentioned.
Thurstan de Anderton was lord in 1420; his son Oliver and Ellen his wife were living in 1441. From later pleadings it appears that Ellen was daughter and co-heir of Matthew de Kenyon, that she procured the murder of her husband in 1466 and died soon afterwards, having tried to make a younger son Christopher her heir. William, the eldest son, probably died before his father, and his son Thurstan, the tenant of Anderton in 1473, lived till about 1516, being followed by his son Oliver, aged sixtynine in 1538. Peter the son of Oliver died in 1559 holding the manor or capital messuage called Anderton Hall, with various messuages, lands, a watermill and half another mill in Anderton and Healey, the Anderton estate being held of Sir Thomas Gerard in socage by the rent of a pound of cummin. William Anderton, the son and heir of Peter, was only a year old.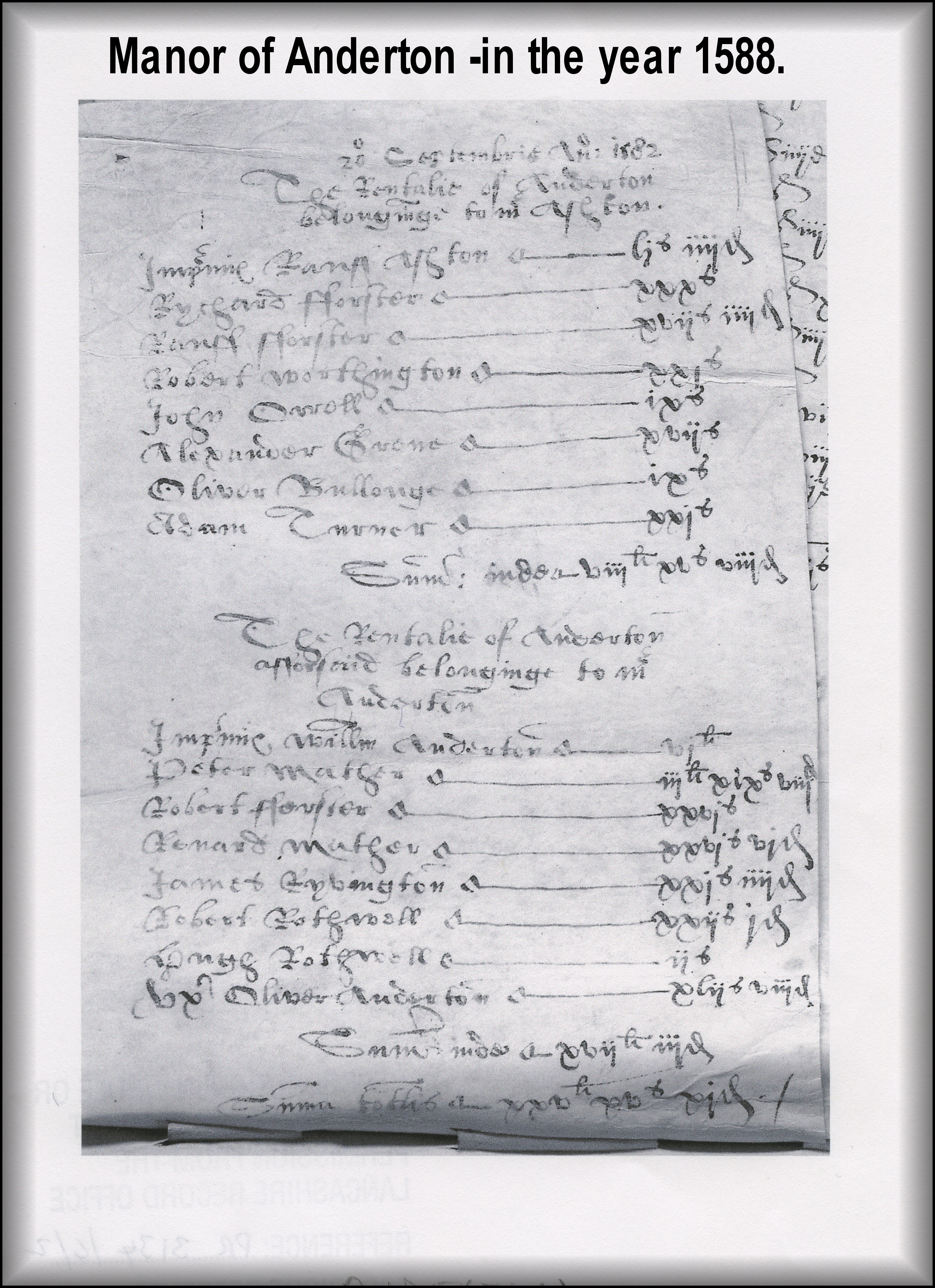 William Anderton made a settlement or mortgage of his estate in 1593. He appears among the freeholders in 1600; as a convicted recusant he suffered the sequestration of two-thirds of his estates in 1593, which still continued in force in 1607, and he is named again among the contributors to the subsidy in 1628. He died without issue in August 1634 holding the manor of Anderton with messuages, lands, water corn-mill, &c., in the same place, of William Cavendish Earl of Devon by the rent of a pound of cummin. His brother Peter, then seventy years of age, was his heir and had a son William.
Peter Anderton died about April 1640, and his son William had his estates confiscated by the Parliament and ordered in 1652 to be sold; for what particular treason or delinquency does not appear. He was allowed to compound at a fine of £924. He was still living in 1664, when a pedigree was recorded. In the same year he made a settlement of the manor, the final remainder, in default, being to Francis Anderton of Lostock, and four years later the said Francis purchased the estate from Peter Anderton and Roger his brother, the surviving sons of William. From this time the manor descended in the same way as Lostock—from Anderton to Blundell and Stonor.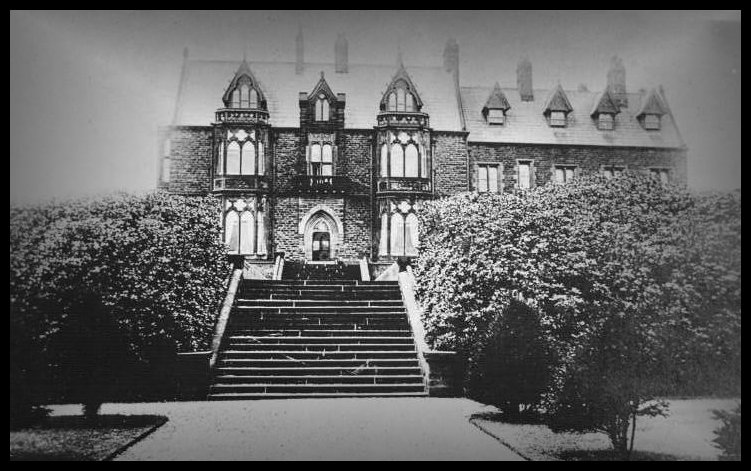 Anderton Hall
There were forty-two hearths chargeable to the tax in 1666, but the only house of any size was the Andertons', with eleven hearths.
Anderton Pedigree.

[no title] D/D An/Bundle 33/208 1618
These documents are held at Wigan Archives Service

Edward Standish – Hugh Anderton in the year 1618.
3rd - Dec. 16 Jac. Indenture. Parties, Most Excellent Prince & Sovereign James, one part & Isabell Anderton of Euxton, Widow, Mother of Hugh Anderton H Hs ward & Edward Standish of Standish, Esquire, other part.
Demise (by the advice of H Hs Court of Wards & Liveries) to Isabell & Edward to the use of Isabell, parcel of the lands late of William Anderton decd. in the West Riding of the Co. York & in Co. of Lancr, that is to say, in the Co. York 2 parts of a messuage with the appurtenances, 2 closes of land called the West Endes, 2 other closes meadow & pasture called the Westendes, one other close called Caelflose, 3 other closes called the new closes, one parcell of land called the Bittlocke, one other parcel of land called Heighfaules and 2 parts of a 3rd part in 3 parts in one other parcel of land called the Grassefaules one other close called the Greatehilles, one other close of land & pasture called the Greene all which premises lie in Fountainfelles in the parish of Kirkebye in Malhamdale or in the town & territories of Malham by year £4-15-4.
And in the Co. Lancr the parceles following viz; 2 parcels of enclosures of lands & pasture called Williams Meadow & St Johns Flatt, Little Barrowe Clough Marlefeilde being in the Town Lower Standen by year 40/- all the premises being in the hands of our Sovereign Lord by the minority of Hugh Anderton his Ward, son & next heir of Wm. Anderton decd. (except woods mines of Metal & Cole etc, etc,)
To hold to use of the said Isabell from the 2nd April last past (on which Day the said Wm Anderton died) for the minority of the said heir at the yearly rent (payable to the receiver of the Court of Wards & Liveries) of £5-13-4 and 2/- yearly to the Auditors clerk for engrossing the accomples of the premises.
Covenants to repair. To permit entry for survey etc, of lands to collect and take care of the evidences concerning the inheritance of the said heir. To prevent decay. Agreement that Isabell & Edward shall have liberty to take house boote, fire boote, hedge boote, lough boote & cot boote to be expended on the said lands.
Other usual provisions.
Executed
Seal Missing
Signature Lionell Cranfeilde.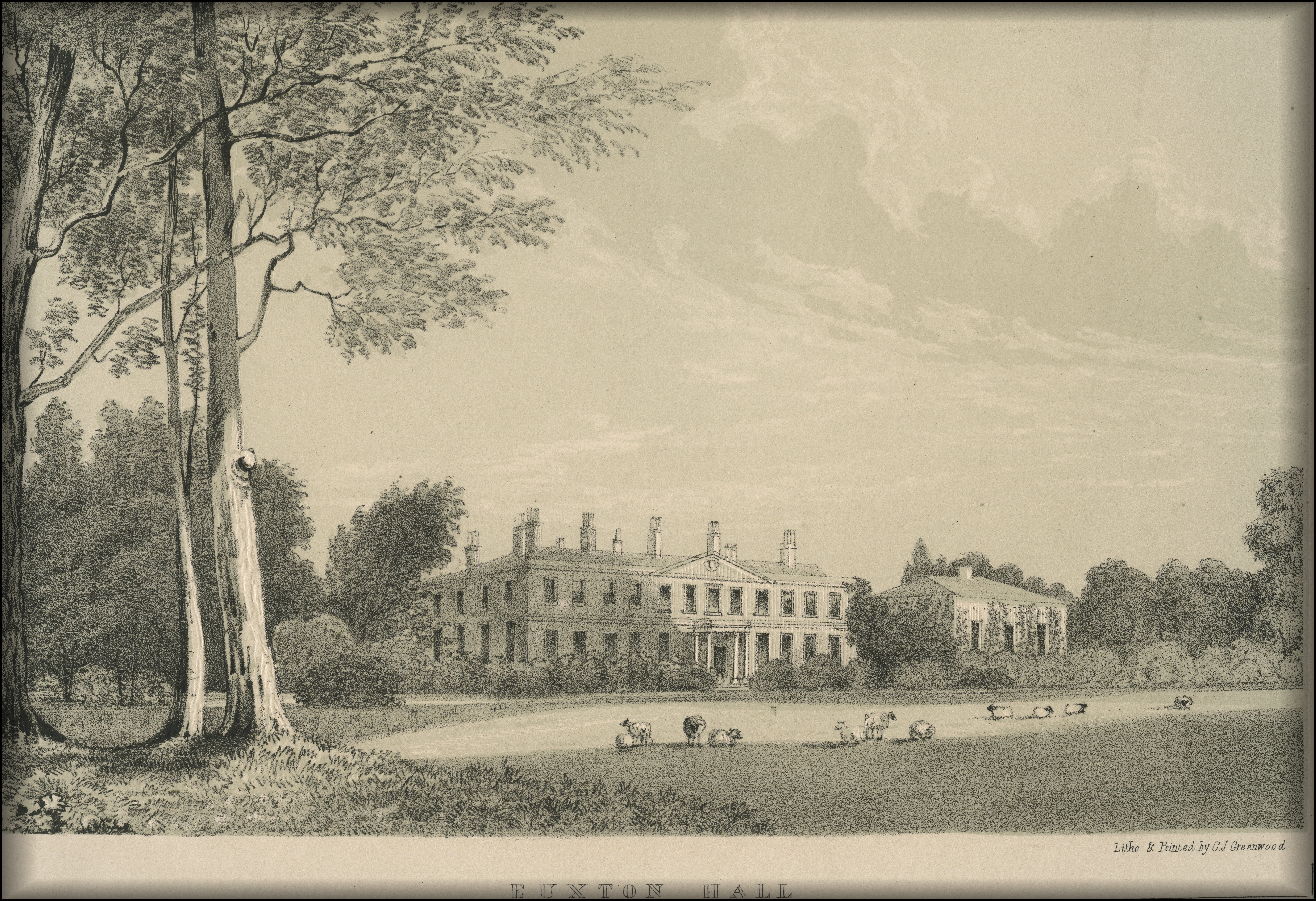 Euxton Hall in the county of Lancaster the home of a branch of the Anderton of Anderton family.
[no title] D/D An/Bundle 33/215 1619
These documents are held at Wigan Archives Service
Anderton Family in the Year 1619
James by the grace of God King of England, Scotland, France and Ireland, Defender of the Faith, etc., to his esxheator in the county of York, greeting.
Whereas by an inquisition taken before William Cartwright lately our esxheator in the aforesaid county, in accordance with our command, after the death of William Anderton, formerly of Euxton in the county of Lancaster, gent., and returned to our chancellery, it was established:
That the said William Anderton for a long time before his death and at the time of his death, was seised in his demesne as of fee of and in one messuage with the appurtenances, two closes of land called the Westende, two other closes of arable and pasture land called the Westende, one other close of land called the Calfe Close, three other closes called the Newcloses, one other parcel called the Bittlock, and one other parcel of land called Highfales, and also of a third part to be divided into three parts of one other parcel of land called the grass Faules, one other close of land and pasture called the Great Hilles, and one other close of land and pasture called the Greene with the appurtenances.
That these aforesaid messuages, closes and enclosures of land and tenements are situate and exist in Fountains Felles within the parish of Kirkeby in Malhamdale in the county of York aforesaid, or in the township and territory of Malham in county York aforesaid, and likewise of divers closes and enclosures of land and pasture called by the name or names William Meadowe
Sir Johns Seate little Barroweclough, Marlefeild with the appurtenances situate within the township of Lower Standen in our duchy the county of Lancaster.
And that the said William Anderton died so seised and possessed on the second day of April in the sixteenth year of our reign.
And that Hugh Anderton is the son and next heir of the said William Anderton, and at the date of the Inquisition, namely the eleventh day of July in the sixteenth year of our reign abovementioned, was aged eighteen years and twenty-five days.
And that Isabell Anderton, widow, formerly wife of the said William Anderton, still survives.
And that the said messuages, lands and tenements with the appurtenances in the county of York were held of us in capite by military service.
And that the said lands and tenements in the county of Lancaster were held of us as of our honour of Clitheroe in our duchy the county of Lancaster in free and common socage.
And because the aforesaid Hugh Anderton has attained his majority of twenty-one years, and it is clear that all charges and revenues of the said messuages, lands and tenements and other premises with their appurtenances, due to us and to our duchy at the time of the coming of age of the said Hugh Anderton have been well and faithfully paid up till the fourth day of the present month of July into our Court of Wards and Liveries in accordance with the form of the act then prepared, as appears from a certificate of the master and officers of the said court deposited in our chancellery of records above-mentioned.
We, in consideration of the sum of eight pence paid into our hamper, have accepted the homage due to us in this behalf by the said Hugh Anderton until the next feast of the Purification of the Blessed Mary, and have restored to him the aforesaid messuages, lands and tenements with the appurtenances, and have in like manner acknowledged the fidelity of the said Hugh Anderton in this behalf.
And we therefore command that you give without delay full seisin to Hugh Anderton, the heir, of the said messuages, lands tenements etc., with the appurtenances, held in your bailiwick, which were taken into our hands and still remain in our hands, by reason of the death of the said William Anderton and of the minority of the said Hugh Anderton, together with the charges and revenues thence derived from the aforementioned time of the coming of age of the said Hugh Anderton till the above-mentioned fourth day of the present month of July. without prejudice to the rights of others.
Given at Westminster on the thirteenth day of July in the twentieth year of our reign. By Bill of the Court of Wards and liveries.
note on - Branches of the Anderton Family.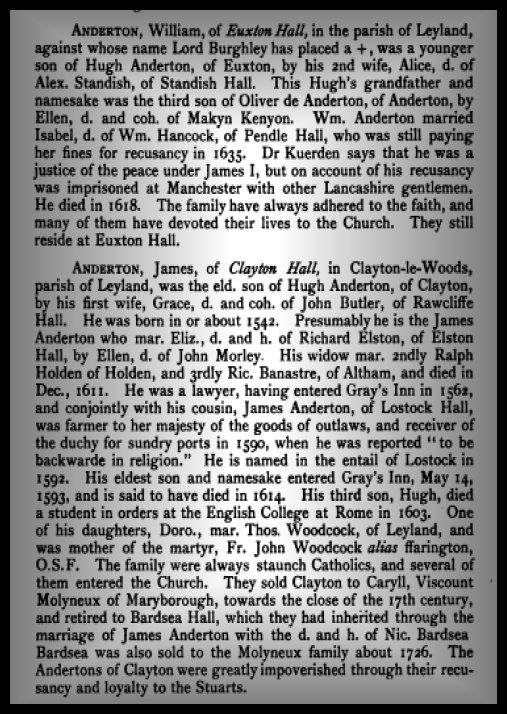 Anderton Hall was sold by Mr. Charles Joseph Stonor in 1897 to Messrs. Richard Bond, George T. Brown and Augustine Bond for. Two years later the hall and 237 acres of land were sold to the Liverpool Corporation for the protection of the Rivington water supply and the remainder was divided between the purchasers, the manorial rights being included in the share of Mr. Richard Bond.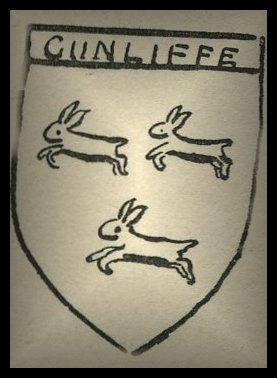 LADYHALGH or Ladyhall, was the Cunliffe portion of the Manor. About 1400 a moiety of the vill of Anderton together with Cunliffe in Billington and Wilpshire and other lands came into the possession of Adam de Lever of Great Lever in right of his wife Margaret sister of Roger de Cunliffe. It was sold in 1629, together with Great Lever, to Bishop Bridgeman, whose son Sir Orlando in 1663 sold it to Francis Anderton of Lostock. The moieties were thus reunited in the original Anderton lordship.
Anderton Lady Hall , the home of the Anderton family is coverd by the waters of Lower Rivington Reservoir.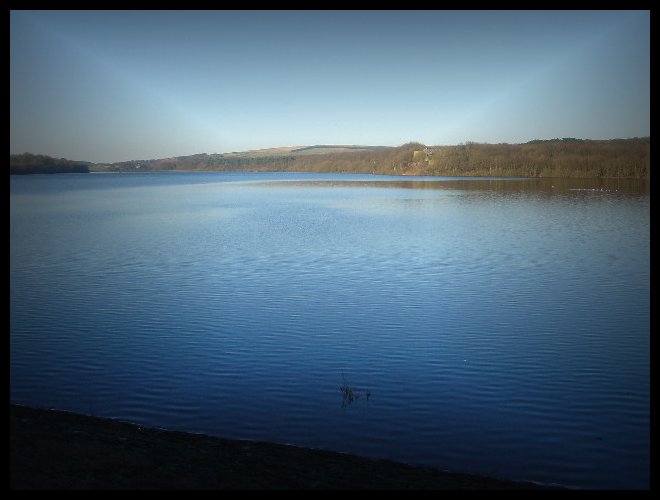 People and events in Anderton 1300 to 1833 (a small selection of many).
Year 1300 - William Anderton and son witness deed.
Year 1412 - Land sale.

Year 1559 - Court Action.

Year 1576 - the Will of Peter Anderton.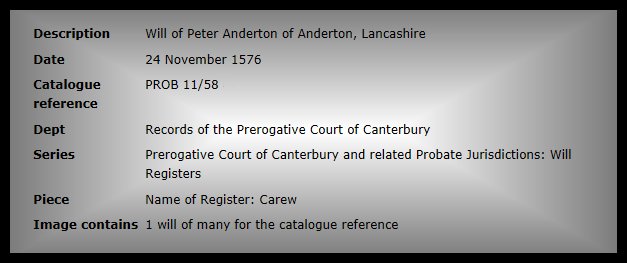 Year 1583 - Court dispute.

Year 1586 - Queen Elizaberth 1 v Richardson and Anderton.

Year 1612 - Court dispute.

Year 1630 - Bastardy.

Year 1637 - the Bishop's seats.

Year 1653 - house sale.

Year 1657 - Anderton's Constables.

Year 1659 - Anderton's Constable.

Year 1661 - benefit payable.

Year 1670 - wrongful conviction of a child aged 9 years.

Year 1674 - Lunatic.

Year 1689 - Certificates issued.
Year 1707 - the Schoolmaster.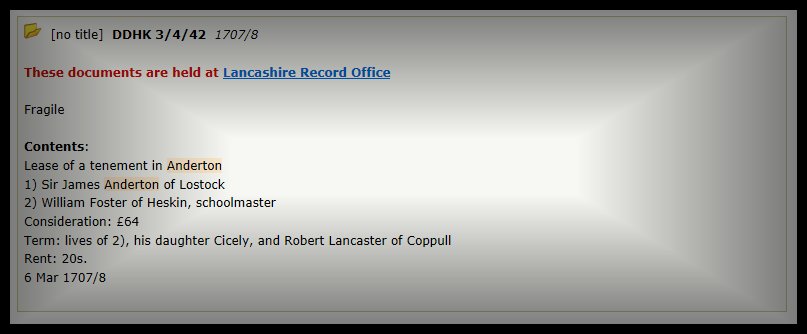 Year 1710 - Bridge Repair.

Year 1821 - the Bastard Son.

Year 1822 - Sale of Anderton Hall.

Year 1825 - 1833. "the Order of the Boot" kicked out of Anderton!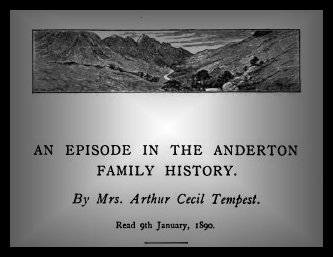 Download - An Episode in the Anderton Family History.

Footnotes
1

1,230 acres, including 130 of inland water; Census Rep. 1901.

2

Subs. R. Lancs. bdle. 250, no. 9.

3

Britten, Beauties of Engl. (Lancs.), 294–5.

4

Lancs. Inq. and Extents (Rec. Soc. Lancs. and Ches.), i, 34.

5

Deafforestation of the wood and moor of Anderton was in 1225 granted to Robert Grelley for Thomas de Burnhull; Cal. Pat. 1216–25, p. 576.

6

Mamecestre (Chet. Soc.), ii, 290. Some charters regarding lands in Dutton by Ribchester may be cited here. By one Robert de Cundecliffe gave lands to Lambert son of Thomas de Burnhull, who had married Robert's daughter Avice; Add. MS. 32106, no. 170. In another Lambert is surnamed 'de Anderton,' apparently indicating that the Andertons were an offshoot of the Burnhull family; ibid. no 133. Lambert had a son Thomas who was surnamed 'de Dutton' and was living in 1287 and 1292; ibid. no. 192, 161.
The two halls indicate the division. The Old Hall, near which is the disused water-mill, lies in the southern corner; the New Hall and park, including the old Ladyhalgh, is in the north-east and has a farm called Cunliffe adjacent.

7

De Banco R. 42, m. 44. The defendant was no doubt Avice's father-in-law and may be the father of the William son of William de Anderton who with Almarica his wife held Rumworth in 1282; Lancs. Inq. and Extents, i, 248.

8

Assize R. 408, m. 7 d. William and Thomas, the plaintiffs, were under age, though their father William seems to be identical with the defendant's grandfather. In the defence Peter son of Peter de Burnhull and Gilbert de Clifton were joined, Peter as chief lord and Gilbert as his guardian during minority. It was stated that the plaintiffs sowed flax and that the wife of Adam son of William 'with her hands rooted out that flax.'
The wardship of Thomas son of Adam son of William de Anderton to Gilbert de Clifton appears again. Robert de Haydock, rector of Standish, claimed 15 acres which Gilbert while guardian had granted to Nicholas Blundell, but he withdrew his claim, granted the 15 acres to Thomas for Robert's life, and also the tithe of corn of Anderton, 12d. and 4 marks being payable to the rector for the land and tithe respectively; ibid. m. 64 d.

9

Robert de Anderton at Michaelmas 1310 sued Sibyl widow of Thomas de Anderton respecting 20 acres of wood in the township; De Banco R. 183, m. 331. At the beginning of 1312 he sued Alice widow of Adam de Anderton respecting some lands; ibid. 190, m. 50 d.; 196, m. 208 d.

10

Alan de Burnhull—i.e. the superior lord—was then holding the tenement which Thomas de Anderton and Robert de Cundecliffe held in Anderton; Mamecestre, loc. sup. cit.

11

In 1319 it was found that one Alan le Norreys, possibly as trustee, had enfeoffed Thomas de Anderton and Sibyl his wife of the manor, which descended to William the son of Thomas, a minor. Thomas de Anderton had granted certain lands to Henry de Atherton for life, and others to Henry and his wife Beatrice and their heirs, and these lands William endeavoured to recover. Robert de Anderton and Mabel de Bradshagh were also defendants; Assize R. 424, m. 8 d. See also 425, m. 1; 426, m. 9.
In 1315 Simon de Holland had complained that Henry de Atherton, Beatrice his wife, Adam son of Hugh de Hindley, Robert son of the said Adam, Gilbert de Culcheth and Hugh de Culcheth had in 1310–11 come with swords, bows and arrows, and taken his corn, barley, oats and other goods. Simon alleged that he held the custody of the manor during the minority of the heir of Thomas de Anderton by grant of Alan de Burnhull, of whom Thomas had held by homage, fealty, and scutage, paying 5s. to a scutage of 40s.; De Banco R. 212, m. 322 d.
William de Anderton contributed to the subsidy in 1332; Exch. Lay Subs. (Rec. Soc. Lancs. and Ches.), 43.

12

At the beginning of 1370 she obtained licence for her oratory at Anderton; Lich. Epis. Reg. v, fol. 22. In the same year she was plaintiff against William de Pilsworth; De Banco R. 440, m. 304 d.

13

In 1420 Thurstan de Anderton, Agnes his wife and Oliver his son made an exchange of lands in Anderton with Adam de Lever, Margaret his wife and William his son; Lever Chartul. (Add. MS. 32103), no. 114.
Thurstan de Anderton was present at the battle of Agincourt; Nicolas, Agincourt, 375. The name also occurs in 1387 and 1396–7; Lancs. Inq. p.m. (Chet. Soc.), i, 10, 64; also in 1404, 1410 and 1424; Final Conc. iii, 67, 69, 123. These may all refer to the same person; and Thurstan was also witness to a deed in 1432; Towneley MS. GG, no. 1945. From a pleading of 1446 it appears that Thurstan was dead in that year; Pal. of Lanc. Plea R. 6, m. 15 d.

14

Pal. of Lanc. Plea R. 5, m. 13 d. They were married as early as 1432; Towneley MS. GG, no. 2214. Ellen widow of Oliver occurs in 1466; Dep. Keeper's Rep. xl, App. 543.

15

Duchy Plead. (Rec. Soc. Lancs. and Ches.), ii, 87–100; Trans. Hist. Soc. (new ser.), vi, 181. Mr. Henry Ince Anderton has given the editors assistance in tracing the descent of the family.

16

Mamecestre, iii, 478. Thurstan held the manor of the lord of Manchester by the ancient services.

17

Thurstan Anderton, 'esquire,' was living in Jan. 1515–16; Towneley MS. GG, no. 2047. He is probably the Thurstan Anderton, 'gent.,' who died on the following 6 May; Duchy of Lanc. Inq. p.m. iv, no. 72.

18

The date of the pleadings, of which the text is a brief abstract. The dispute was as to Ellen de Kenyon's inheritance in Healey.
With this Oliver the recorded pedigree begins. Anderton was held of the manor of Manchester by the fourth part of a knight's fee, paying 9s. 6d. for castle ward, giving puture, and doing suit at Easter and October at Manchester; Pal. of Lanc. Sess. P. Lent 29 Hen. VIII.

19

Duchy of Lanc. Inq. p.m. xi, no. 67. A settlement of the manor was made in 1554 by Peter Anderton; Pal. of Lanc. Feet of F. bdle. 15, m. 101. Further arrangements were made in 1556 and 1557 (ibid. bdle 19, m. 16) in conjunction with James son and heir-apparent of Peter. These are noticed in the inquisition, which states that James died before his father without a son.
Peter Anderton's will (P.C.C. 36 Carew), dated 15 April 1559, was not proved till 1576. He desired to be buried 'at Blackrod Church, betwixt Elizabeth his wife and the high altar,' and left £5 to Edward Whittill to say mass one year at Blackrod for his soul, &c.; he also bequeathed 20s. to the same church, 6s. 8d. to Rivington Church and 13s. 4d. to Horwich Chapel.

20

Pal. of Lanc. Feet of F. bdle. 55, m. 212. The property concerned consisted of twenty messuages, three mills, &c.; the plaintiff in the fine was Reginald Mather.

21

Misc. (Rec. Soc. Lancs. and Ches.), i, 244.

22

Exch. L.T.R. Rec. Roll 2, 35 & 36 Eliz.; Pat. 1721, 5 Jas. I, pt. i.

23

Misc. (Rec. Soc. Lancs. and Ches.), i, 168. In 1631 he paid £10 on refusing knighthood; ibid. 214.

24

Duchy of Lanc. Inq. p.m. xxvii, no. 16. There is recited the marriage settlement of the younger William Anderton and Magdalen daughter of Thomas Lacon of Linley, Salop.

25

The inventory at Chester is dated 1 May 1640; information of Mr. Anderton.

26

Index of Royalists (Index Soc.), 41.

27

Royalist Comp. Papers (Rec. Soc. Lancs. and Ches.), i, 84–6. Some particulars of the estate are given. In 1653 mortgages of the estate were made by William Anderton and William his son and heir; Anderton deeds (Mrs. Tempest's abstract). In one of the deeds a lane from Grimesford Bridge to Headless Cross is mentioned. A John Anderton of Anderton is found on the Parliamentary side; Civil War Tracts (Chet. Soc.), 252.

28

Dugdale, Visit. (Chet. Soc.), p. 4. About that time William and Roger Anderton were convicted recusants; Misc. (Cath. Rec. Soc.), v, 92.

29

Anderton deeds (Mrs. Tempest's abstracts).

30

Ibid. Peter is described as 'of London, dyer.' See also Pal. of Lanc. Feet of F. bdles. 181, m. 78; 289, m. 93. Roger Anderton brother of Peter 'riding from Ormskirk races fell dead from his horse' in 1668; Trans. Hist. Soc. xxxvi, 45–6.

31

Henry Blundell was almost sole landowner in 1783; Land tax return at Preston.

32

Information of Mr. Bond.

33

Robert de Cundecliffe or Cunliffe, as already stated, is mentioned as a former tenant in 1320; Mamecestre, ii, 290. In the preceding year the guardian of the land and heir of Thomas de Anderton claimed to be guardian also of the heir of Robert de Cunliffe as tenant by knight's service; De Banco R. 231, m. 121. The Cunliffe moiety was in later times said to be held of the Andertons in socage; Add. MS. 32103, no. 219.

34

In the Lever Chartulary (quoted above) are a number of deeds relating to the Cunliffes and their successors. Robert de Cunliffe gave to Robert his son and Alice his wife daughter of Stephen de Hammerton lands in Wilpshire, &c.; no. 102. Robert de Anderton was a witness. Richard son of Robert de Cunliffe agreed with Robert son of Adam de Cunliffe as to lands formerly held by the latter in Anderton; a rent of 2 marks was payable to Margery de Cunliffe, no. 104. In 1399 the lands of Robert son of Adam were settled on Roger de Cunliffe with remainder to his sister Margaret, and various charges were made in favour of Adam de Lever and others; no. 105–9.
Adam de Lever and Margaret his wife in 1409 made a feoffment of the moiety of the vill of Anderton and lands in Billington, &c., lately belonging to Roger de Cunliffe; no. 112. Peter son of Richard Talbot in 1417–18 released to Adam de Lever all his claim to the moiety of the manor of Anderton; no. 113. In 1454, however, Peter Talbot and Ellen his wife claimed two parts of a moiety of the manor of Anderton against Adam de Lever and Margaret his wife. The pedigree put in asserted that one Robert de Cunliffe gave it to his son Robert and Margery his wife in the time of Edward III; from the younger Robert it descended to his son Adam, whose son and heir Robert dying without issue it went to Roger brother of Adam, whose daughter and heir was Ellen wife of Peter Talbot. See Coram Rege R. Mich. 33 Hen. VI, m. 28.
The name Ladyhalgh is applied to the Anderton manor in some later deeds (1435, &c.) in the Lever Chartul., no. 120, 156, &c.
Ralph Ashton of Great Lever, to whom the Lever estates descended, in 1531 leased to Thomas son of John Rivington and Clemence his wife the Moorheys in Anderton; ibid. no. 199; and see Ducatus Lanc. (Rec. Com.), i, 232. Ladyhalgh was, like the rest of the estate, in dispute between the Ashtons and Levers, and in 1478 the arbitrators assigned it to Roger Lever, the petitioner, for life only; Lever Chartul. no. 227; Ducatus Lanc. i, 118.
Ralph Ashton of Great Lever in 1587 held his messuages and lands in Anderton of William Anderton in socage by a rent of 2s. or a sparrow hawk; Duchy of Lanc. Inq. p.m. xiv, no. 90.

35

Pal. of Lanc. Feet of F. bdle. 115, no. 39.

36

In 1663 Sir Orlando Bridgeman and John his son and heir gave to feoffees the capital messuage called Ladyhalgh in Anderton in trust for Francis Anderton of Lostock, to whom a sale was made, and in 1673 Orlando son of Sir Orlando sold Ladyhalgh to the same Francis; Anderton deeds (Mrs. Tempest's abstracts).

37

Liverpool Cath. Annual.