Return to Standish families of the Manor of Duxbury.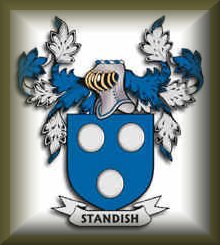 The Hall & Carr Families of the
Manor of Duxbury Lancashire England.
Links to -
The Manor of Duxbury and the French King Louis Philippe 1773 - 1850.
1841. William Standish Standish.
1856. William Standish Carr - Standish.
1812.The alleged Hand of Fraud?
<![if !supportEmptyParas]> <![endif]>
On the 15th May 1812 Sir Frank Standish died, he was unmarried and had no children and Sir Frank was the last male of his line. The death of Sir Frank brought many claimants forward who claimed to be the lawful successor to his estate and amongst the claimants were the descendants of Myles Standish in America. However one claimant arrived at Duxbury Hall and took possession ahead of all the rest, Gorge Baker (the guardian and chief minder of the 12 year old Frank Hall who had recently inherited his late father estate in County Durham) claimed the estate in the name of Frank Hall. George Baker stated that Frank Hall was the great grandson of Margaret Standish who was the aunt of Sir Frank Standish and the sister of Sir Frank's father.
Another claimant the Carr family of Cocken Hall, County Durham produced evidence that indicated Frank Hall was the illegitimate son of Anthony Hall.
<![if !supportEmptyParas]> <![endif]>
In the year 1812 two very important incidents occurred that convinced local citizens that the hand of fraud was at work.
<![if !supportEmptyParas]> <![endif]>
<![if !supportLists]>1. <![endif]>The first was the destruction of page 32 of the parish register of the Church of St. Laurence the page having the top third torn off and other parts eroded. The fact that page 32 of the parish register carried the births for the year 1584 the very year Myles Standish is said to have been born was in the eyes of many further evidence of fraud.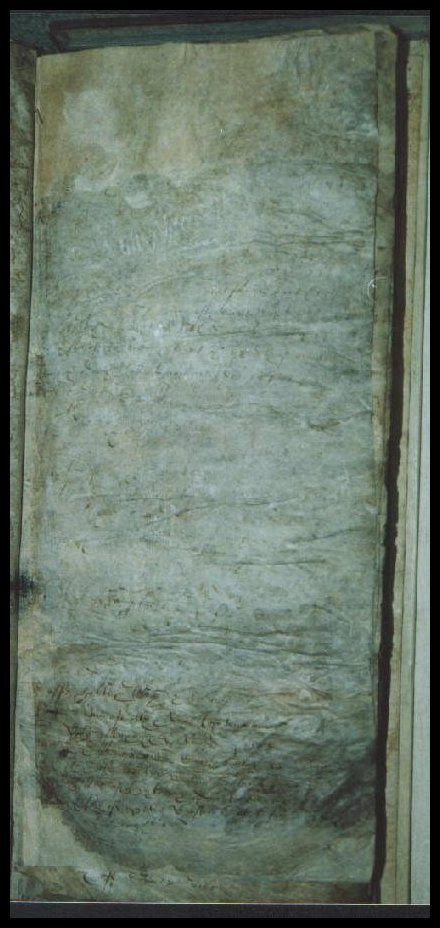 P1584. Page 32 of the Parish Register of the Church of St. Laurence, Chorley Lancashire.
<![if !supportLists]>
2. <![endif]>George Baker who had taken possession of Duxbury Hall could not produce any of Sir Frank Standish's legal papers, which had mysteriously gone missing? Again many local citizens saw this as further evidence of fraud.
Note: Sir Frank Standish's legal papers (for the years 1300 to 1812) that disappeared in 1812 reappeared on the market at a sale in London in 1960 and were bought by Lancashire County Council.
1813. The Battle of Duxbury Hall.
Another Claimant Thomas Standish a weaver from Wigan decided to out manoeuvre George Baker when he and a large band of his supporters broke into Duxbury Hall on Friday June 12th 1813 and claimed possession. George Baker then made a claim of unlawful possession against Thomas Standish the weaver who was barricaded in Duxbury Hall with his supporters.
Mr Houghton governor of the House of Correction in Preston Lancashire and numerous constables were dispatched (the equivalent in 1812 of the Bow Street Runners in London England and possibly the Keystone Cops in America) to evict Thomas the weaver and his supporters from Duxbury Hall. Battle commenced at Duxbury Hall at 5am on the morning of Saturday June 13th 1813 and it was Thomas the weaver and his supporters who were victorious, the officers from the House of Correction being drive back to their refuge in the Yarrow Bridge Inn were they dressed their wounds and decided on their next course of action over a large flagon of beer. The next course of action was to send for the Dragoon Guards from their military base at Manchester Lancashire. The journey from Manchester to Duxbury Hall was made by the Dragoon Guards in atrocious weather for the time of year and it was reported that the military were some what miffed and not amused when the arrived outside the steps of Duxbury Hall at 9 pm on the evening of Saturday June 13th 1813. The attack on the defenders of Duxbury Hall was carried out almost immediately on arrival, the Dragoon Guards breaking into the Hall at several locations and Thomas Standish along with his defenders were all ejected through the nearest window (ground floor or upper floors) into the Duxbury Parkland. Many of the supporters of Thomas Standish were heavily find for their actions whilst Thomas Standish the weaver and his main accomplices William Gadman, Thomas Precot, Thomas Aspinall, John Dyke and James Smith spent one year in the lower cells of Lancaster Castle from were they could not see the light of day. Unfortunately the family tree of Thomas Standish the weaver indicated a line of descent from Captain Ralph Standish who died in 1636 the son of Alexander Standish Lord of the Manor of Duxbury 1599 – 1622. Captain Ralph Standish made a will, a copy of which was held by the Church of England, this extensive will clearly shows that Captain Ralph Standish was unmarried and had no children. The contents of Ralph's estate being divided amongst his close family.
THE WILL OF CAPTAIN RALPH STANDISH 21st DECEMBER 1637. (Son of Alexander)
In the name &c. 21 December 1637.
I Captain Ralph Standish younger son of Alexander Standish late of Duxburie in the county of Lancaster Esq. deceased &c. And my body I commit to the earth from whence it came to bee buried in Christian burial.
And for my goods and personal estate I bequeath the same as herein is declared that is to say To my brother Thomas Standish xx3 and to every one of his children except Ratcliffe xxs
My sister Joan and every one of her children xxs
My sister Alice xxs her daughter Anne Asshton vu her three children had by her second adventure to every one of them v11
My brothers Grelibrand Xs Hamblett Ashton Xs My brother Banaster xs (brothers in law)
My brother Alexander xxs Alexander his wife Xs his daughter Joan xxs
My ant Elline vu
Sir Ralph Asheton xx5
My uncle Ratcliffe Ashton xxs
The poor of Anglezark Heapey Whitle Chorley and Duxbury viz* to every townshipp xxs
My nursmam Jane Croston desiring her to wind me xls
My cousin Henry Ogell xxs
My cozen Thomas Sergeant the elder xxs
My cousin Katherin Sergeant xs
To William Leigh bachelor of divinities xls
My cousin Thomas Longworth xxs
My cousin Margrett Crosse xxs
My cousin Jane Asheton xs John Jameson xs
I bequeath after my debt &c. are paid all the residue of my said goods &o. unto Rat­cliffe Standish daughter unto Thomas Standish to bee putt forth for her use by my executors until she come unto years of discretion And I desire that my brother Standish shall have nothing to doe with it.
And I doe hereby constitute &c. my brother Alexander Standish and Edward Farnworth of Duxbury bestowing of them ten pounds apiece for their pains executors of this my last will not doubting but they will truly execute the same according to my desire and trust in them reposed.
And now to God bee praise for ever and ever amen
Memoranda that the goods hereafter mentioned were given by Captain Ralph Standish in his life time by word of mouth viz' -
To my Lord Strange one case of pistols and a dragoon.
To my sister Banaster one beaver hat one fur coat one cad-owe and a seller of bottles
To my nephew Richard Clayton one case of pistols three muskets a target a leading staffe powder bag and two other little pieces
To my brother Alexander his sword.
To Edward Farnworth a little ffilde bed.
To Thomas Compton his boy in money v11 and some of his clothes at the discretion of his executors
To William Nickson one demicastor hat and some other old clothes at my executors discretion
One old Testament to my sister Banaster and the rest of my books to any of his friends that desired one at ye discre­tion of my executors.
Sealed &c. in presence of Richard Haydock Edward Wyke.
<![if !supportEmptyParas]> <![endif]>
1824. Mr. Frank Hall the unloved Lord of the Manor of Duxbury.
The accusations of fraud in 1812 resulted in the new Lord of the Manor Mr. Frank Hall not being able to recruit staff locally to work at the Hall or upon the estate. The consequence of the refusal of local people to work for him meant that Frank Hall had to hire staff from other parts of England to work upon the Duxbury Estate. However the innocent staff brought to Duxbury were treated as outcasts by the local community and much abused.
A Times of London article in 1824 indicates the depth of local feeling " it had been customary to insult and abuse all persons in the employ of Mr. Hall Standish; so much so, that he found it difficult to procure servants in the neighbourhood".
1824. Salford Court Sessions.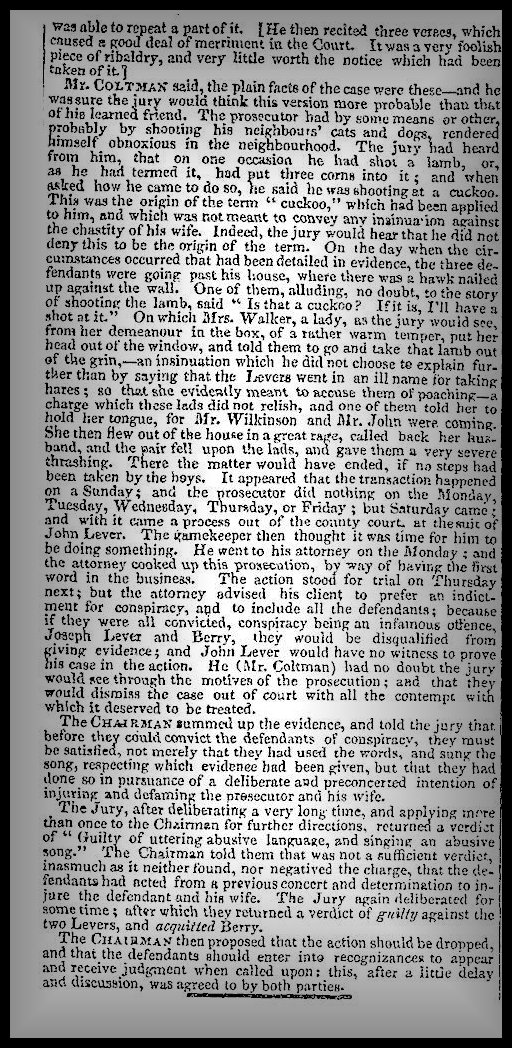 1931. The Hand of fraud is mentioned in the 1931 Chorley Jubilee Souvenir.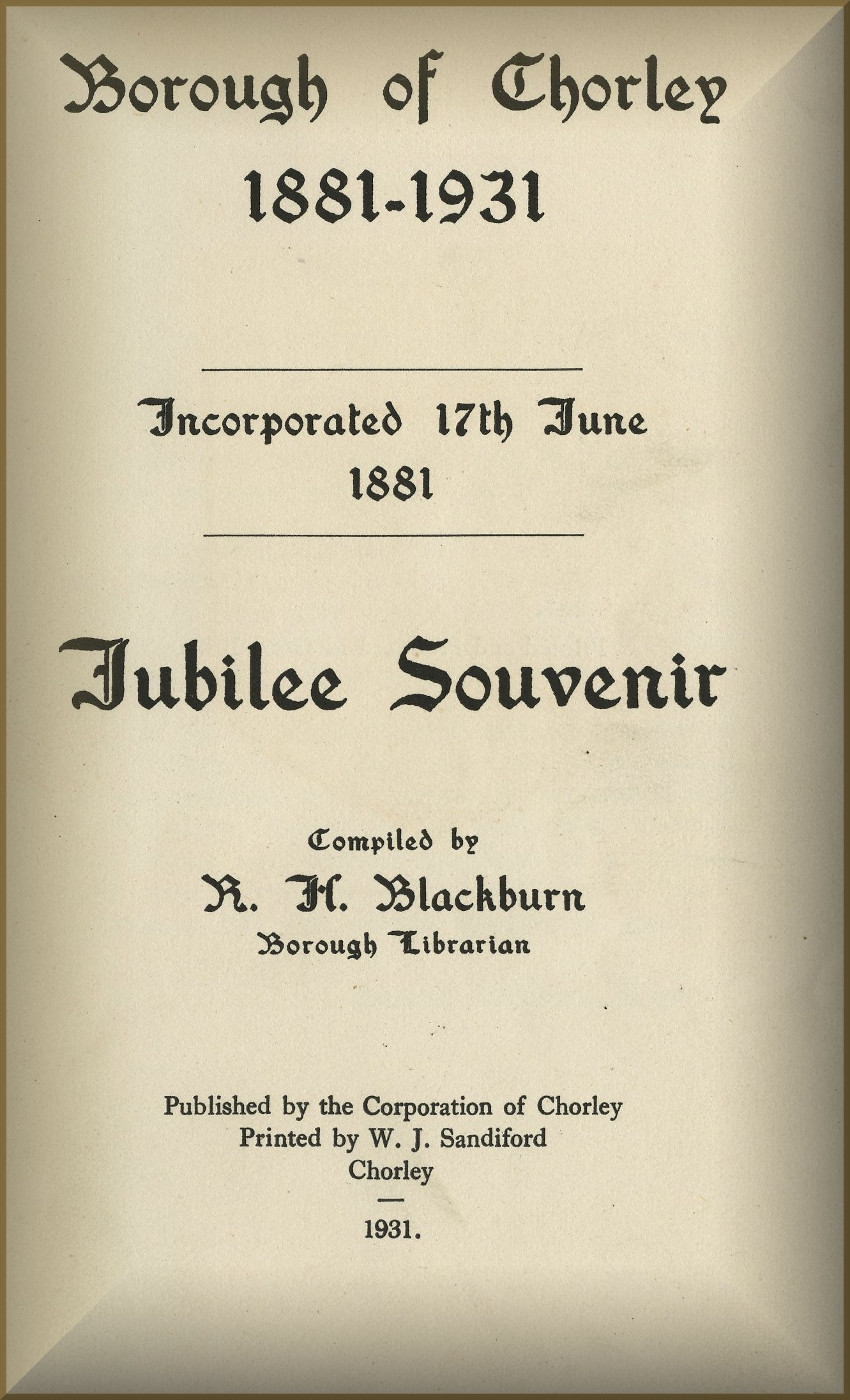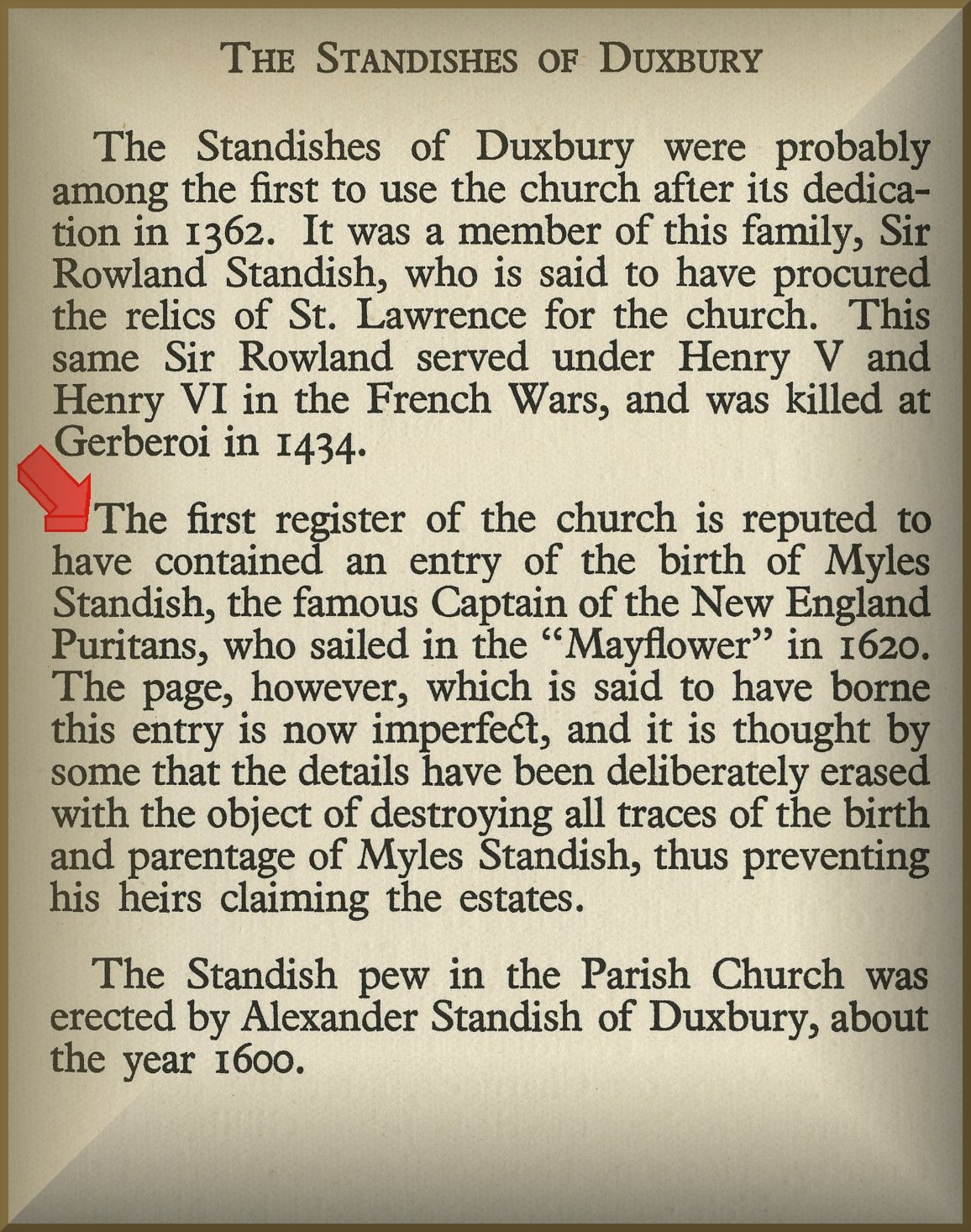 1812. Frank Hall , lord of the manor of Duxbury 1812 - 1841.
Known as Frank Hall Standish from 1812.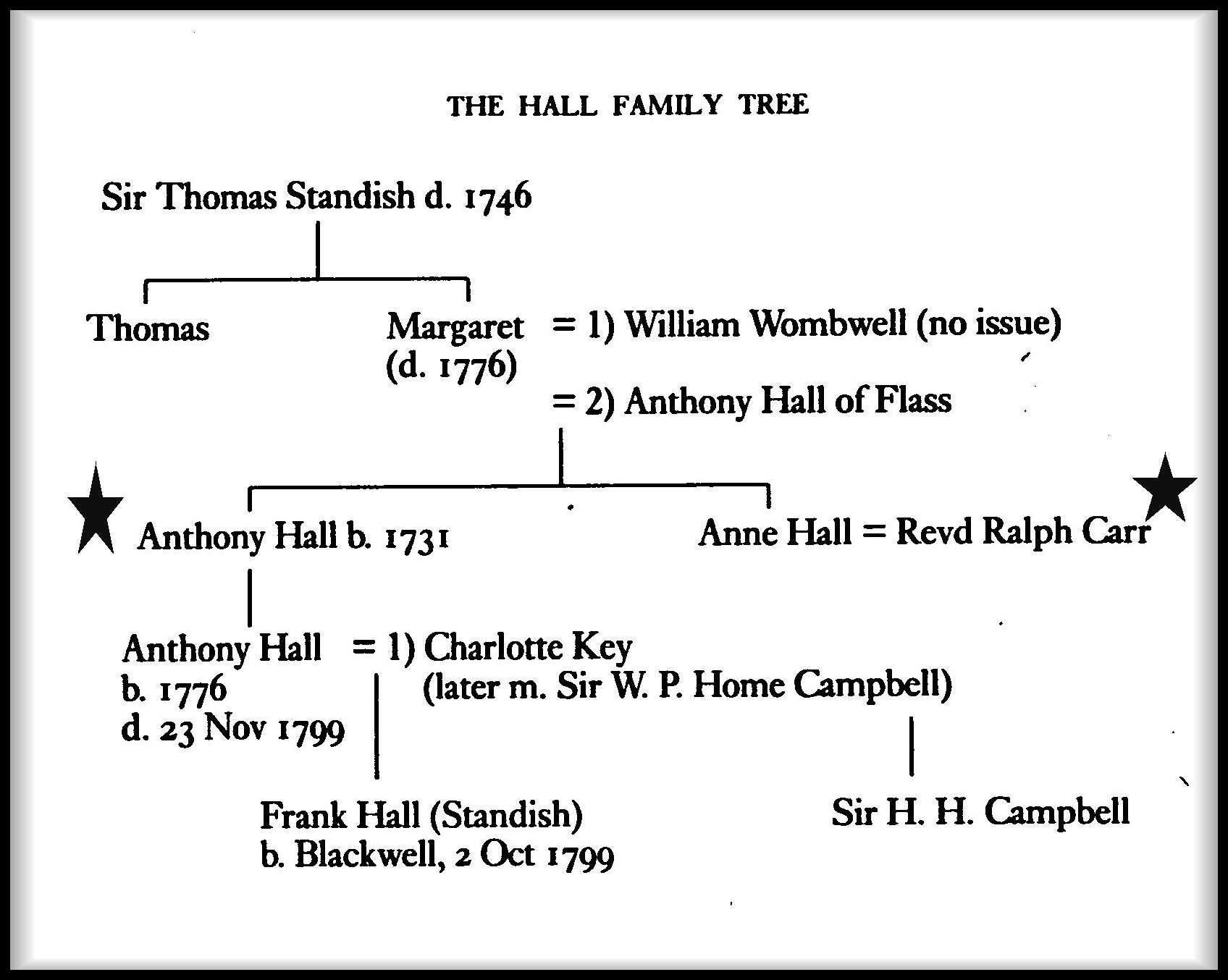 .Lancashire Record Office -
File DX 989 - date: 12 Mar 1830.
[from Scope and Content] Letter of attorney: Frank Hall Standish to Thomas Birchall of Preston and Richard Woodward of Marsh Brow in Over Hulton, gents.
Letters and papers connected with the succession of Frank Hall and William Carr to the estates of Standish of Duxbury, 1831-1842
FILE ref. DX 1038 - date: 18 Jan 1841
[from Scope and Content] Letter from John Standish to Birchall (solicitor) on behalf of his brother Thomas Standish regarding his claim to the Duxbury Estate and a reply to the letter stating that the late FHS had left a will and that Thomas Standish's claim is 'groundless'.

FILE ref. DX 1040 - date: 23 Jan 1841
[from Scope and Content] Letter from John Standish to Birchall (solicitor) regarding the claim of Thomas Standish to the Duxbury Estate including details as to why FHS was not the rightful heir.
FILE ref. DX 1029 - date: nd
[from Scope and Content] Pedigree of the Standish family of Duxbury.

FILE ref. DX 1033 - date: 23 Dec 1817
[from Scope and Content] Pedigree of FHS (Heir at Law of the late Sir Frank Standish) and Thomas Standish (claimant)

FILE ref. DX 1034 - date: 19 Oct 1840
[from Scope and Content] Letter from James Standish to T. Birchall regarding his claim to the Duxbury Estate.

FILE ref. DX 1036 - date: 9 Jan 1841
[from Scope and Content] Letter from R. Woodward to T. Birchall regarding an enclosed notice from James Standish not to pay any rents due to the estate of the late Sir Frank Standish

<![if !supportLineBreakNewLine]>
<![endif]>
1777. Letters from Anthony Hall, of Flass Hall, County Durham the father of Frank Hall Standish.



Pw F 4677

       

11.5.1777

                   

Letter from Anthony Hall, Flass Hall, County
                                            

Durham, to [W.H.C. Cavendish-Bentinck], 3rd Duke
                                            

of Portland, Burlington House [London]; 11 May 1777
<![if !supportEmptyParas]> <![endif]>
                                            

States that the duke's groom has looked at the five
                                            

year old, but thought him too young and not strong
                                        

    

enough; refers to several other horses he has seen;
                                            

says the groom has bought one which was worth the
                                            

money, but which he [Hall] considered to be 'a
               

                             

little too spirity'; further discusses matters
                                            

related to horses. 2 ff
<![if !supportEmptyParas]> <![endif]>
Pw F 4678

       

19.11.1777

                  

Letter from Anthony Hall, Wentbridge [Yorkshire],
                 

                           

to [W.H.C. Cavendish-Bentinck], 3rd Duke of
                                            

Portland, London; 19 Nov. 1777
<![if !supportEmptyParas]> <![endif]>
                                            

Thinks the horse the duke saw will carry him;
                   

                         

suggests that the duke order a servant to come for
                                            

him so that he can try him; says he will let him
                                            

know his price when tried. 2 ff
<![if !supportEmptyParas]> <![endif]>
Pw F 4679 

      

30.11.1777

                  

Letter from Anthony Hall, Wentbridge [Yorkshire],
                                            

to [W.H.C. Cavendish-Bentinck], 3rd Duke of
                                            

Portland, London; 30 Nov. 1777
<![if !supportEmptyParas]> <![endif]>
        

                                    

States when the duke's groom may come to collect
                                            

the gelding; comments that he has many people for
                                            

him, but if the duke does not like him he will keep
                                            

him for himself; comments on the quality of the
                                            

hunting he has been on. 2 ff
<![if !supportEmptyParas]> <![endif]>
Pw F 4680

       

14.12.1777

                  

Letter from Anthony Hall, Flass Hall, County
                                            

Durham, to [W.H.C. Cavendish-Bentinck], 3rd Duke
                                            

of Portland, London; 14 Dec. 1777
<![if !supportEmptyParas]> <![endif]>
                                            

Says he has left the horse at Wentworth with his
                                            

son; has now told him to send the horse to the duke
                                            

at Welbeck; if the duke likes him he will decide
                                      

      

his price; apologises for being unable to visit at
                                            

christmas; is glad to hear the duke has his company
                                            

and hounds settled; wishes him a merry Christmas. 
<![if !supportEmptyParas]> <![endif]>
Standish, Frank Hall (1799–1840), art collector and author, born at Blackwell, Darlington, co. Durham, on 2nd October 1799, was the only child of Anthony Hall (b. 1776) of Flass, Durham, and his wife, Charlotte Rey. A distant cousin of Sir Frank Standish of Duxbury Hall, Chorley, Lancashire, he succeeded to the estates (but not the baronetcy) in 1812, adding the Standish name and arms to his own. The estate was the centre of a violent rival claim by a local weaver, Thomas Standish, who barricaded himself in for several months. In 1817 Standish was admitted to St John's College, Cambridge, but never took his degree. He spent his early twenties travelling the continent, living initially in France but from 1830 settling in Seville, Spain, where he acted as host to British and French travellers and artists, including Richard Ford and Benjamin Disraeli. In Seville, Standish acquired works of Spanish art and literature especially paintings and drawings by Murillo and other seventeenth-century artists—so avidly that at his death he left £60,000 in debts. He also commissioned architectural views from David Roberts, including for instance Interior of Seville Cathedral: High Altar (Downside School, Somerset). He wrote a biography of Voltaire (1821), some poetry, and several travel books, including Seville and its Vicinity(1840) with an engraved portrait of Standish by E. Davenport, after a drawing by G. Alessandri, as a frontispiece. The last publication, though rambling, is informative on the collections of other British and Spanish residents from whom Standish bought many of his own works, including the British vice-consul in Seville, Julian Williams.

Standish died unmarried at Cadiz on 21 December 1840, having sent most of his art collection and library to Duxbury Hall. He was buried in the Standish crypt at St Laurence's, Chorley, on 21 January 1841. A wall monument in the chancel, by F. Webster of Kendal, recites his claim to the baronetcy andhis fame as a collector.
Standish bequeathed his entire collection for the useof King Louis Philippe, ostensibly out of respect to the French nation, but supposedly also to spite the British government for refusing to revive the Standish baronetcy.
In May 1841 Baron Isidore Taylor (1789–1879), whom Standish knew in Seville, visited Duxbury to make the selection for the king, leaving Murillo's Ecce homo (formerly Cook Collection, Richmond, Surrey) and some replacement copies for Standish's heirs. The house contents were sold on 2 June 1881. A full-length portrait copied by J.-B. Mauzaisse after the Seville painter José Gutiérrez de la Vega (1791–1865), showing Standish against the Seville skyline, hangs at Astley Hall Museum, Chorley.

The French king deposited 244 paintings in the 'Musée Standish' alongside his 'Galerie Espagnole' in the Louvre. It had a mixed press: Le Charivari (16 April 1841) satirized it (as full of English novels and portraits of Standish), while Thoré reviewed it favourably, especially four paintings by Murillo, including Christ after the Flagellation (Urbana, Ohio), and the rare collection of Murillo drawings, which Standish himself particularly admired. The collection's display in Paris impressed others, including the artist Millet. The books and 269 drawings were sold in Paris in December 1852, including an outstanding set of thirteen Murillo drawings (Louvre) and a study (Musée Bonnat, Bayonne) for the painting in Sheffield's Graves Art Gallery. The paintings were sent to England and sold at Christies on 28 and 30 May 1853. The fourth marquess of Hertford paid the highest sum (against bidding from the National Gallery, London), giving £1680 for Velázquez's Don Baltasar Carlos (Wallace Collection, London). He also acquired one of the few French paintings, Lancret's Italian Comedians by a Fountain. Other Standish paintings can be found in the national galleries of Dublin, Stockholm, and Washington: Morales's St Jerome, Murillo's Double Trinity, and, from Zurbarán's studio, Sts Paula, Eustachia, and Jerome. The Royal Collection holds Zurbarán's St Ignatius Loyola (Hampton Court, London); while Antonio de Pereda's Kitchen Scene and a portrait attributed to Alonso Cano are at Penrhyn Castle, Anglesey. Another work by Cano, Adam and Eve, is at Pollok House, Glasgow, as are Herrera the younger's Adoration of the Blessed Sacrament and Morales's Virgin Holding Christ's Head. The London sale of Standish's collection increased the popular British fascination with Spanish culture already sparked by the publications of Richard Ford and Stirling Maxwell.

Samantha Brooke.
Sources
Lancs. RO, Standish papers · E. Baines and W. R. Whatton, The history of the county palatine and duchy of Lancaster, 3 (1836), 518 · F. H. Standish, The shores of the Mediterranean, 2 vols. (1837) · F. H. Standish, Notices of the northern capitals (1838) · F. H. Standish, Seville and its vicinity (1840) · GM, 2nd ser., 15 (1841), 662 · W. Walker, 'Duxbury in decline: the fortunes of a landed estate, 1756–1932', Transactions of the Historic Society of Lancashire and Cheshire, 140 (1990), 33–45 · C. W. Sutton, 'Frank Hall Standish of Duxbury Hall', Chorley Library Journal, 1 (Sept 1900), 18–30 · J. Plazaola, Le Baron Taylor, portrait d'un homme d'avenir (1989), 126, 143, 151–4 · T. Thoré, 'Musée Standish', Le cabinet de l'amateur et de l'antiquaire (1842), 209–14 · VCH Lancashire, 6.210–11 · E. Twycross, Mansions of Lancashire, 1 (1846), 67–9 · C. M. Depasse, 'La Galería Española del Rey Luis Felipe', Licenciatura diss., Universidad Complutense, Madrid, 1981 · Palatine Note-Book, 1 (1881), 147–8 · M. Roberts, 'A chapter of a Lancashire family history: the Standishes of Duxbury and Miles Standish', Manchester City News Notes & Queries (28 April 1883), 62–7; (28 July 1883), 112; (4 Aug 1883), 114–15 · J. M. Fewster, 'The making of Frank Hall Standish', Transactions of the Architectural and Archaeological Society of Durham and Northumberland, new ser., 6 (1982), 27–30 · Durham RO · W. Farrer, Standish of Duxbury papers, Man. CL.
1913 - AUGUST 15th – The Times London.
A Painting owned by Frank Hall Standish of Duxbury Hall Lancashire.
"The Annunciation" By Velasquez. Mr. MI. H. Spielmann contributes to La Revue de i'Art an essay on the important early Velasquez, "The Angels Appearing to the Shepherds," which he bought at Christie's on April 19 of last year. The picture was covered with layers of dirt, and no one could tell exactly what was underneath. HISTORY OF THE PICTURE. The picture was fairly adequately catalogued by Messrs. Christie; its pedigree was given, not quite fully, but sufficiently in detail to excite general interest. The fact that it was at one tune in the collection of that fine connoisseur of old pictures, the Rev. Walter Davenport Bromley, ought to have attracted the big dealers to it. That it came from the Louis Philippe sale of 1863 was duly catalogued. It is well known to all students that a portion of the ex-King's collection had been bequeathed to him by Mr. Frank Hall Standish, of Duxbury Hall, Lancashire (who died in 1841),. an enthusiastic lover of Spanish art, who long resided in Spain and who wrote an agreeable book, " Seville and its Vicinity," 1840.
Mr. Standish had so willed his pictures in 1841. The Standish collection was hung at the Louvre in 1842, and after the Revolution of 1848 the ex-King claimed the collection as his private property, and at the end of five years his claim was allowed. The pictures were badly and carelessly packed and sent over to Christie's, where they were sold in 1853. The times were not auspicious, and many of the pictures sold at prices which now seem absurd, even with due regard to their bad condition. The Velasquez was Lot 219 in the sale on May 27, and then fetched 380 guineas, passing into the W. Davenport Bromlev collection, at whose sale ten years later July 12, 1863-it realized 215 guineas. Redford gives the name of the buyer as " Ld. Bath," but The Times report of the sale gives the name of " Bathouse." The purchaser was Lord Ashburton. whose residence in London was Bath House-" Bathouse " being an obvious auctioneer's ruse to throw the reporters of the day off the scent of the actual purchaser. Whilst it was at Wooton Hall (Mr. Davenport Bromley's residence) it was seen by Dr. Waagen, who described it as " boldly realistic in heads and forms, and the contrast between the garish lights and black shadows very strong, but admirably painted in a solid impasto." It remained in the Ashburton collection until the whole of the remaining contents of Melchet Court, the late Louisa Lady Ashburton's residence, were dispersed on the premises by Messrs. Phillips, Son, and Neale in September, 1911. It was Lot 1,431 on the seventh day; it is there catalogued as by Murillo, and thus described:-" Figure of a man asleep, with two other figures of watching angels, and sheep watering." The price it then realized was 105 guineas and the name of the purchaser was given as Baron von Grandherr, who was for a time a frequent buyer of pictures in England. The appearance of the picture at Melchet Court seems to have escaped the notice of even so exhaustive an inquiry as that which Mr. Spielmann has devoted to his picture. The name of the owner of the picture when it appeared at Christie's on April 19, 1912, is veiled under the designation of "the property of a gentleman," but we believe that the buyer at Melchet Court is identical with the vendor at Christie's. The size of the picture is 70 in. by 49 in. We need not follow Mr. Spielmann in his exhaustive analysis of the picture, nor into his consideration of its many " details," some of which are reproduced side by side with details in well known examples of the artist's work. The picture is obviously painted under the influence of El Greco and Ribera, and there can be no doubt that Mr. Spielmann is correct in assigning the " Annunciation " to about 1622, which marks the interval between Velasquez's first and second visits to Madrid. Those who saw the picture in its dirty condition at Christie's a year or so ago can have no idea of its real beauty and charm. We understand that Mr. Spielmann will lend his picture to the forthcoming exhibition of Spanish art which is to be held at the Grafton Galleries in October for the benefit of the National Art-Collections Fund. " THE ANNUNCIATION " BY VELASQUEZ. - MR. SPIELMANN'S RECOVERY.
<![if !supportEmptyParas]> <![endif]>
1890. The staircase in the entrance to Duxbury Hall.
This very old and faded photograph shows the magnificent white marble circular staircase in the entrance to Duxbury Hall.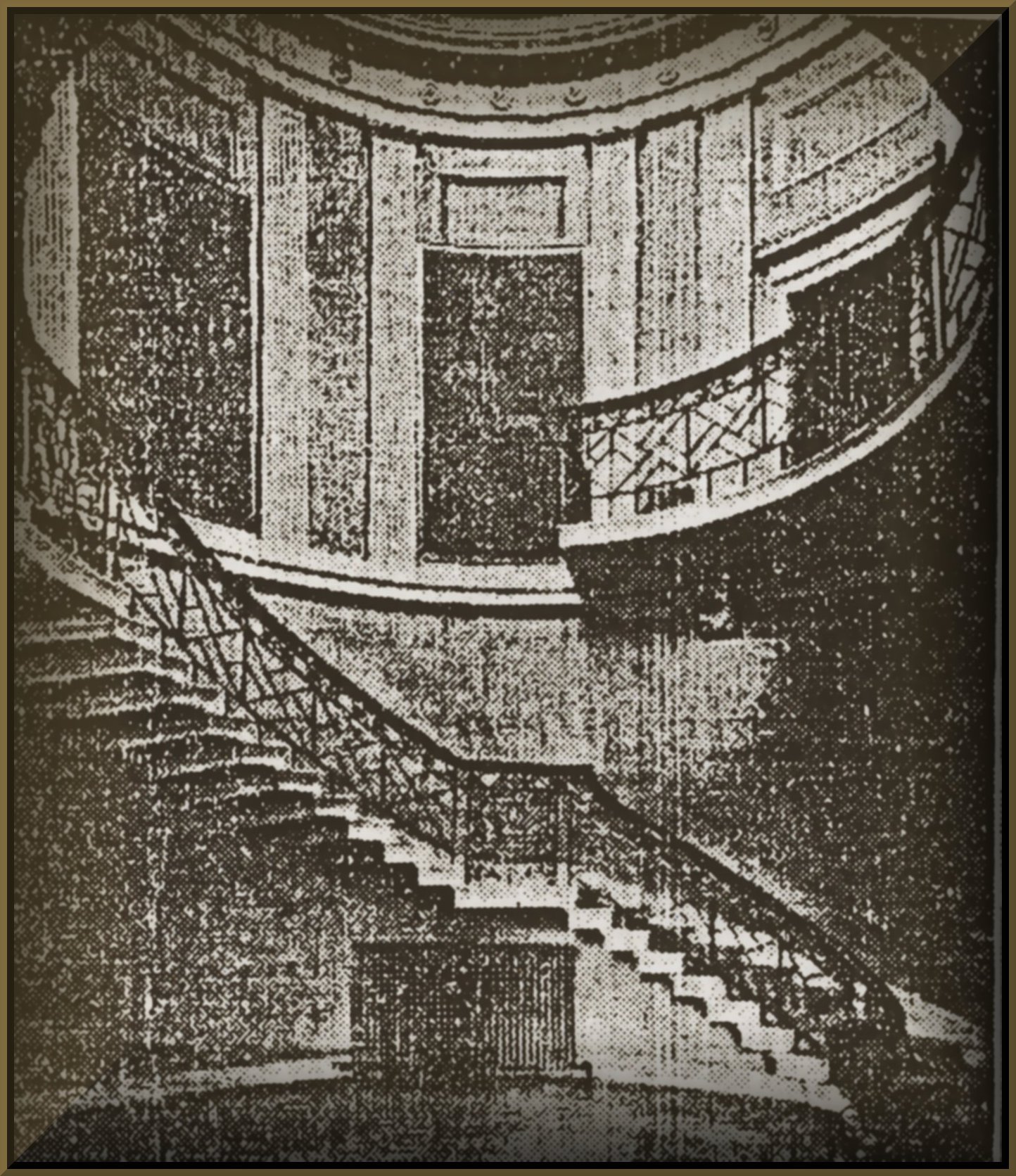 Around the staircase and along the galleries from the staircase Frank Hall Standish hung his famous picture collection.
1835. Four Paintings from the collection of Frank Hall Standish at Duxbury Hall Lancashire.
DDDromos, or outer Court of the Great Temple at Edfou in Upper Egypt.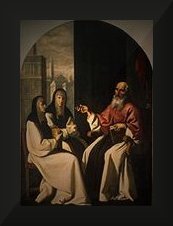 St. Jreome 1630.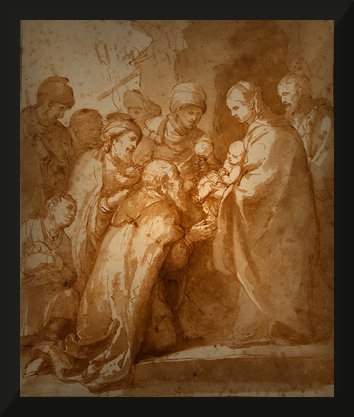 TThe Adoration of the Magi 1650.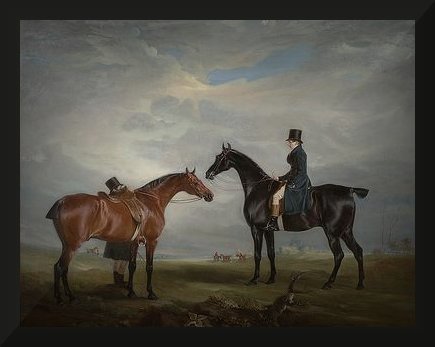 Qurom Hunt - 1830 - Frank Hall Standish (mounted on his horse).
Portrait fetches £164,800
From the Northern Echo, first published Saturday 21st May 2005.
A PORTRAIT of early 19th Century Northern landowner Frank Hall Standish, sitting astride his black mare and chatting to an acquaintance as members of the famous Quorn Hunt gather in the distance, fetched £164, 800 at auction yesterday.
The 1819 portrait of the wealthy art lover, who was born at Blackwell, Darlington, was bought by a private collector at Christie's, in London, for more than double its pre-sale lower estimate.
The 40ins by 50ins canvas was executed by John Ferneley Senior, one of Britain's most accomplished sporting artists.
The sitter - the only child of Anthony Hall, of Flass, Durham, and his wife Charlotte Rey - inherited the estate of his distant cousin, Sir Frank Standish, of Duxbury Hall, Chorley, Lancashire, in 1812, when he was only 13.
Assuming the name Standish by Royal licence, he spent much of the 1820s travelling in Europe and devoting much of his wealth to forming a considerable art collection.
He died unmarried at Cadiz in 1840, aged only 41, having sent most of his art collection and library to Duxbury Hall, and was buried in the Standish crypt at St Laurence's, Chorley. He bequeathed his entire collection to King Louis- Philippe of France.
Publications - books by Frank Hall Standish.
1. The life of Voltaire : with interesting particulars respecting his death, and anecdotes and characters of his contemporaries. London, 1821.
2. The maid of Jaen, a poem. With notes and general remarks ... New edition. Chorley: printed & sold by C. Robinson, 1832
3. Timon, a poem, in two cantos. Chorley: C. Robinson, 1833.
4. The bride of Palencia, a poem. London, 1837
5. The shores of the Mediterranean. London, 1837.
6. Notices of the Northern Capitals of Europe. London : Black & Armstrong, 1838
7. Poems : The maid of Jaen; Timon; and The bride of Palencia. London, 1838
8. Seville and its vicinity. London : Black and Armstrong, 1840.
<![if !supportEmptyParas]> <![endif]>
1842. Catalogue des tableaux, dessins, et gravures de la collection Standish, légués au Roi par M. F. H. Standish. Paris, 1842.
From the private Library of Lord Balcarres his personal copy of -: "Catalogue des tableaux, dessins, et gravures de la collection Standish, légués au Roi par M. F. H. Standish. Paris, 1842" complete with his personal hand written notes on the Standish collection of paintings.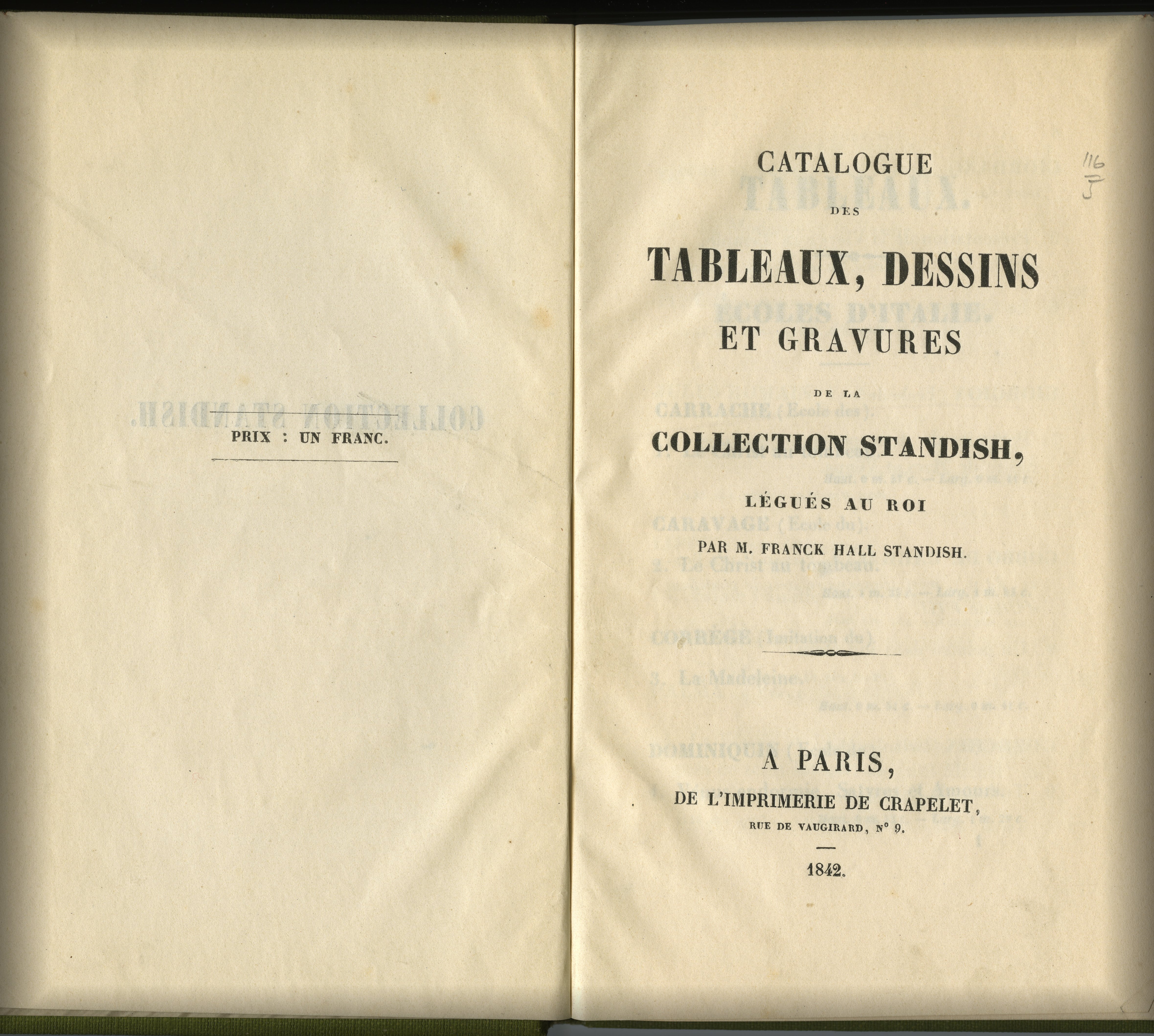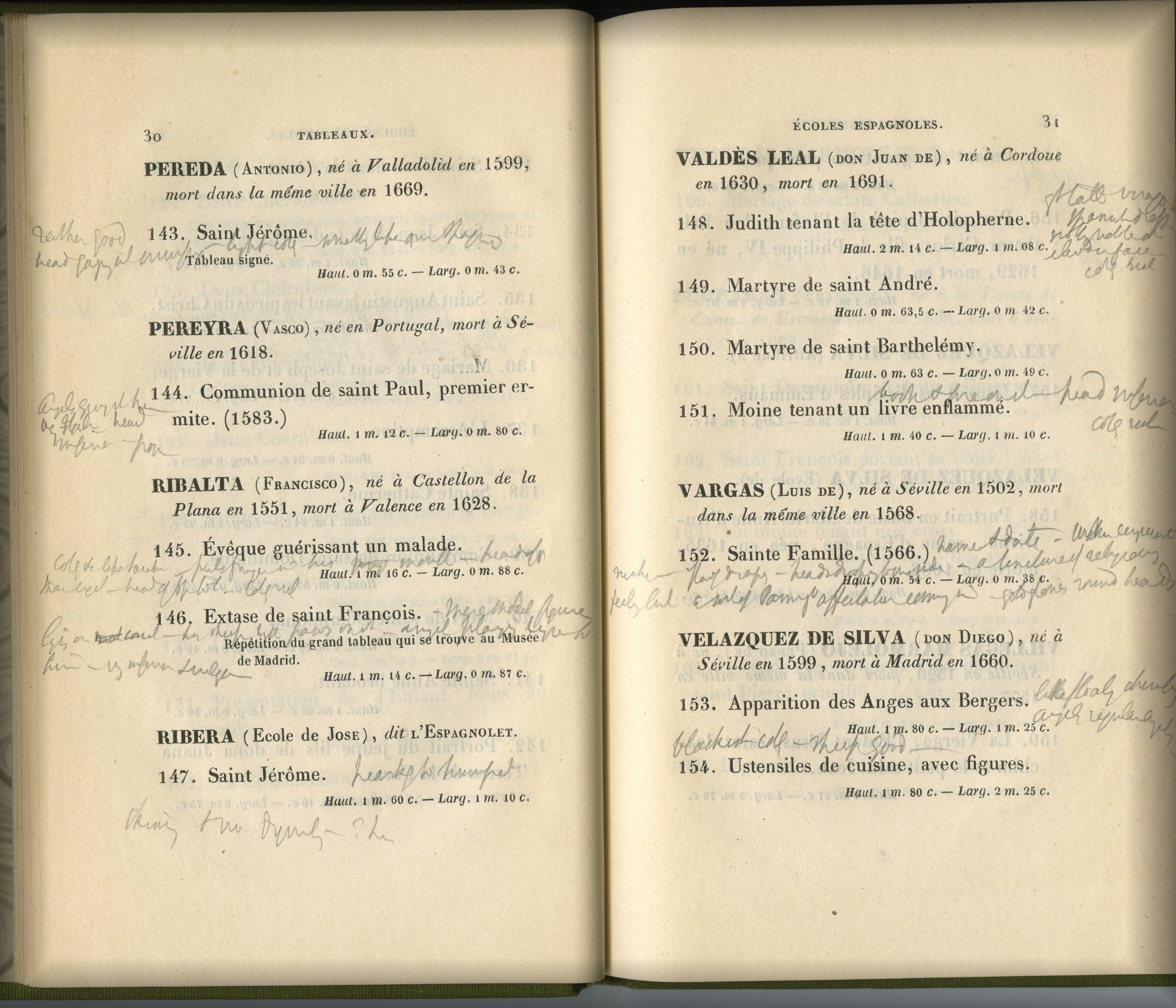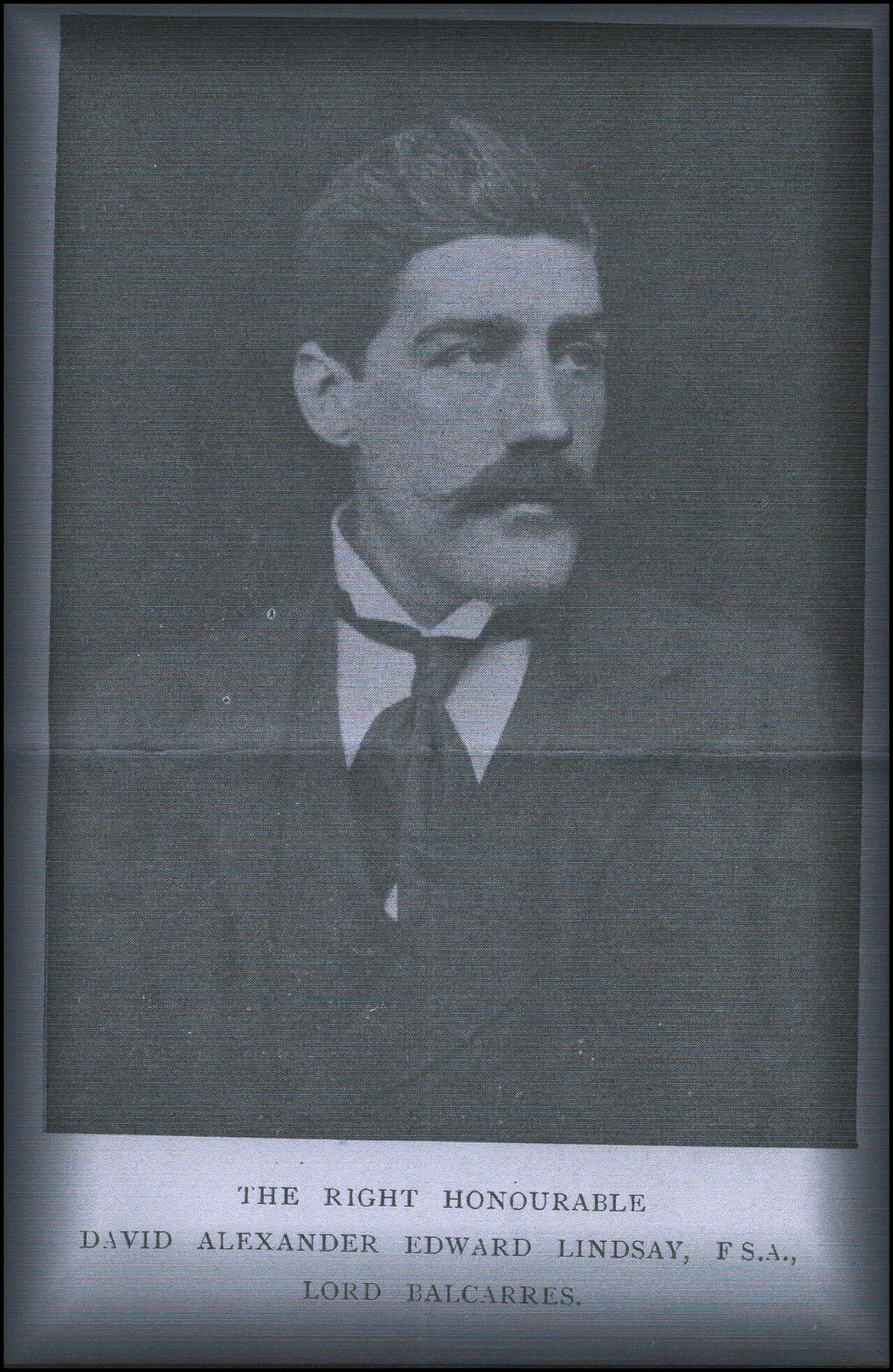 Monument in the Church of St. Laurence Chorley Lancashire.


The Manor of Duxbury and the French King Louis Philippe 1773 - 1850.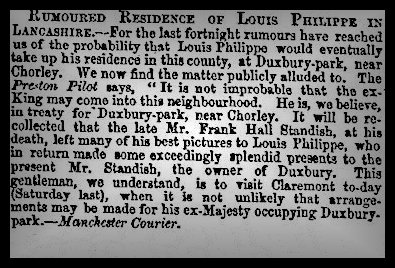 The Standish family were of Norman French descent and arrived in England in 1066 with William duke of Normandy, who was crowned King of England on Christmas day 1066. William's reign, brought Norman culture to England and had an enormous impact on the subsequent course of England in the Middle Ages. In addition to political changes, his reign also saw changes to English law, a programme of building and fortification, changes to the vocabulary of the English language, and the introduction of continental European feudalism into England.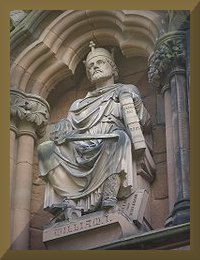 William duke of Normandy
As soldiers in William's victourious army the Standish family were rewarded by being made Lords of the Manor of Standish and they also became Lords of the Manor of Duxbury.
<![if !supportEmptyParas]> <![endif]>
The historical fact that King Louis Philippe of France the last and exiled King of France in 1848 negotiated to buy the Manor of Duxbury as his home in England is an ironic coincident at that very moment in time that saw the of extinction of the male lines of the House of Standish in England. The King and Queen of France were said to have made a secret visit to Duxbury Hall in 1848 and were the guests of Mr. William Standish Standish the lord of the Manor of Duxbury.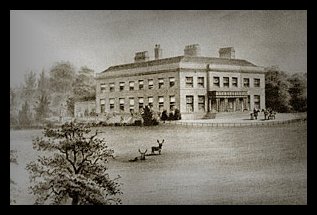 Duxbury Hall in 1848 - the new home of the King and Queen of France.
The Kings exile in England and his purchase of the Manor of Duxbury would have taken Louis Philippe from Kingship in France to Lord of the Manor of Duxbury in succession to the House of Standish.
However events overtook the plans for Louis Philippe's new home in 1849 several of his children were taken seriously ill at Claremont in Surrey England a mansion House put at the disposal of theKing and Queen of France by Victoria Queen of England. In 1850 King Louis Philippe the last King of France died at Claremont in Surrey England.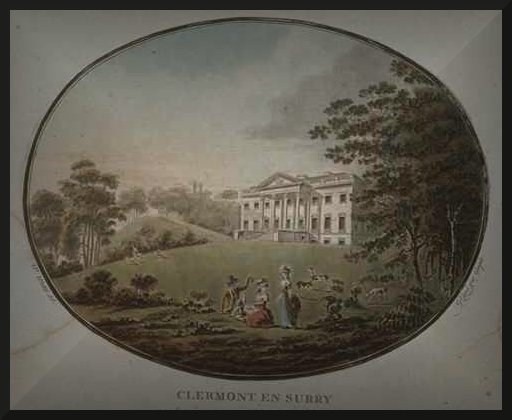 The Claremont Estate, Surrey, England.
In 1816 the Claremont Estate was owned by the state and occupied by Queen Victoria's Uncle Leopold. Queen Victoria was a frequent visitor to Claremont both as a child and later as an adult when Leopold, her doting uncle, lent her the house. She, in turn, lent the house to the exiled French king and queen Louis-Philippe and Marie-Amelie after the revolution of 1848.
Louis Philippe also visited the United States staying in Philadelphia - New York City and Boston.
Louis Philippe also visited the United States for four years, staying in Philadelphia (where his brothers Antoine Philippe and Louis-Charles were in exile), New York City (where he most likely stayed at the Somerindyck family estate on Broadway and 75th Street with other exiled princes), and Boston. In Boston, he taught French for a time and lived in lodgings over what is now the Union Oyster House, Boston's oldest restaurant. During his time in the United States, Louis Philippe met with American politicians and people of high society, including George Clinton, John Jay, Alexander Hamilton, and George Washington.
King Louis Philippe of France 1773 – 1850.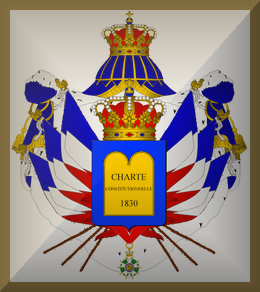 Louis Philippe (6 October 1773 –26 August 1850) was King of the French from 1830 to 1848 in what was known as the July Monarchy. He was the last king to rule France. Louis Philippewas born at the Palais Royal in Paris -

Palais Royal in Paris
- to Louis Philippe Joseph, Duke ofChartres (later Duke of Orléans and, later still, known as Phillipe Egalité) and Louise Marie Adélaïde de Bourbon-Penthièvre. As a member of the reigning House of Bourbon -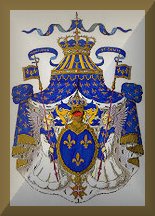 House of Bourbon
- he was a Prince du Sang. He was the first of three sons and adaughter of the Orléans family. Bourbon monarchs ruled Navarre (from 1555) and France (from 1589) until the 1792 overthrow of the monarchy during the French Revolution. Restored briefly in 1814 and definitively in 1815 after the fall of the First French Empire, the senior line of the Bourbons was finally overthrown in the July Revolution of 1830. A cadet branch, the House of Orléans, then ruled for 18 years (1830–1848), until it too was overthrown. The Princes of Condé (Bourbon-Condé) were a cadet branch of the Bourbon-Vendômes and, in turn, were senior to the Princes of Conti (Bourbon-Conti). Both these lines became extinct in the early nineteenth century.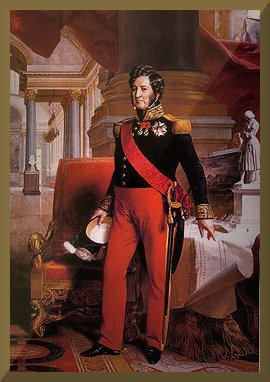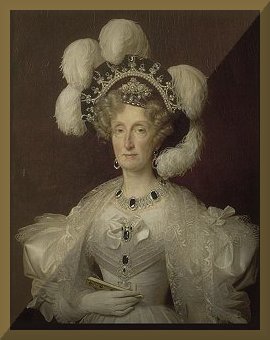 King Louis Philippe and his wife Louise Marie Adélaïde de Bourbon.
Louis-Philippe, duc de Chartres and later duc d'Orléans, was the son of Louis-Philippe-Joseph, duc d'Orléans [1747-1793], also known as Philippe Égalité. Louis-Philippe-Joseph was the great-great-grandson of Philippe I, duc d'Orléans [1640-1701], younger brother of Louis XIV, and the great-grandson of Philippe II, duc d'Orléans [1674-1703], who as regent for Louis XV endeavored to secure his own secession over that of Philip V of Spain. Despite his royal blood, Louis-Philippe-Joseph supported the democracy movement of the under priviledged Third Estate and was considered a hero by the revolutionaries; after the fall of the monarchy in August 1792, he renounced his noble title and accepted the name Philippe Égalité. He was elected to the National Convention, and voted for the execution of Louis XVI. Nonetheless, Égalité himself was sent to the guillotine in 1793, accused of conspiring with his son, the future King, and Austrian accomplices. Louis-Philippe was proclaimed King of the French after the overthrow of Charles X in 1830; his reign is known as the July monarchy. Charles X descended from the "legitimate" line of Bourbon kings, while Louise-Phillipe was of the collateral Orléans line of the house of Bourbon. Louis-Philippe was married to Marie- Amélie of the Two Sicilies [1782-1850], daughter of Ferdinand I, King of Naples. Louise-Phillipe himself was overthrown by the revolution of 1848, when he abdicated and fled to England; he died in 1850.
Duc d'Aumale the son of French king Louis Philippe
The French Duc d'Aumale the son of French king Louis Philippe was in exile in England from1848 and he decided to constitute a collection of rare books and became one ofthe leading bibliophiles of his generation. Throughout the whole of the second half of the 19th century, he acquired books in London, Paris, Italy or Germany, both from booksellers and from practically all of the major book auctions. The full library of books from Duxbury Hall passed to French king Louis Philippe , the king passed them to his son Henri d'Orléans, duc d'Aumale and they formed part of the collection which he bequeathed to the Institut de France along with the Château de Chantilly The collection, includes the collection of the Milanese Count Gaetano Melzi and contained 250 incunables. All of the original books from the library of Duxbury Hall are still held in the Musée Condé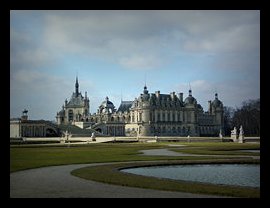 Château de Chantilly and library the home of the Duxbury Manor book collection.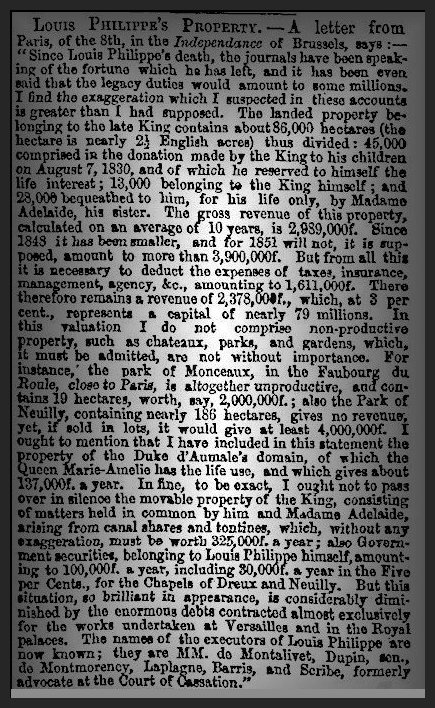 1841. William Carr, lord of the manor of Duxbury 1841 - 1856.
Known as William Standish Standish from 1841. (Carr family of Cocken Hall Durham)
Lancashire Record Office
FILE DX 1027 - date: nd
[from Scope and Content] Pedigree of William Standish Carr Esquire in relation to his title to the Duxbury Estate

FILE - ref. DX 1041 - date: 3 Feb 1841
[from Scope and Content] Letter from T. Birchall to R. Woodward containing details of the Pedigree of William Standish Carr and his being the rightful claimant to the Duxbury Estate

FILE - ref. DX 1042 - date: 1 Feb 1841
[from Scope and Content] Notice of claim of W. Standish Carr as Heir-at-Law of the late FHS

FILE - ref. DX 1044 - date: 8 Feb 1841
[from Scope and Content] Letter from T. Birchall regarding W. Standish Carr's viewing of the Standish plate

FILE - ref. DX 1046 - date: nd
[from Scope and Content] Details about the family of W. Standish Carr.
FILE - ref. DX 1057 - date: 27 Feb 1841
[from Scope and Content] Letter from J. Dunn to T. Birchall requesting evidence of the parentage of Anne Hall, and a reply to that letter providing that evidence; also included is a note regarding the visit of Mr. and Mrs. Standish to Duxbury
FILE - ref. DX 1060 - date: 12 Mar 1841
[from Scope and Content] Copy of a letter to J. Dunn stating that evidence can be gained from the daughters of Mrs. Carr regarding the Standish Carr Pedigree

FILE - ref. DX 1061 - date: 15 Mar 1841
[from Scope and Content] Letter to T. Birchall stating that the pedigrees of W. Standish Carr and FHS prove that W. Standish Carr is the sole Heir at Law of the late FHS and where evidence for this can be gained

FILE - ref. DX 1062 - date: 8 Apr 1841
[from Scope and Content] Certificate stating that W. Standish Carr is the Heir at Law of the late FHS and as such is now in possession of the mansion at Duxbury Park.

FILE ref. DX 1171 - date: 26 Sep 1842
[from Scope and Content] Letter from T. Birchall re-Standish estate and sale of old coins

FILE - ref. DX 1191 - date: 22 Mar 1841
[from Scope and Content] Letter in French re-the Standish bequest

FILE - ref. DX 1193 - date: 31 Mar 1841
[from Scope and Content] Draft of letter written by W Standish to the French King.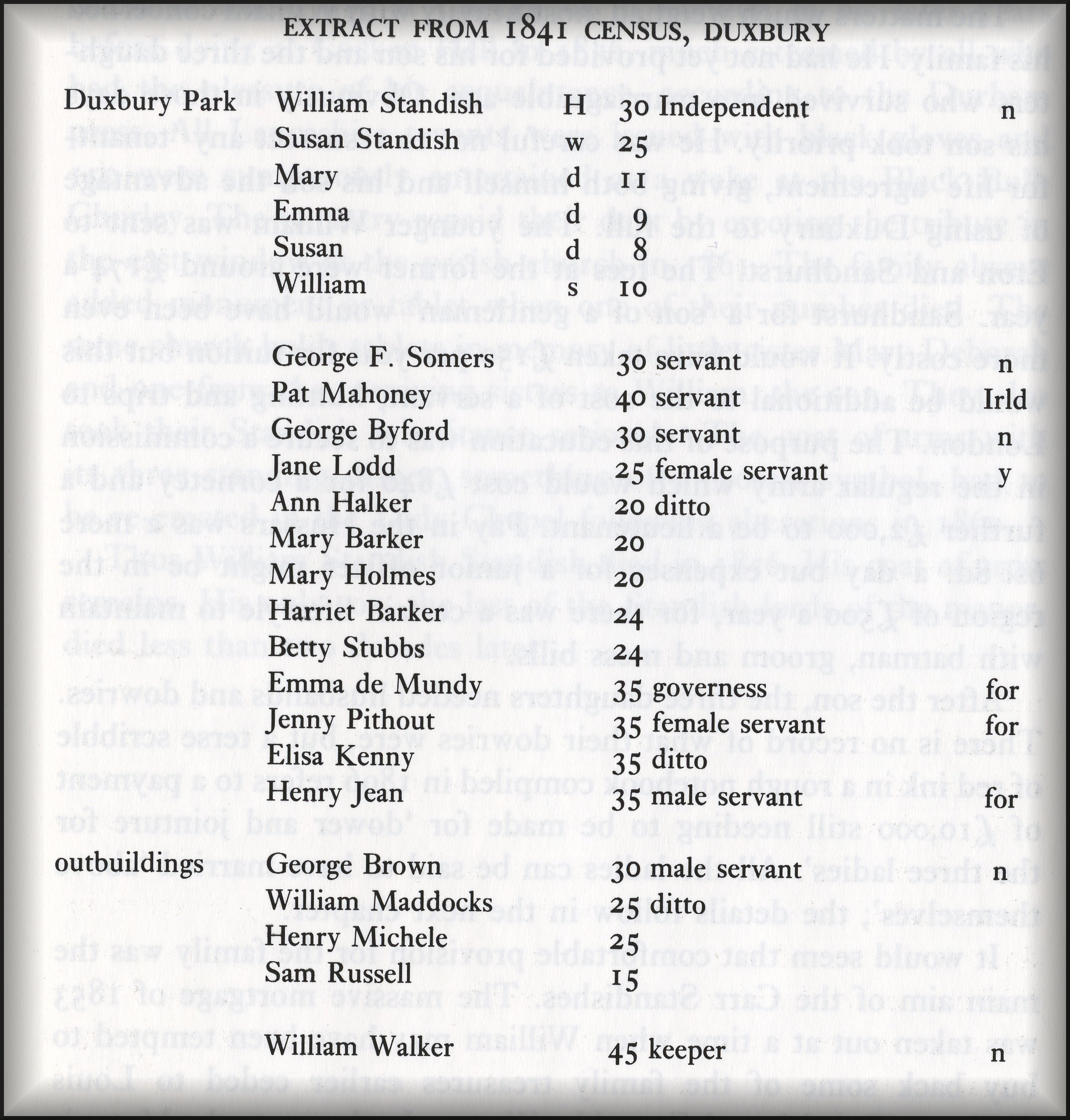 1841 Census return for Duxbury Hall - by Bill Walker
William Standish Standish had royal links...
William Standish Standish Genealogical research by Paul Lanagan and other members of the Friends of Houghton Hillside Cemetery suggests that the modern day descendants of William Standish Standish are The 18th Marquess of Winchester and his son, The Earl of Wiltshire.
Further research has shown that William's ancestors were royalty, including: Kings Edward I, Edward II, Edward III, and Prince Edward the Black and King Richard II. William was also related to Sir Henry Percy, the renowned Hotspur, the English rebel who was killed leading an army against Henry IV.
William's great-great-great grandparents, Ralph Carr and Anne Fairfax (and other Carrs) are buried in St Michael and All Angels Church, Houghton.
A legal technicality required William Standish Carr (as he was) to become William Standish Standish so he could inherit the family seat of Duxbury Hall, Lancashire.
The following report was printed in the Durham County Advertiser on Friday 18th July 1856:

Funeral of the late William Standish Standish Esq - Yesterday morning the mortal remains of the late Wm. Standish Standish Esq, were consigned to their final resting place, in a vault in the new cemetery at Houghton-le-Spring. It was intended that the interment should have been in the family vault in the parish church of Chorley, but as
there was some difficulty in carrying this intention into effect, owing to the recent Act of Parliament, the funeral, as already stated, was at Houghton-le-Spring.
The funeral procession left Cocken Hall about 11 o'clock; it consisted of several mourning coaches and a large number of carriages, the whole of Cocken and Ludworth tenantry on horseback, besides a great number of the gentry and inhabitants of the neighbourhood, who attended to pay this last mournful tribute of respect to the memory of one, whom whilst living, they so highly esteemed.
Mrs Standish, Mrs Sinclair, Miss Standish, Captain Standish and Mr Sinclair were present at the mournful ceremony. H Fenwick Esq MP, HJ Spearman Esq, EC Jepson Esq, Geo Wilkinson Esq, C Branwell Esq, Rev RGL Blenkisop, Rev T Crossman, Rev G Lord and etc, and etc, besides a large number of tradesmen and other inhabitants of this city were likewise present. The funeral service was read in an impressive manner by one of the curates of Houghton-le-Spring parish church, after which, the funeral procession returned to the Hall.

Parish Register of the Church of St. Laurence Chorley Lancashire.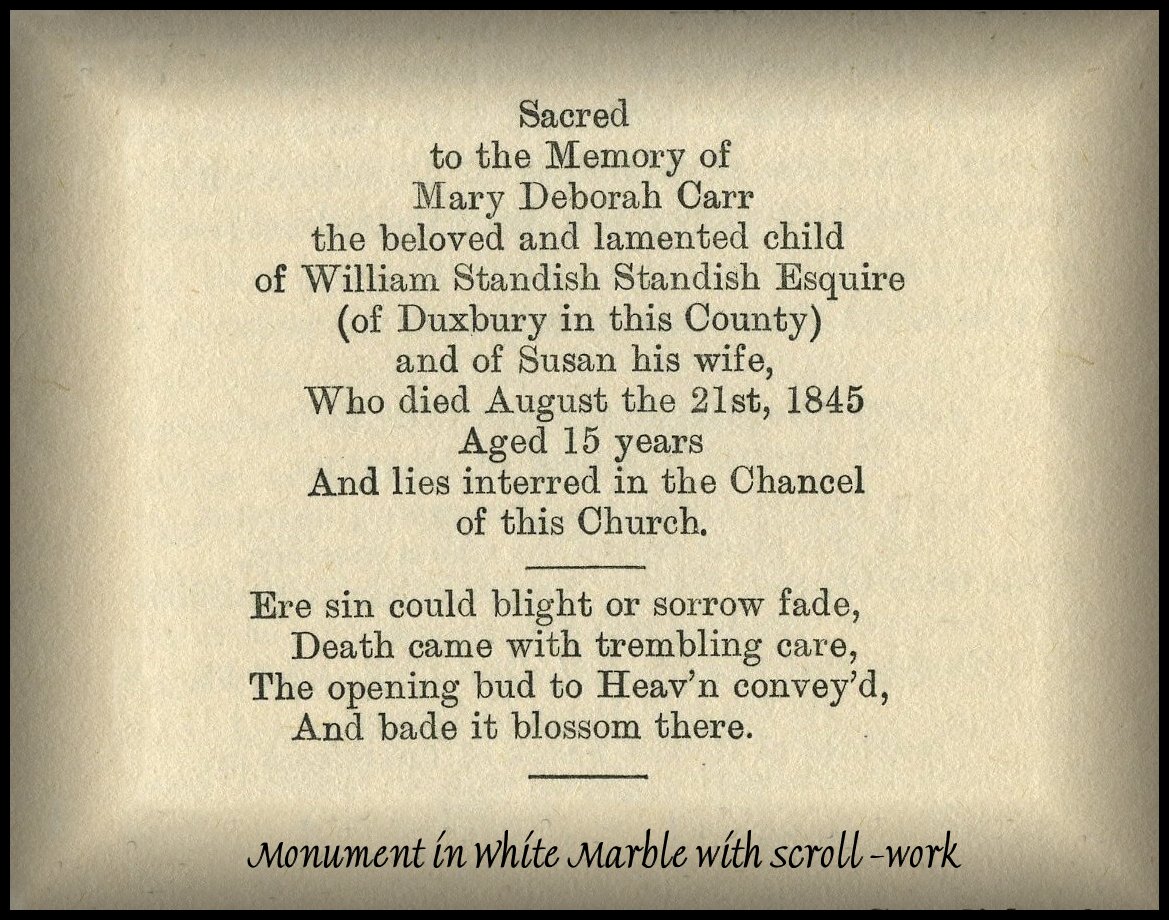 Monument in the Church of St. Laurence Chorley Lancashire.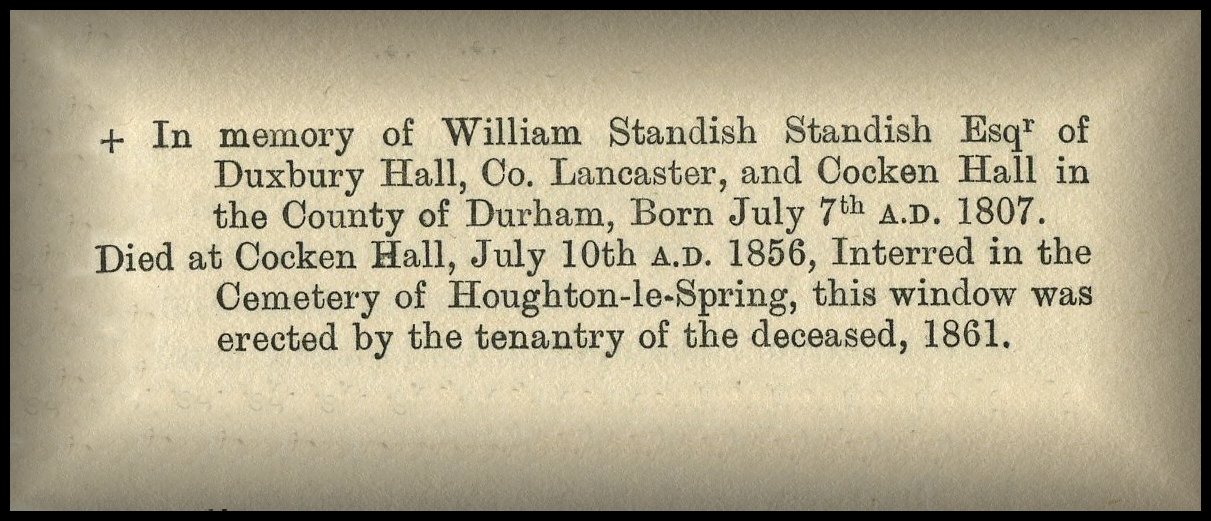 Monumental window in the Church of St. Laurence Chorley Lancashire.
2008. Vandals desecrate the tomb of a nobleman - William Standish Standish.

Published Date: 09 January 2008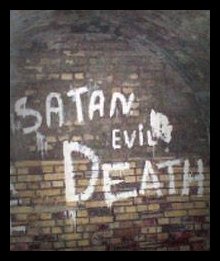 The inscription on the vault's memorial stone at Houghton-le-Spring reads:
Within this tomb lies the remains of the deservedly lammented William Standish Standish Esq of Duxbury Park, County of Lancashire and Cocken Hall in the County of Durham, who died at Cocken Hall July 10th 1856 aged 48 years.
<![if !supportLineBreakNewLine]>
<![endif]>
Sick vandals have desecrated the tomb of a nobleman whose ancestors included four kings of England.
The vault at historic Hillside Cemetery, Houghton, has been targeted several times by intruders who daubed sick slogans like "Satan, evil, death" and "The point of no return, beware" on the walls.

A thick metal cover was fitted to prevent future attacks, but in the latest act of sacrilege this was removed and the bones of William Standish Standish were scattered around the vault.

The 19th century landowner died on July 10, 1856, at his home, the long-since demolished Cocken Hall near Finchale Priory, County Durham.

The acts of vandalism have come as a blow to the Friends of Houghton Hillside Cemetery, who have put a lot of effort into restoring the historic site, which was once overgrown with the graves disappearing beneath a tangle of ivy, trees and bushes.

After the latest attack, Colin Jarvis, a member of the Friends, said: "They broke the metal plate off, climbed in and scattered his bones about. I can't understand why anybody would want to do that at all.

"Some of the bones had been put into a bag after the last break-in but the bag had been ripped open and the bones had been scattered."

He said what was apparently a name - Cal 07 - had been scrawled in the tomb during the intrusion, which is believed to have occurred within the last week.

Colin said: 'I'm pretty gutted about it. The way I look at it is it's someone's family - it's somebody you have lost. When you get laid to rest that should be it - it should be peaceful.

"The last time it was broken into somebody had scrawled Satan on the wall inside the crypt and The Point of No Return, Beware. It's not nice."

Colin said he would like to see the inside whitewashed, the bones put in a new coffin and the vault filled with soil and sealed to prevent further intrusions.

"It's happened a few times in the last few years. I don't think they can be right in the head. We do a lot of hard work to keep the cemetery in a good state but sometimes it feels like you are fighting a losing battle."

Body parts...

* Some time during the period 1972 to 1983, the head and hand of William Standish Standish were removed from his vault.
* The hand turned up under a mobile classroom at the then Houghton Grammar School and was re-interred in the vault when it was bricked up.
* Later the police arrived at the rectory one night with William's head in a bag – it was found being kicked around the gutter of Ironside Street by some children. As the vault had been bricked up the head was buried in St Michael's churchyard.

A myth buried...

* A story that William died when his horse plummeted over the cliffs of the new burial ground (which had opened two years earlier in 1854) and was later buried on the spot where he met his end was discredited after Northeast Press photographer Dave Allan researched the subject. In fact he died after a short illness, aged 48 or 49, at Cocken Hall, near Finchale Priory.

Source: Sunderland Echo
Cocken Hall Durham the home of the Carr family.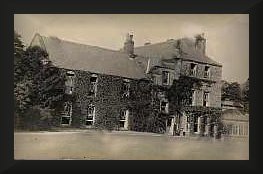 Nothing is known of the Anglo-Saxon owner, Cocca, but in 1133, a priest called Ellafus gave Cocken to the Priory of Durham.
In agreement with Roger of Kibblesworth, the priory exchanged it for lands at Wolviston.
Roger's daughter and heir, Petronilla, then sold it to Finchale Priory.
After the dissolution of the monasteries, Henry VIII gave Cocken to John Hilton, of Newcastle, whose wife, Isabel, had previously been married to Newcastle mayor Ralph Carr.
After Hilton's death, she married another Newcastle man, John Frankleyn.
Her grandson from her first marriage, also called Ralph Carr, inherited Cocken in the late 16th century.
Cocken passed through this line until 1642, when another branch of the Carr family purchased the estate.
A later member of this family was yet another Ralph Carr, who was mayor of Newcastle in 1676, 1693 and 1705. He was also an MP.
In about 1671, the Carrs of Cocken acquired additional land at High Grange, near Gilesgate, an estate that stretched as far as the north side of what is now Carrville High Street.
This 19th century colliery village may well have been named after the family.
Although the Carrs remained owners of the property, the hall became a convent for a group of Teresian (Carmelite) nuns in the early 19th Century.
The nuns had been expelled from England during the Reformation and took refuge at Lierre, in Belgium. But in 1795, the French Revolution forced them to return to England, by now a country more tolerant of Catholicism.
They found accommodation at St Helen's Hall, in St Helen Auckland then, in 1804, the Carrs took the nuns to Cocken Hall.
The convent consisted of 16 choir nuns, six lay sisters and a prioress called Dame Jessop.
They remained at Cocken until 1830, when the opening of a nearby coal mine forced them to seek a new site.
The nuns moved to Field House in what was then open countryside near Darlington, and the convent still exists in the town's Nunnery Lane.
Cocken had remained in the Carr family then, in 1812, William Carr inherited some Cheshire land and a title, making him William Standish -Standish of Duxbury Hall.
He spent his later years at Cocken, where he died in 1856.
Because the churchyard of Houghton parish, which included Cocken, was apparently full after a cholera epidemic in Sunderland, an old hillside quarry had been consecrated in Houghton-le-Spring to allow it to be used as a cemetery. It was here that William was buried.
Some local people say he committed suicide by riding his horse off the neighbouring cliff, and his ghost is believed to haunt the site.
Some time after the departure of William, although the exact date is uncertain, a champion pugilist turned coal owner, John Gully, went to live at the hall.
Gully, who was originally from Bath, once competed - and lost - in a 59-round bare-knuckle boxing bout.
Later, however, he would become a champion, investing his winnings in racehorses and mines in Durham, including Thornley, Ludworth and Wingate.
From Cocken, Gully moved to North Bailey in Durham City, where he died in 1863, at the age of 80. He left 24 children from two marriages.
At the end of the 19th century, Cocken Hall was home to Sunderland shipbuilder Samuel Austin, but in July 1914, The Northern Echo reported that the house had been without a tenant for eight years.
Its last occupant was a shipowner called Hudson, but in succeeding years the house, by then a property of the Earl of Durham, remained empty and was looked after by a caretaker called Herdman.
On arriving at the house at 7.30am on July 14, 1914, he found literature plastered with the words "Votes for Women" and "This is the work of militants" strewn around its exterior.
The caretaker also found a drawing room window open and inside was much evidence of elaborate preparations to start a fire.
The staircase had been saturated with oil, but was only smouldering when Herdman arrived on the scene, and he was able to prevent a fire.
Among other items found were an alarm clock, which had been fitted with a fuse and had stopped at 12.25, and a bag of oil and resin.
Farmers saw a car in the area at about midnight, which then returned half an hour later.
The Northern Echo concluded that the hall was singled out because of its uninhabited and isolated situation.
Later in 1914, a service battalion of the Durham Light Infantry occupied the house and many photographs still exist showing the soldiers training outside the hall.
Sadly, some time after the war, the house was flattened.
Nothing has been built in its place.
Today, Cocken, although undoubtedly a beautiful spot, exists only as a collection of scattered farmhouses and a nine-hole golf course.
1856. William Standish Carr - Standish, lord of the manor of Duxbury 1856 - 1878.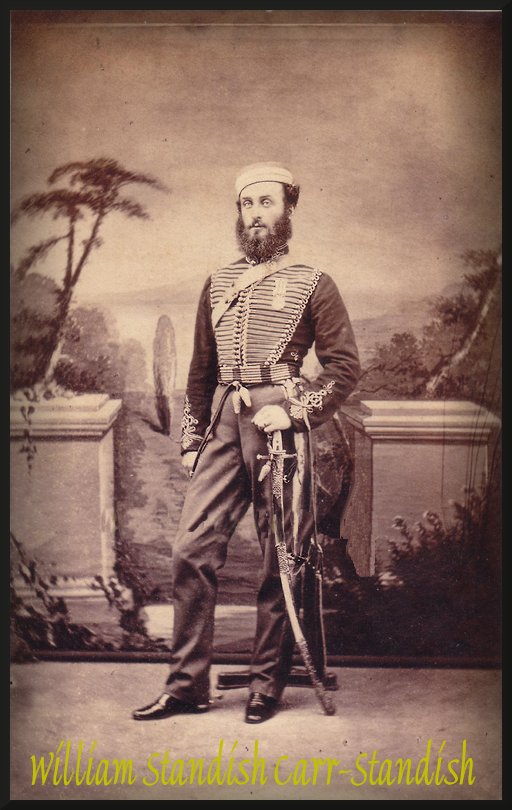 First Part - William Standish Carr Standish, 7th Light Dragoons.
William Standish Carr Standish was born on the 28th February 1835, the eldest son of William Standish Carr, of Cocken, in the county of Durham, and Susan Jenkins.
On May 6th 1841, his father was granted Royal Licence to change his name to William Standish Srandish, "in compliance with a proviso and direction contained in the last will and testament of his cousin, Frank Hall Standish, late of Duxbury hall, in the county palatine of Lancaster, Esq. deceased".
William Standish Carr Standish was gazetted in the Regular Cavalry on 19th August 1853 :
"7th Regiment of Light Dragoons, William Standish Carr Standish, Gent., to be Cornet, by purchase, vice De Veulle, whose retirement was announced in the Gazette of the 15th July 1853."
He was still quite young when his father died in 1856 :
"W.S. Standish, Esq.- July 10th, at Cocken Hall, Durham, aged 48, William Standish Standish, Esq. - The deceased, who was a magistrate for Durham and Lancashire, and a deputy-lieutenant fot the latter county, was universally respected by men of all classes in the north of England, and his amiable, benevolent, and hospitable character had endeared him to a large circle of friends, by whom his loss will be truly and deeply regretted".
W.S.C.Standish was promoted very soon afterwards :
"7th Light Dragoons, Cornet W.S. Carr Standish to be Lieutenant, by purchase, vice Aytoun, promoted. Dated 22nd July, 1856."
As a proper Cavalry Officer, he took part in some races, as testified by the Times on Monday, March 23rd, 1857 :
"SPORTING INTELLIGENCE
THE GRAND MILITARY AND PYTCHLEY HUNT STEEPLECHASES.
FRIDAY.
SWEEPSTAKES OF 10 sovs. each, h. ft., with 100 added from the fund, and 50 by the town of Northampton, for horses the property of officers on full pay in the army. 12st. each. Certain winners extra. The second to save his stake and receive 20 sovs. about three miles. 17 subs.
Lieutenant Blundell's (Rifle Brigade) Horniblow, by Protestant, 12st. (owner)...............1
Lieutenant Coates's (7th Hussars) Massa Mungo, 12st. (Captain Severn).......................2
Captain F. Morga's (Rifle Brigade) Veluti, 12st. 5lb. (including 5lb. extra), (owner)....3
Mr. G. Craven's (1st Life Guards) Xanthus, 12st. (Mr Wilkins).
Captain Baker's (12th Lancers) Aquamarine, 12st. (Captain Barker).
Lieutenant Carr Standish's (7th Hussars) Gentle, 12 st. (Owner).
Lieutenant Handley's (Scots Greys) Beware, 12st. 5lb. (including 5lb. extra). (Captain Townley).
Viscount Talon's (Chasseurs Afrique) Windsor, 12st. (Owner).
Major Brown's (4th Light Dragoons) Larry, 12st. (Captain Ellis).
Lieutenant Anderson's (King's Dragoon Guards) -, 12st. (Owner).
Major Jenning's (19th Regiment) King Dan, 12st. (Captain Barclay).
Lieutenant Hunt's (4th Light Dragoons) Sultan, 12st. (Owner).
Lieutenant Hay's (5th Dragoon Guards) Taffy, 12st. (Sir William Gordon).
Betting.- 5 to 1 each agst Veluti and Xanthus, 6 to 1 each agst Massa Mungo and Aquamarine, 7 to 1 agst King Dan, 8 to 1 agst Horniblow.
Won by two lengths, a neck between the second and third ; sultan was a bad fourth; Xanthus, Gentle, and King Dan straggled at wide intervals. Windsor, while lying in a forward position, overjumped himself at the brook the last time and came down. Taffy fell at the last fence but one and broke his back."
Some sterner activities awaited : the 7th Hussars were despatched to India a few month later when the Mutiny broke out, boarding the clipper ship Lightning on August 27th.
They landed at Madras (25 officers, 51 non-commissioned officers and men, on November 5th and 28th) and were directed to Alahabad, were horses were to be procured to them in December.
They were part of the brigade under Col. Campbell of the Bays (along with the 79th Highlanders and Major Anderson's troop of Horse Artillery), crossing into Oude on January 4th. The objective of the British Army was to relieve Lucknow, which was eventually achieved by March 16th.
Some troops were then used to garrison Lucknow, but the 7th Hussars were then attached to the General Walpole's Out Field Force - the Cavalry of which was commanded by Brigadier Hagart.
The 7th Hussars then campaigned in Rohilcund, suffering badly from the heat :
"Thus following his unsubstantial foe, General Grant marched down as far as the Ganges, which he touched at Doondiakera, near the point where tha Cawnpore boat was fired on and captured by the Nana's peopla. Already the heat had begun to tell upon th emen and officers, though they had been making short marches, and there the 7th Hussars buried Captain Pedder. From this point the column doubled back to Nugger, which it had recently passed, on learning that some rebel Zemindars, together with a chief named Ram Buksh, had taken up a position in its neighbourhood. Reaching Nugger at 6 in the morning, the troops rested till 3 in the afternoon, and then turned out for an attack on the enemy's position. Before they had moved half a mile numbers were sent back to camp, knocked up by the sun. An unsatisfactory skirmish followed. Little loss was inflicted on the enemy, who were very strongly posted about the village and fort of Simree, and but two old guns had been secured when night fell. On their side the rebels did us little harm, beyond carrying off a few camels in an attempt upon our rear, and cutting off the head of a poor sergeant in th eRifles lying sick in a dhooly. But the sun did their work terribly well. Of the 38th Foot the enemy struck but two men, and them but slightly, while the sun killed no fewer than 15. On the 13th (Nota : May) the 7th Hussars buried seven, and had been losing two, three, and four men daily since they left Lucknow."
Bareilly was taken on May 7th, and on June 4th 1858, the Times' correspondant could write :
"With the capture of Bareilly the last great stronghold of the mutineers and rebels, the labours of the Commander-in-Chief of India have for the present come to an end."
The operations would actually linger on for months, but that's the very day when Standish resigned his commission :
"7th Light Dragoons, Cornet the Honourable C.Craven Molyneux to be Lieutenant, by purchase, vice Standish, who retires. Dated 4th June, 1858."
It is quite strange that Standish should have resigned his commission while his regiment was on active duty, and there certainly is some potent reason behind that fact - it is quite possible that he was a victim of the heat himself, as will be hinted later.
He came back to England on board the screw steamship Indomitable, reaching Gravesend on October 9th.
It is to be noted that Standish had boarded the before officialy resigning :
"The screw steamship Indomitable, Captain Kitt, arrived at Gravesend on Friday night from Calcutta with a large party of sick and wounded troops, chiefly from Lucknow and Delhi, on board. Her dates are, Calcutta, May 23 ; Sandheads, May 28 ; and St.Helena, August 25, the passage from Calcutta to Gravesend being a very tedious one of 138 days, caused chiefly by calms and adverse winds. The invalids, to the number of 2 sergeants and 98 rank and file,belonging to the (...), with 2 women and 5 children, reached Calcutta, and embarked on the 18th of May, under the command of Captain H.H.Moseley, 42d Highlanders, and Lieutenant G.Taylor, 53d Regiment, and in medical charge of Dr.Brown. The following officers came home as passengers-viz., Lieutenant W.S.C.Standish, formerly of the 7th Hussars (...). During the voyage a great deal of sickness prevailed on board, and one officer, Lieutenant G.Haynes, 7th Hussars, who was invalided home, and 14 men died."
He was awarded the Indian Mutiny Campaign Medal with "Lucknow" Clasp - the medal he is proudly displaying on this CDV.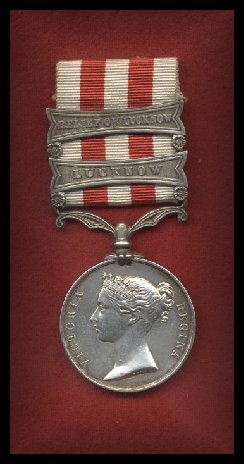 He obviously intended to manage his properties then, as he appears to have applied in August 1858 for a loan of £5,000, under the provisions of "The Public Money Drainage Acts", for the drainage of Lands in Adlington, Heapy-in-Longlands, and New Church, in the county of Lancaster.
The next year, he was commissionned into the Lancashire Hussars by the "Lord Lieutenant of the County Palatine of Lancaster", as a result of the raising of D Troop :"Lancashire Hussar Yeomanry Cavalry.

William Standish Carr Standish, Esq., to beLieutenant, vice Farrell, resigned. Dated 4th June, 1859."
He would serve for a few years with the Lancashire Hussars, and was gazetted a Sheriff for Durham on November 14th, 1862, until...

The Times, Tuesday, September 15th, 1863.
"EXTRAORDINARY PROCEEDINGS.-On Friday after noon, Mr. W.S.C.Standish, of Duxbury Hall, near Wigan, one of the magistrates for the petty sessional division of Chorley, Lancashire, formerly in the regular army, and at present holding the position of lieutenant in the D (Lord Skelrmersdale's) troop of Yeomanry Hussars, came forward to answer the charges of having shot at a man named Michael Burke, and of having wounded another named Thomas Hesketh, on the highway in Lathom, near Ormskirk. It appeared that for some days Mr. Standish had been drinking rather freely, and on Tuesday last, about noon, obtained from a shoemaker in Tarleton, near Ormskirk, about an ounce and a half of No.3 shot. With this he loaded a cavalry pistol, and rode away. In the eve ning he came up to four harvestmen near Mathom-house. He presented his pistol at three of them in succession, firing at the third man, and hitting him on the shoulder. He then galloped off to Lathom-house, where he was met by Sergeant-Major Nunnerley, of Lord Skelmersdale's troop, to whom he delivered two pistols, one empty and the other charged, and began to talk incoherently about there being a riot at Ormskirk, and the troop being called out. After a short stay, Mr. Standish again took the road to Ormskirk. Presently they were met by Inspector Jervis, of the Ormskirk police, and Mr. Standish was called upon to surrender, but he declined to do so, turned his horse round, and galloped off furiously, brandishing his sword. While thus engaged, he came up to Hesketh and another man named Mordaunt. The latter threw himself down and escaped, but Hesketh received a cut on the chin and fell to the ground, where he was subsequently found bleeding. The police inspector obtained a horse and went in pursuit of Mr.Standish, but after riding about two miles all trace of him was lost, and the chase was abandoned. Mr.Standish eluded capture till Wednesday, at noon, when he was apprehended at Newburgh, a few miles from Ormskirk. He then said he was very sorry for what had occured ; that it was a mad freak, and that he did not intend to hurt any of the men. The wounds were described as not in any way serious, Burke's being nothing more than an abrasion, and Hesketh's an incised wound about two inches long, but not deep. The pistol with which Burke had been shot appeared to have been loaded with blank cartridge only, and the charged pistol which Nunnerley received ws found to contain a piece of paper, a thimbleful of powder, and a wad. Burke identified Mr.Standish, but Hesketh and his companion would not swear to him as he rode at them quickly, and was out of sight before they recovered themselves. For the defence it was contended that there had been no wounding within the statute. There was a total absence of malice on the part of Mr.Strandish, who had never seen Burke before, and as regarded the wounding with the sword, the wounded man had not identified Mr. Standish. The magistrate, however, held that prima facie cases had been established. It was his painful duty to commit Mr.Standish for trial at the next Liverpool assises. Mr.Standish was accordingly committed, but admitted to bail."
How to spoil your sister's wedding ?
As a matter of fact, a little later, on December 3rd, SusanAmelia Georgina Carr Standish married Charles William Paulet - a former comrade-in-arms of William's, who had served in the 7th Hussars during the Mutiny, before exchanging into the 9th Lancers and joining the Warwickshire Yeomanry in 1861.
Later that month, on December 23rd, William's case appeared before the Crown Court and Mr. Justice Willes :

"William Standish Carr Standish was indicted forunlawfully wounding James Hesketh by striking him with a sword.
Mr. Holker prosecuted, and the Attorney-General, Mr. James, Q.C., and Mr. Pope appeared for the defence.
The prisoner was a justice of the peace for the county of Lancaster, and a commissioned officer in the Lancashire Yeomanry Hussars, residing at Duxburry-Hall, Lancashire. It appeared that the defendant, who had been drinking for some days, was in a very excited state one morning in September last, and rode towards the house of Lord Skelmersdale, the captain of the corps. He was riding there when he met several men belonging to the corps, and, having his pistol in his hand, fired as they approached, and the contents of the pistol grazed the shoulder of one of the men. He then rode on to Lord Skelmersdale's, where he behaved in such an extraordinary way that the police were sent for. On riding away he met the police, towards whom he rode rapidly, flourishing his sword. He struck at one man, but missed him ; he then struck a labourer named Hesketh on the chin, inflicting a wound two inches long. He was ultimately taken, and committed for trial on the charge of felony The grand jury found a bill against him for misdemeanour. to the minor charge, that of committing an assault occasioning actually bodily harm, he pleaded "Guilty".

It was urged on his behalf that he was suffering from the effects of a sun-stroke received in India, and also laboured under delirium tremens.
He was sentenced to be imprisoned for one month, and to pay a fine of £300."
It appears that Standish would have resumed his service with the Lancashire Hussars, and contemporary documents would show him attending the May 1864 training session at Southport. His association with the Regiment would not live much longer however, and the London Gazette would read, on July 19th :
"Lancashire Hussar Yeomanry Cavalry.
Cornet the Right Honourable Thomas Arthur Viscount Southwell, to be Lieutenant, vice Standish, resigned. Dated 14th July, 1864." William Standish Carr Standish died on February 21st 1878, at Southport, unmarried, aged 42.
<![if !supportEmptyParas]> <![endif]>
The sisters of William Standish Carr Standish were -
1. Emma Isabella Harriet, who married Sir J. G. T. Sinclair,bart.,
2. Susan Amelia Georgina, who married Charles William Paulet,
3. MargaretLaura Mulgrave, who married Edmund Berke­ley Lucy.
Monument in the Church of St. Laurence Chorley Lancashire.
1878. Susan Amelia Georgina Carr - Standish wife of Charles William Paulett.
- lord of the manor of Duxbury 1878 - 1898.
PAUALETT FAMILY 1878 - 1968.