Part Two ----------------- HIS ANCESTRY, LANDS & FAMILY CONNECTIONS
PILGRIM FATHER CAPTAIN MYLES STANDISH OF
DUXBURY LANCASHIRE AND MASSACHUSETTS
(Part two)
by Helen Moorwood
HIS ANCESTRY, LANDS & FAMILY CONNECTIONS
In Part 1, a summary was presented of research into the ancestry and early life of Captain Myles Standish (EB),1 soldier in the Netherlands, on the Mayflower in 1620 and Military Governor of the Pilgrim Fathers until his death in 1656. He first achieved mild fame after American Independence, when the search for a national identity and national heroes inevitably generated great interest in the Forefathers (as they called themselves), among whom he was one of the most prominent and colourful characters. His fame reached new heights after the publication of Longfellow (EB, C)'s poem "The Courtship of Myles Standish" in 1858.2 He is incontrovertibly Lancashire's most famous son in the United States, but is woefully uncelebrated in the county of his birth.3 The main 20th c. controversy has been whether his ancestry lay in the families of Duxbury and Standish, Lancashire, or in a cadet Standish of Standish branch of Ormskirk and the Isle of Man. The answer (already given in the last article, with sources of the proof) is that he was definitely a Standish of Duxbury and Standish.
MYLES MYSTERIES - UNTIL NOW
He has been surrounded for centuries by mysteries about his ancestry, hereditary lands, birth-date, birth-place, name, missing baptism, education, wives, religion, and the "lost years' 1609-20 - in fact almost the whole of his pre-Mayflower life. A brief list of solutions to most of these mysteries was given in the last article, and this and subsequent articles will present these in more detail.
The mysteries were compounded because no authenticated contemporary record of his name has been found in Lancashire or the Netherlands, the two places where he is known to have lived.(Note 4) Nor has any record of his father, grandfather or great-grandfather been reported until now. This dearth of documentation has allowed free rein to all and sundry, some of whom have speculated wildly. The reasons for this lack of documentation will be revealed in his biography. The most intriguing mysteries for the last two centuries have been those surrounding his ancestry, the brief answer to which was given in the second paragraph above, and is presented in full in Family Trees 1 and 2. The most frequently asked questions, answered in this article, have been:
i) Why did he name his new farm in c. 1627 Duxbury and not Standish, if he was descended from a great-grandfather Standish of Standish, as he claimed in his Will?(Note 5 )

ii) Why did his descendants fervently believe in 1846 that they, through Myles, might have a claim to Duxbury Hall, a belief sustained until well into the 20th c. ?(Note 6 )

iii) What was his connection with the Isle of Man, named at the end of the list of lands in his Will? Was his first wife Rose from there? Or his second wife Barbara? Or both wives, given the tradition that they were sisters or cousins? Or was Myles himself descended from the Standish family of Ormskirk and the Isle of Man, as proposed by Porteus (1914)?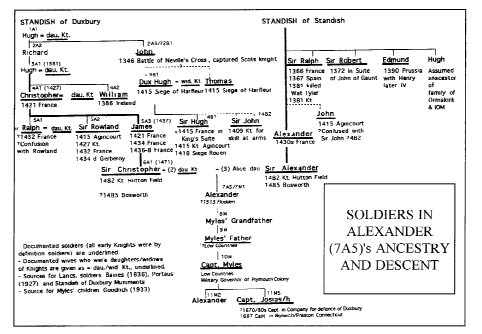 Military Ancestry ( Family Tree 2)
The answer to all Manx questions is a resounding No Connection! The Isle of Man of his Will was the one in Croston/Bretherton, Lancashire. The first inkling on the Manx Isle that there might be a connection was as a result of Mr Bromleys visit in 1846, which led to later totally fictitious reports of "old traditions". 7
These mysteries and questions existed because of various discrepancies between:
a) on the one hand, family traditions perpetuated by his descendants, claims in 17th c. New England literature and Myles own claims (most of which, perhaps not surprisingly, have turned out to be true), and;
b) on the other hand, the assumed definitive history and descent of the l5th-l7thc. Standishes of Duxbury (much of which has turned out to be false).
Stanleys, Lords of Man, later Earls of Derby
Lifespan Relationship

Sir John

c.1340.-1414

Sir John

c.1386-1437

son

Lord Thomas, 1st Baron Stanley

c.1405-1459

son

Lord Thomas, 2nd Baron Stanley, 1st Earl of Derby

c.1433-1504

son

(George,Lord Strange)

c.1460-1503

(died before father)

Thomas, 2nd Earl

c.1484-1521

grandson

Edward, 3rd Earl

1509-72

son

Henry, 4th Earl

1531-93

son

Ferdinando, 5th Earl

c.1559-94

son

William, 6th Earl

c.1561-1642

brother

James, 7th Earl

1607-51

son

Charles, 8th Earl

1628-72

son
ANCESTRY & LANDS IN ORMSKIRK
New discoveries from research into the Standishes of Duxbury provide full answers to all of these questions, and allow the first presentation of his true ancestry in Family Trees 1 & 2,9 which give more details than Myles himself ever knew.
Family Tree 1 (Descent of the Manor) shows the male descendants of Sir Christopher Standish of Duxbury (c.1450-1495) who survived beyond infancy, including most importantly his fifth recorded son Alexander (7A5), who must have been born in 1491/2, the first of two sons born to Sir Christopher between his marriage in 1490/1 to his third wife Alice, eldest daughter of Sir Alexander Standish of Standish, and his Will of 1493.'
Alexander (7A5) was thus a Standish of both Standish and Duxbury, and was the great-grandfather of Myles' Will, which immediately explains the anomaly between his Standish of Standish lands and the naming of his farm Duxbury, Massachusetts. Alexander (7A5) inherited his name and lands from his Standish grandfather of Standish, but his direct male line was solidly Standish of Duxbury. Myles' Ormskirk lands were probably only about 50-100 acres (the amount known to have been held by other descendants of younger sons, e.g. Standish of Burgh in Duxbury), and may all have been lands from the initial inheritance or included others acquired later through purchase or marriage. In any case this was a generous gift, as younger sons could usually count themselves lucky if they received a small annuity, but were otherwise expected to make their own way in the world. Alexander's position was rather special, however, as he was the first grandson of Sir Alexander, and the best hope to continue the latter's name. Sir Alexander's only surviving son Ralph was later also to name his oldest surviving son Alexander, but this was not until 1502.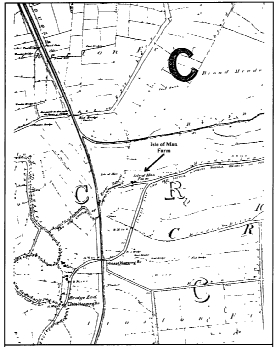 Isle of Man Farm, Ex. 1848 Ordnance Survey map (the first large scale map of the area). This is the Isle of Man at the end of the list of lands in Myles Will. It was a real island for most of the year until drained in the 18th c. The old course of the Yarrow is the boundary between Croston and Bretherton.
ANCESTRY & CLAIM TO DUXBURY HALL
Family Tree 1 also shows how Myles, against all previous expectations, suddenly, in 1647, became the true heir to Duxbury Hall and dependent manors and estates. When Col. Alexander (12D2) and his Uncle Alexander (11D4), the last two survivors, died without a son and heir, all male lines in Duxbury from Sir Christopher - Families A, C, D and E - had died out. The rules of succession for an entailed estate would normally have automatically resulted in the inheritance by Myles, who was at this point the only living 2x great-grandson of Sir Christopher. This confirms the enduring family tradition that resulted in his 'descendants' attempt to establish a claim to Duxbury Hall in 1846. It also explains the statement by Nathaniel Morton (C) (1669) that Myles was "heir apparent unto a great estate of lands and livings", a description which the rather small Ormskirk+ inheritance would not have warranted, but which the large estates based on Duxbury Hall certainly would.

Duxbury Hall in 1846
Myles, however, lost his claim to Duxbury Hall to Col. Richard (11B1), the most powerful and influential man in the Chorley/Wigan area during the final stages of the Civil War and afterwards. Nor did Myles or his son Alexander succeed in reclaiming the Ormskirk lands, which were also lost in the turmoil of the Civil War. The story of the "surreptitious detention" of both sets of lands will be told towards the end of Myles' biography.
MILITARY ANCESTRY, DERBY PATRONAGE & FAMILY CONNECTIONS
Family Tree 2 presents a rather splendid set of ancestral knights and soldiers, who fought in many battles before and during the Hundred Years War and the Wars of the Roses, and shows that Alexander (7A5), and therefore also Myles, were descended from two distinguished lines. This accords with the statement by the Rev. Hubbard in the 1650s that Myles "was allied to the noble house of Standish in Lancashire, inheriting some of the virtues of that honourable family as well as the name".
With this military ancestry and the documented facts that Myles father, Myles himself, and his son Josias were all soldiers, it is difficult to imagine that the two intervening generations (8M and 9M) did not participate in some of the major campaigns against the Scots, Irish and French in the early 16th c. For example, there was a large Lancashire contingent at Flodden in 1513, when Alexander (7A5) was in his early twenties. The leader of the Lancashire and Cheshire force that won the day was the elderly but still fighting Sir Edward Stanley, later Lord Mounteagle, one of three Stanley brothers and supervisors of the 1493 Will of Sir Christopher. These were the only surviving sons of the 1st Earl of Derby (EB), the other two being George, Lord Strange, and James, Bishop of Ely. Although Sir Christopher's widow Alice was granted the wardship of all the children, one can assume that these Stanleys took a close, almost fatherly, interest in the upbringing and career of the fatherless young Standishes of Duxbury.
These were only three of many Stanleys who appear in Standish documents, all of whom played an important role in the story of the Standishes from the mid- 15th c. to the end of the Civil War, as comrades in arms, friends, patrons and later relatives (see box Earls of Derby). The highest honour paid by a Stanley to the Standishes was the knighting of Sir Alexander and Sir Christopher by Thomas, 2nd Baron Stanley (EB), the King's Steward at Hutton Field, the English camp during the siege of Berwick, on 24 June 1482, along with several in-laws and neighbouring gentry.'
Sir Alexander was certainly, and Sir Christopher almost certainly, at Bosworth three years later, when Lord Thomas and his brother Sir William won the day for Henry Tudor (Thomas' step-son).
| St Laurence's, Chorley, the church traditionally associated with Myles; he was not baptised here, but probably attended services here regularly. It contains the magnificent carved Tudor oak Standish pew of Alexander (10D2) Standish of Duxbury, and many other family memorials. | |
| --- | --- |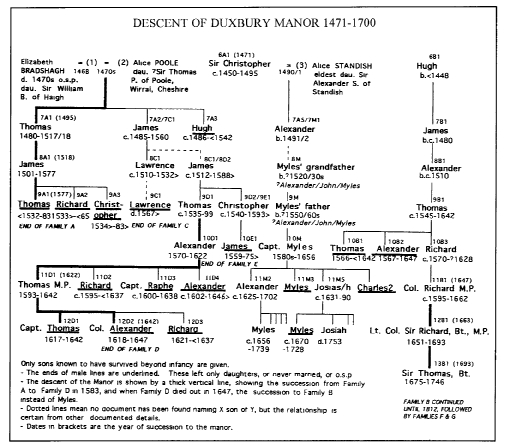 Via the Earls of Derby and other relatives and neighbours, the Standishes had fairly direct access to all 15th-17th c. monarchs. The 4th-8th Earls were contemporaries of Myles and his father, and must have known them, and through them the Standishes would also have had access to the most influential political, military and literary people of the day.
The Derbys were closely related to Elizabeth's chief minister Lord Burghley (EB) via his son-in-law Edward de Vere, 17th Earl of Oxford (EB), a leader in the war in the Low Countries and the current favourite alternative candidate as the author of Shakespeare's plays. His eldest daughter Elizabeth was married to William, 6th Earl of Derby, another swashbuckling hero (according to legend and a poem), who has also been proposed as a candidate for the author of some of Shakespeare's plays.' 15 The 4th-6th Earls were also patrons of Shakespeare, which probably explains the appearance of Stanleys in his plays. Lord Thomas, later 1st Earl of Derby has an important role in Richard III.
Incidentally, four others knighted on the same day as Sir Alexander and Sir Christopher in 1482 also appear, and George, Lord Strange has on off-stage role. Sadly, our two Standish knights only receive a mention in "my friends are in the north" in Act IV, scene 4. Thomas' brother Sir William had previously appeared in Henry VI Part Three, and their grandfather Sir John in Part Two.
One extremely direct and influential link for Myles and his father was via relative Alexander (10D1) Standish of Duxbury Hall, an almost certain patron of Myles during his youth. His Will of 1622 and his Inquisition post mortem of 1623 show that he had a Stanley cousin and that dowager Countess Alice (née Spencer of Althorp, originally a Lancashire family) was living as his guest in nearby Anglezarke.'16 She was the widow since 1594 of Ferdinando, 5th Earl of Derby, and widow since 1617 of her second husband, Baron Ellesmere (EB), the Lord Chancellor. She had the ear of Elizabeth I and James I through Burghley (EB), Burghley's son and successor the Earl of Salisbury (EB), and her two husbands. Shakespeare had been in her husbands troop, Strange's Players in 1593 (Shakespeare in Love didn't mention that!) and Derby's Players in 1594 and she was much admired and respected at court. She would also have been in Lancashire when Shakespeare was there in 1580/1 (according to local tradition and a theory which is being increasingly accepted by Shakespearean scholars).
These links provide some of the colourful background to the story of Myles and his ancestors. He was no common soldier, but had the best possible connections and an almost unbroken military ancestry, which already partially explains his decision to become a soldier. On his journeys to and from the Low Countries, he would almost certainly have passed through London and taken advantage of these connections (and probably attended Shakespeare's latest play), which might well explain why he was the one sent back to London in 1625 to raise money for the colony.
| Duxbury Hall in 1846 | St Wifrid's Standish, the church attended by Standish of Standish which contains a helmetpossibly worn by Sir Alexander during the Siege of Berwick in 1482, and many other family memorials |
| --- | --- |
REFERENCES AND NOTES
(1) (EB) indicates that a brief biography is in the Encylopaedia Britannica. Similarly, (C) refers to the Cambridge Guide to English Literature
(2) The full text of the poem can be read on Caleb Johnson's splendid Mayflower website, which contains a wealth of information on all matters concerning the ship and her passengers, including a page on Myles with many contemporary quotations and the full text of his Will and inventory. Caleb Johnson is one of the leading American experts on Mayflower passengers, and has provided much valued support, with details and comments, during the writing of this and following